A Look At the Laws
What are the current laws on hunting albino and white deer in Wisconsin?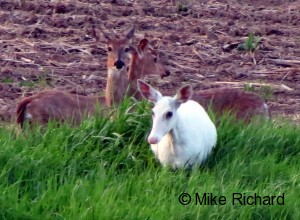 Note:  The following paragraph was written in 2013, a year after the big Leland buck was killed.  White and albino deer were not protected in CWD zones at that time.  However, temporary protection was put into effect in 2014, and statewide protection was reinstated in 2015.  It is now (2016) illegal to shoot white and albino deer anywhere in Wisconsin!
The first law protecting white deer in Wisconsin was enacted in 1940, 73 years ago (Otis S. Bersing, A Century of Wisconsin Deer).  White and albino deer are currently protected in all of Wisconsin except in CWD (chronic wasting disease) management zones, which are located in southern Wisconsin. 
Protection of white deer in the CWD zone was removed in 2008 as a result of the efforts of some hunters in Jefferson County who argued that the deer were in the CWD zone so should be fair game for hunters, too.  They had their sights (literally and figurately) on a few white deer in that area. 
Unfortunately, they were successful in their legislative efforts, and judging from a couple of newspaper articles and pictures, some hunters were successful in taking several white deer, too:  http://gazettextra.com/news/2010/jan/04/hunter-bags-rare-albino-deer/

Drastic measures to control and eradicate CWD have not been sympathetic to white deer, even though they are extremely rare.  Prior to that, white and albino deer were protected in the entire state for 68 years.

What is the penalty for shooting a white deer?
In Wisconsin, illegal shooting of a white or albino deer (at least in 2011) would result in a fine of $303.30 and surrender of the deer to the state.  Illinois is not so lenient:  Killing a white deer is a Class B misdemeanor, punishable by up to $2,500 in fines or 180 days in jail, with confiscation of the deer.  In Michigan, prior to the repeal of protection in 2009, penalties for killing a white deer were even steeper:  fines of $200-$1000, payment of the assessed value of the deer, and loss of hunting privileges for three years.


Does this include piebald or partially white deer?
Piebalds are legal to shoot in Wisconsin.   Even though the word piebald conjures up images of "pinto" horses or animals with large splotches of color, current Wisconsin law takes the definition of piebald to an extreme.  If there is even a tiny spot of brown on the animal's body (with a few exceptions–see below), the deer is considered a piebald and is totally legal to hunt anywhere in the state. 
According to the Warden Wire (Wisconsin DNR/Bureau of Law Enforcement):  "Outside of the CWD MZ (management zone), a deer that has some brown hair, even if only a small patch, on any part of the body that is not part of the head, hooves, or tarsal glands, is not protected and may be harvested, tagged and registered by a hunter if they have a valid tag for that type of deer (buck or antlerless deer)."

The white buck that was shot near Leland had a a brown spot the size of a half dollar on its side and would have been legal to shoot even outside the CWD zone.  This is a very technical demarcation and should not qualify an otherwise all white animal for hunting.  As far as reproduction, the piebalds also carry white genes, so their loss represents a further diminishing of white genes in the overall herd.