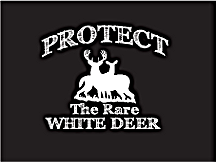 About Us
Who we are

We are hunters and non-hunters alike who would rather watch these rare white deer going about their daily living than see them hanging lifeless on a wall or in a full body mount at a big box sporting goods store.  We feel these animals should remain alive and in their natural habitat so everyone can enjoy their beauty.
Our group is not limited to people who just live or have property in the Leland area.  Many other people have expressed their support for saving the white deer.  These people hunt here, hike here, bike here, picnic, take pictures, visit the parks and natural areas, and attend local events.  A few of the lucky ones have also had the thrill of seeing one of the white deer.  We hope many others will have that opportunity in the future.

Where we live

Support for the effort to protect the white deer extends far beyond Leland.  So many people have stopped at Leland or talked to local residents to express their support for what we are doing.  Email to tell us how you feel and where you're from.  We'll add your town to the list.
Alma, Appleton, Arlington, Arena, Baraboo, Belleville, Black Earth, Boulder Junction, Brookfield, Clear Lake, Cottage Grove, Cross Plains, Dane, Darlington, Dodgeville, Eau Claire, Edgerton, Fond du Lac, Fort Atkinson, Fountain City, Green Bay, Hayward, Hillpoint, Hillsboro, Hyde, Janesville, La Crosse, La Valle, Lake Delton, Lime Ridge, Lodi, Loganville, Lyndon Station, Madison, Manitowish Waters, Merrimac, Middleton, Milwaukee, Montfort, Monroe, Mount Horeb, North Freedom, Oregon, Pardeeville, Pewaukee, Plain, Portage, Poynette, Prairie du Sac, Reedsburg, Richland Center, Rock Springs, Roxbury, Sauk City, Spring Green, Star Prairie, Stevens Point, Stoughton, Verona, Watertown, Waukesha, Waunakee, Waupun, Wausau, Wisconsin Dells.