Home
The White Buck

On November 17, 2012, the first day of Wisconsin's fall gun deer season, a buck was shot near Leland, Wisconsin. This was no ordinary buck though. Even more striking than its beautiful rack was its color–it was almost pure white! But few people besides the hunter were as excited about the kill.

The white buck was one of a small population of rare white deer that are admired and cherished by local residents–so much so that most people had vowed not to shoot any of the deer, especially the white buck. The hunter who took the deer was from out of town and shared neither the respect nor interest in preserving the white deer–the third white deer to be killed near Leland in five years, all by out of town hunters.
Channel 3 News in Madison, Wisconsin picked up the story of the kill, which garnered massive interest–both for the uniqueness of the deer and the controversy involved in shooting the deer. Technically, it was a legal kill, but by no means was it an ethical kill. Many Leland area residents who had watched and admired the white buck were shocked and outraged.
This website is part of an organized effort to protect the remaining white deer in the Leland area. It brings together numerous sources of information to create an accurate and complete picture of the white deer story. Most of all, it is to educate, encourage, and enable people to join the effort to affect legal change to protect the white deer.

White Deer News and Updates
2022 "Forest and Flight" Art Fair Schedule
June 1, 2022
Forest and Flight Photography will again be at various area art fairs this summer to offer outstanding wildlife photos of cranes, ducks, hawks, eagles, songbirds, and mammals.  Photographer Mike Richard's specialty, however, are the pictures he takes of the white deer that live right next to his Leland area home.

June 25 & 26 — Spring Green Arts & Crafts Fair — Spring Green, WI — downtown (look for us at the corner of Washington and W. Jefferson) — Sat 9-5, Sun 9-4
August 6 — Real Freedom Art, Craft & Vendor Fair — Necedah, WI — Lions Park — Sat 9-4
August 13 & 14 — Green Lake Fine Arts Show — Green Lake, WI — Playground Park — downtown Mill Street (look for us near the foot bridge) — Sat 10-5, Sun 10-4
September 17 & 18 — Holy Hill Art and Farm Market — Hubertus, WI — 4958 Holy Hill Rd (Hwy 167) — Sat 9-4, Sun 9-4
Weekends throughout summer and fall — Wisconsin Dells Craft Mall — Lake Delton, WI — S2279 Timothy Lane (take the Timothy Lane exit off Hwy 12) — Sat 8-4, Sun 8-4
A Good Sign
April 30, 2022
What do you do if you have a population of white deer in your community?  An animal that occurs only once in an estimated 1 in 20,000 deer?  An animal so striking cars screech to a halt so driver's can get a better look?  An animal so gorgeous it leaves viewers in awe?  An animal so unusual photos and stories make national headlines?  An animal so special it was considered sacred by Native Americans?
Well, you put up a sign to welcome the tourists, of course!  You will definitely have a "trademark" that is unique.  It might bring some revenue into the community, but best of all, it will make a whole lot of observers and photographers really, really happy.
Here are some examples of communities or groups that recognized the value of their unique residents and made the most of them.  In short, they took a "golden goose" and made a nest box.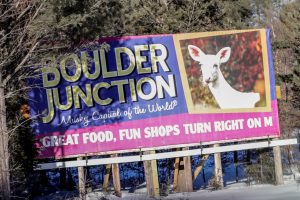 Copyrighted photo T'xer Zhon Kha – USA TODAY NETWORK.  Used with permission.
This 2020 billboard along Hwy 51 near Woodruff uses a white deer to promote tourism in Boulder Junction, Wisconsin.  The area's longtime population of white deer have often drawn tourists to the area and bring frequent inquiries to the city's chamber of commerce.  Learn more about Boulder Junction's white deer from the city's website, from this great article, and from this very popular photo website.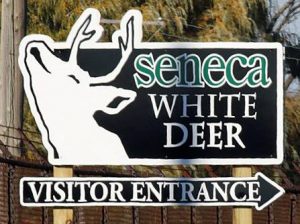 Photo from Seneca White Deer, Inc.
This sign greeted visitors to a corner of a decommissioned army depot near Seneca Falls, New York from 2017-2019.  The fenced facility allowed a population of white deer to increase and flourish.  A local group, Seneca White Deer, Inc, worked to preserve the deer after the government property was sold.  They promoted the deer, created a welcome center, and ran bus tours–a program that hosted more than 15,000 visitors over two years.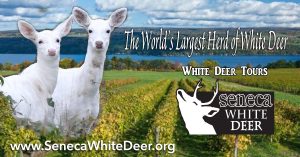 Photo from Seneca White Deer, Inc.
Here's a poster promoting the Seneca white deer herd and the white deer tours.  Unfortunately the tours ended at the end of 2019 because of issues with a lease agreement with the property owner.  Seneca White Deer, Inc still has its website up with general information on the Depot, white deer, photos, and history.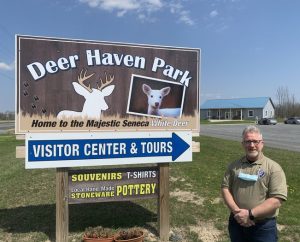 Photo credit:  Syracuse.com | The Post-Standard | David Figura.  Used with permission.
The Seneca visitor center and tours are now operating under a new organization and name:  Deer Haven Park.  After reorganization and two years of devastating Covid shutdowns, white deer fans are hoping to rebuild the popularity of this tourist destination and preserve.  According to operation manager Truman Bells (in photo), food plots are continuing to be planted for the deer and the white deer numbers are on the rise.  Here is an update of the Seneca white deer story.  Information on the park and tours can be found at the Deer Haven Park website.

Mike Crowley:  A Northwoods Legacy
April 4, 2022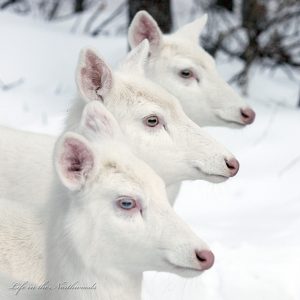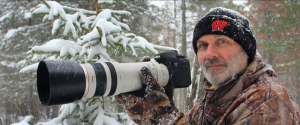 Top:  A group of Northwoods white deer, watching a Wisconsin Badgers football game on TV.
Actually, these photos are part of the "Friendly Faces" series from the Facebook page "Life in
the Northwoods" (March 18, 2022).  Bottom:  A photograph of the photographer, Mike Crowley.
One of the Northwoods' most iconic residents, photographer Mike Crowley, passed away at his home near Boulder Junction, Wisconsin on March 9 at the age of 76.
Mike photographed many outdoor scenes, but it was his incredible photos of the white deer that frequented his property that introduced thousands of people to these rare and beautiful animals.
Mike was born and raised in Boscobel near the Lower Wisconsin River but spent his working career in Aurora, Illinois.  His heart remained in Wisconsin, though, and for many years he and his family traveled to the Boulder Junction area in Vilas County for summer vacations.
When Mike retired in 1998, he and his wife Marshia moved permanently to the Boulder Junction area.  The great musky fishing was a major draw, but so were the white deer.  According to the couple, "It is not far-fetched to say they played a part in our decision to spend our retirement years in Boulder Junction."
Ghost of the White Deer:  Overture to a Native American Legend
February 14, 2022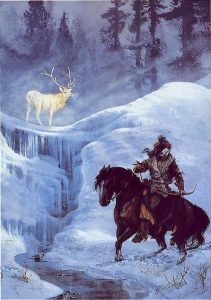 "Spirit Elk" by Hermon Adams.  Used with permission.
On Valentine's Day weekend of 2020, the Dallas Symphony Orchestras performed a concert of musical works based on love stories. Tchaikovsky's Romeo and Juliet? Of course. But how about Jerod Impichchaachaaha' Tate's Ghost of the White Deer Bassoon Concerto? Yup, that, too. In fact, it was a world premier for this piece, and it fit right in.
Jerod Impichchaachaaha' (pronounced like a triplet and four sixteenth notes, according to the composer) was born to a Chickasaw father and an Irish mother in a highly musical family. Trained in classical piano, he made an early decision to compose music based solely on Native American history and culture—an endeavor that he became highly successful at.

"Ghost of the White Deer" is based on a Native American legend about a young Chickasaw brave and a Chickasaw maiden who are in love. But before they can marry, the girl's father—not a fan of the marriage—insists that the young man bring him a white deer, knowing that the chances of finding such a rare creature are almost nil, which is the point.

Let's see now: hostile father, near-impossible task, magical animal—uh…this isn't going to end well. And it doesn't. The brave does find a white deer and shoots it, but instead of dying, the deer charges him with "red eyes glowing" and "horns sharp and menacing" (heavy on the brass here; double forte).
But then, like an eternal cliffhanger, the story pretty much ends. We never do know what happens to the deer or the young man. The tribe gives up waiting, but not the Indian maiden. She has a secret: in the campfire smoke on moonlit nights she sees the wounded white deer and lives with the belief that one day the deer will die and her beloved will return.

In this musical rendition, modern instruments evoke the narrative, but it is a single deep bassoon that most depicts the events and characters—especially "the timbre and calling of the sacred white deer." Jerod Impichchaachaaha' Tate successfully adds one more dimension to a story that is already powerful and appealing.  Romeo and Juliet, move over.
Note:  To read the entire story, Legend of the White Deer, click here.
Hazard on the Highway
February 9, 2022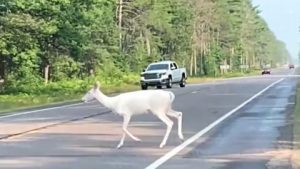 A white deer crosses Hwy 51 near Manitowish Waters (Vilas County,
Wisconsin).  Screenshot from video taken by Brandon and Kyle Bushaw.
This white doe made big news this past summer when a viral video appeared on numerous news shows and garnered over a million views on social media. The video was taken by two brothers who were vacationing near Manitowish Waters in northern Wisconsin and happened to be in the right place at just the right time. It made a fantastic story, but the story could have ended differently.
Deer have a very poor track record when it comes to crossing highways safely. Department of Transportation statistics show that approximately 20,000 deer a year are involved in vehicle collisions in Wisconsin. This has serious consequences for both the deer and the cars, but it is all the more tragic if a white deer is killed.
With an estimated 1.6 million deer in Wisconsin, the loss of a normal brown deer will hardly be noticed, but when the loss is a deer that occurs only once in an estimated 1 in 20,000 individuals, that hurts–especially when the deer is a very popular and well known animal.
White Deer is Honored with Special Art Exhibit
January 23, 2022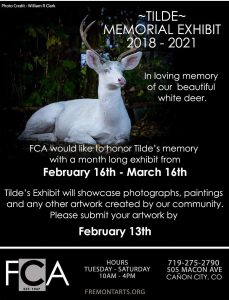 An art center in a Colorado city last year had a special exhibit in memory of one of its most beloved residents. An artist? An author? A civic leader? Nope. This honoree had four legs and hooves. It was a white deer.
The deer's name was Tilde—a rather different name until you realize it refers to the wavy line over the "n" in the city's Spanish name, Cañon City, a town of about 17,000 located southwest of Colorado Springs.  After announcing the contest-winning name, the mayor added, "The tilde is as unique to the city as the deer."
Tilde was first seen in Cañon City in August of 2018 and soon became the city's most popular resident, often hanging out with his herdmates on the edge of the city. He was more than a part of the landscape though—he quickly became a fixture in both the hearts and minds of his admirers.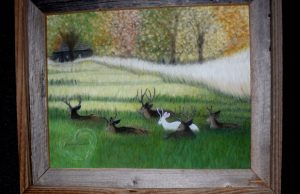 Tilde, bedded down with his herdmates on the outskirts of Canon City.  By Becca Miller.
White deer are beautiful animals, but Tilde was especially photogenic. Literally thousands of pictures were taken of him over his lifetime—many shared on a special Facebook page called "Tilde the White Deer," which had over 2000 followers. Tilde was a celebrity.
Along with the affection, though, came concern.  The greatest fear residents had was that Tilde would get hit by a car, the most common fate for deer in Cañon City. 
The other fear was that Tilde could be hunted or poached.  Colorado doesn't have a white deer law, so the City Council created its own ordinance that would prohibit "targeting, wounding, or killing the rare albino."
A Light in the Dark
December 28, 2021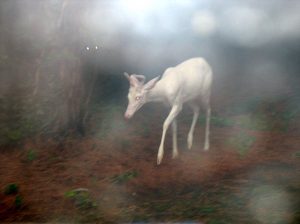 Photo by Kay Goldstein.  Used with permission.
Some years ago, Kay Goldstein had a white deer appear frequently at her Chapel Hill, NC, residence. The encounter was always one of excitement, wonder, and reverence. Kay remarked: "He may as well have been a unicorn."
Whole mythologies, or stories, exist around such deer. White animals have always been considered messengers from the spirit or "other" world, a symbol of man's quest for spiritual knowledge, or a prophecy of things to come.
Kay recounts though: "If I had known nothing of these stories, (the deer's) appearance in my life would still have been deeply moving. For the white deer evoked in me the world of imagination, spirit, and a reminder of that which is not easily seen in our everyday world."
One winter afternoon, Kay had an especially meaningful encounter with the white deer. As she sat and meditated on the experience, she "felt a deep heart connection with the (animal), a sense of peace and love."

"Ghostly" Books for Christmas Giving
December 15, 2021
The "ghosts" are, of course, ghost deer, and they walk the pictures and pages of these wonderful books. These are great gifts for Christmas or any time of the year…or just to buy for yourself.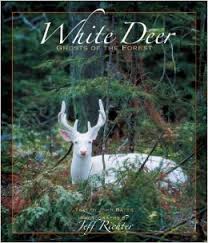 White Deer: Ghosts of the Forest by Jeff Richter and John Bates
Jeff Richter spent years in Vilas County in northern Wisconsin photo documenting the area's white deer. His photos are outstanding–even more so because Jeff doggedly refuses to use digital technology to edit his pictures. The book is both gorgeous and unique.
White Deer: Ghosts of the Forest is an excellent book to leave on a living room table; guests will be in awe of both the deer and the beautiful pictures.  Naturalist and co-author John Bates provides information on the white deer's history, cultural significance, and genetics.
Available from Nature's Press, Manitowish River Press, and Amazon.com.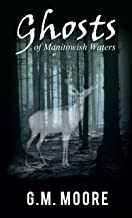 Ghosts of Manitowish Waters by G.M. Moore
Ghosts of Manitowish Waters offers action, adventure, suspense, and a mysterious white deer herd. The story's two main characters–a teenage girl with an overprotective father and an Ojibwe boy struggling with his identity–are accidentally drawn together in a sometimes dangerous quest to find the rare herd and return an injured white fawn. Like any good quest, though, it is also a journey of self-discovery.
This fictional story is set in real life locations in the Manitowish Waters-Boulder Junction-Minocqua area where there is an actual population of white deer. The author grew up in the northwoods "battling game fish and exploring the lakes." Her book is targeted toward middle school readers, but is also entertaining for adults who will be drawn into Moore's readable style and the world of the intriguing white deer.
Ghosts of Manitowish Waters is available from Amazon.com

Death of Another Leland White Deer: Why the Current Wisconsin White Deer
Law Is Not Working
December 10, 2021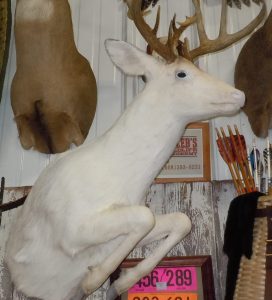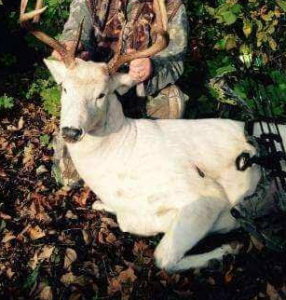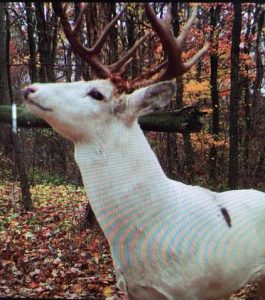 According to current DNR regulations, none of these deer qualify as a white deer.
All were legally shot in the Leland area in recent years.  If white deer are protected
in Wisconsin, how can this be happening?
Nine years ago the Leland community was shaken after a popular white buck was shot during the 2012 gun deer season. It was technically a legal kill (white deer protection had recently been removed in the area because of Chronic Wasting Disease), but as local resident Brandon Yanke told a Ch 3 reporter, it was not an ethical kill.
There was a community understanding that the 2012 buck was off-limits to hunters—too fine, too rare, and too unique to be shot. What was especially disturbing was that the hunter who shot the buck was from "out of town." Coming into a community and knowingly shooting their favorite deer is not exactly an act of respect.
The locals that had watched this buck grow up and reveled in its beauty for its five and a half years didn't exactly share the hunter's elation. The fallout after the "Leland buck" was killed was seismic. Local news media picked up on the story and it went viral both nationally and abroad, appearing even in UK's Daily Mail.
Hunters:  Time to Test Your White Deer Knowledge
November 15, 2021
White and albino deer are protected in all of Wisconsin, but what do you really know about these highly unusual deer?  Since piebalds are legal game in Wisconsin, can you really tell the difference?  Before you go hunting, be informed and always be sure of your target.  Here is a quiz to test your white deer knowledge (answers below):
1.  This buck has brown on the top of its head.  Does that mean it is legal to shoot?
2.  There also appears to be some brown coloring around one eye.  Does this make the deer legal to shoot?
3.  The buck has brown eyes.  Are brown-eyed deer with white coats legal game?

4.  This all-white doe has brown inside its rear legs.  Does that mean it is a piebald?
5.  This deer also has brown eyes.  Is it an albino, or leucistic?
6.  Does it matter if the deer has a pink or brown nose?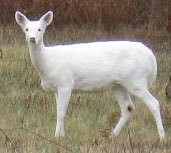 7.  How long have white and albino deer been protected in Wisconsin?
8.  What other states protect white deer?
9.  Which is the only state that also protects piebalds (deer with both brown and white coat color)?
Answers:
1.  Don't shoot!  The brown is staining from scent glands at the base of the antlers and from rubbing the forehead against saplings.  It is essentially "dirt" on a white coat.
2.  Don't shoot!  This may be true coat color, but white deer are still illegal to shoot in Wisconsin even if they have some brown on the head.
3.  No!  Eye color does not matter.  It is coat color that determines if a deer is protected.  Don't shoot!
—————————————————————————————————————————————-
4.  No!  The brown color is from the tarsal glands, which are hard, scent-producing glands.  The whitest of deer (both bucks and does) still have these dark brown glands.  Don't shoot!
5.  Brown eyes are generally characteristic of leucistic deer.  Albinos usually have pink eyes (but can also have blue or green eyes).  Both leucistic and albino deer are protected in Wisconsin.
6.  Leucistic deer usually have brown noses while albinos have pink noses.  Either way, the deer are protected.
—————————————————————————————————————————–
7.  81 years!  Protection was first put on the books in 1940.
8.  Illinois, Iowa, and Tennessee.  A small area in Montana had protection, but may not anymore.  Michigan and Minnesota had protection until fairly recently.
9.  Iowa also protects piebalds that are 50% or more white.
Photos credits:  Seneca White Deer
2021 "Forest and Flight" Art Fair Schedule
June 5, 2021

This summer, connoisseurs of fine wildlife photography will once again get to see and purchase photos from Forest and Flight Photography. Some shows are still closed, but here is a list of art fairs and markets where photos will be available. Photographer Mike Richard particularly likes to take pictures of the white deer that hang out near his Leland home, but his photos also include cranes, ducks, hawks, eagles, and songbirds. Mike's website gallery shows many of the photos that will be for sale at these shows.
June 5 & 6—Holy Hill Art and Farm Market–4958 Holy Hill Rd (Hwy 167), Hubertus, WI–Sat 9-4, Sun 9-4
July 10 & 11—Art Fair Off the Square–200 Block Martin Luther King Jr. Blvd & Olin Terrace Walkway, Downtown Madison, WI–at 9-6, Sun 10-5
August 10 & 11—Green Lake Fine Arts Show—Playground Park on Mill St, Downtown Green Lake, WI–Sat 10-5, Sun 10-4
September 18 & 19—Holy Hill Art and Farm Market–4958 Holy Hill Rd (Hwy 167), Hubertus, WI–Sat 9-4, Sun 9-4
Weekends throughout the summer—Wisconsin Dells Craft Mall–S2279 Timothy Lane in Lake Delton, WI–Jun 19-20, Jul 3-4, Jul 24-25, July 31-Aug 1, Aug 21-22, Aug 28-29–Sat and Sun 10-5
More shows may be added later, so check back periodically or go to the Forest and Flight website.
Hidden Treasures: The Life and Perils of a New White Fawn
May 30, 2021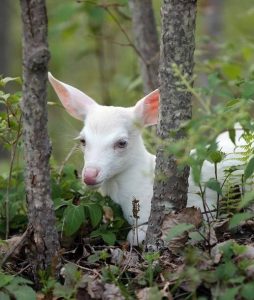 White fawn in the woods.  Photo credit:  Tom Dorsey
Some of Leland's white deer have been around for years (the oldest one lived to be 13!). Others grace the landscape for a short while and then are gone–the victims of cars, coyotes, or disease. Whatever the cause, it's always a loss. It is spring that brings new life and, hopefully, new white fawns.
Fawning time in southern Wisconsin is typically from mid-May to early June, but Amy Sprecher, who has watched a family group of white deer near Leland for over a decade, says that most fawns in the area are born around May 15.
According to Amy, just before the new fawns are born, the does start chasing off the previous year's fawns. Mom uses her hooves to get the point across (literally) and the young deer finally slink off—bruised and bewildered.
Now alone, the mom gives birth to one to three fawns. Twins are typical, but does occasionally have triplets. A severe winter may cause fetuses to abort, which happened in 2012 after record snow fell. Almost all the deer that spring produced only single fawns.
Cruising for White Deer:  Natural Marvels in the Leland Area
May 7, 2021
How do you know it's spring in the Leland area? The cranes are back in the marshes, the frogs are singing by Honey Creek, the eagles are on the Leland nest, and it's time to go looking for white deer.
One of the most fun things to do in March and April is cruise the back roads near Leland looking for white deer. For some, this is a regular pastime, and you can always tell them—they are the ones driving abnormally slow (even for a winding Sauk County road) and they frequently stop.
But timing is important. February is too early to look for white deer. They may come out into the fields in the evening, but with any snow cover, they totally blend in. Good white deer watching requires snow-free ground.
But come March–when the snow starts to melt and you finally have a darker background, when the deer start moving off the bluffs and into the fields, and the sun gets low in the sky—that's the time to grab the binoculars and hop in the car.
Actually, it's not too much of a feat to find the white deer. Not that they are so common—far from it. But deer are creatures of habit, so they can often be found in the same places. It also doesn't hurt that the deer's white color makes them stand out a mile away.
Large numbers of grayish-brown deer graze the fields at this time. With the snow gone, now they are the ones that are hard to see. But who's looking? It's the white deer that totally command your attention.
There's a double perk to driving the Leland area this time of year. March and April are also the best times to view the incredible sandstone bluffs in the area—before the summer leaves cover their crags and surfaces.
For those from out of the area, the rocks are a scenic revelation. For locals, it's always nice to travel your own back roads. It gives you a sense of place. If you see a white deer or two, or three or four, or even five or six, so much the better.
By the end of April, though, the show is almost over. Farm work has begun and the fields are getting disked or plowed up. Tractors and humans are disrupting the quiet scene. In another month the does will be dropping fawns and they're becoming very secretive.
During the summer, white deer sightings are even less predictable. All the trees are leafed out and the corn is as high as an elephant's eye. It's hard to see anything—even perfectly white deer.
Fall finds the deer gathering again. Antlers finally make it easy to identify the bucks, and the corn harvest is starting to open fields. During hunting season, though, all bets are off as to where anybody is. The deer become scattered, wary, and much more nocturnal.
In winter, deer habits change again, as snow makes travel more difficult and food harder to find. The same white coat that made the deer so conspicuous in April now gives them the perfect winter camouflage.
Then one day it happens: the snow is gone, the cranes are back, the frogs are singing, the eagle is on its nest, and the deer are in the fields. As the seasons take another spin, so will the white deer watchers. It's time to grab the binoculars and hop in the car.
Wisconsin Conservation Congress Votes in Favor of White Deer
April 29, 2021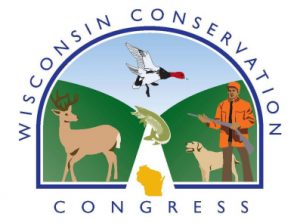 The Wisconsin Conservation Congress Spring Hearing results are in and voters have shown once again that a majority of residents want to keep white deer protected.
The hearing, which tests the waters of public opinion on conservation issues, was held online this year from April 12-15. The number of people voting, 12,641, was up from most previous years, but down from last year when a record 64,943 people voted.
The results for the question "Would you support legalizing the harvest of white, not albino, deer statewide?" were a mixed bag. Although an overall win, the 200-vote margin was down considerably from 2014 when hearing participants voted overwhelmingly against a similar proposal.
Voters this year were asked if they were "a resident of the county" or if they "recreate in the county." More "residents" voted in favor of hunting white deer, while a much higher percentage of "recreators" (virtually the entire northern and southern portions of the state) voted against the white deer proposal.
Groundhog Day at the WCC: Another Attempt to Legalize the Hunting of White Deer
April 6, 2021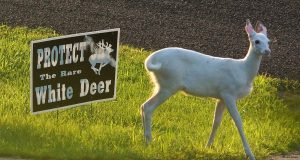 This white fawn near Leland agrees: Keep the white deer protected! Photo by Mike Richard,
Forest and Flight Photography
URGENT: YOUR VOTE ON APRIL 12 IS NEEDED TO PROTECT THE WHITE DEER! A proposal to legalize the hunting of white deer is listed on this year's WCC Spring Hearing ballot, a public opinion survey on various Wisconsin outdoor issues.
You can preview the WCC Questionnaire prior to voting online on Monday, the 12th. Vote "NO" to Question #14! For more information on Wisconsin, white deer, and the hunting issue, keep reading...

Despite several failed attempts over the past eight years to make hunting white deer legal, a group of hunters is trying once again to gain public support for the idea through a question on the 2021 Wisconsin Conservation Congress Spring Hearing ballot.
The Spring Hearings are a unique Wisconsin tradition that give the public a chance to weigh in on proposed rule changes regarding hunting, fishing, trapping, and other natural resource topics. Although results are only advisory, they can influence legal change by the Natural Resources Board (NRB) and Wisconsin legislature.
Ballot questions come from the DNR, the NRB, and the WCC itself. Groups and citizens can also offer rule changes, called "citizen resolutions," which must pass in their county of origin first and be approved at various WCC levels before being put on the following year's WCC general ballot.
This year's question on white deer was originally passed in Wood County where a group of hunters has been trying for some time to legalize the hunting of white deer. The 2021 WCC question reads, in broader wording: "Would you support legalizing the harvest of white (not albino) deer statewide?"
If this question sounds vaguely familiar, it's because it is almost identical to a 2014 WCC ballot question, but with the exclusion of albinos.
White Deer Masks for the White Deer Fan
March 24, 2021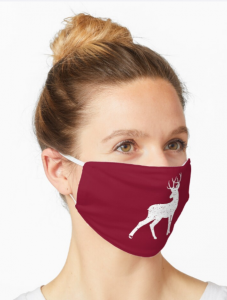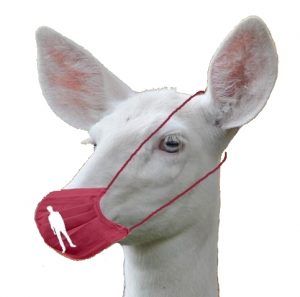 Need a face mask that promotes your identity? Want to show your support for white deer? Want something really different and cool? Believe it or not, you can now buy your very own white deer face mask.
RedBubble, an online marketplace for products that feature user-submitted artwork, offers over 800 masks with deer images or designs, including 30 with white deer. If there's ever been an icon of the times, it's the Covid face mask. If there's ever been an icon of rare and exquisite beauty, it's the white deer.
Of course, health conscious white deer also need their own masks—and they especially like the ones with pictures of their favorite human fans. White deer, like all deer, know how to social distance—all it takes is a whack or two with their front hooves. Fresh air and lots of sunlight and natural foods (particularly browse and forbs) also enhance their immune systems.
Click here to see a collection of outstanding white deer masks, all of which can be ordered directly from RedBubble.com. Be safe, be socially conscious, and show the world how much you care about preserving our white deer.
Marquette: Michigan's "Boulder Junction"
January 23, 2021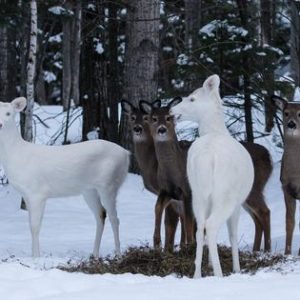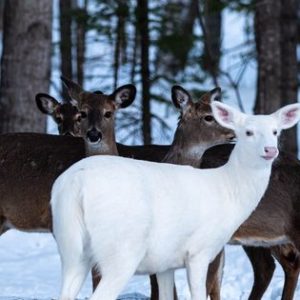 A deer yard at Presque Isle Park in Marquette, Michigan. The photos were taken by Steve Lindberg,
a retired Michigan representative who now spends each day photographing the varied and beautiful
wildlife around his Marquette home.
White and albino deer are extremely rare, but pockets do occur. Wisconsin has it's Boulder Junction, Minnesota has Father Hennepin State Park, and Michigan has Marquette.
Marquette is known as a university town and Great Lakes shipping port on the south shore of Lake Superior. One of its lesser known claims to fame is that it is also home to a small population of white deer. What is even more unique is that the deer can actually be traced back to just one animal and one event.
It all started in the winter of 1981-82 when an albino buck began appearing in the Rapid River area about 60 miles southeast of Marquette. The buck could be seen on a regular basis along Hwy 2 east of Rapid River. People enjoyed watching the deer and began feeding him.
Fears began to grow, though, that the animal could be hit by a car or poached, so residents petitioned the DNR to move the animal to a safer location. The DNR kindly obliged and the buck was tranquilized and successfully moved to a deer enclosure at Presque Isle Park, a 323-acre park located on a peninsula right next to the city of Marquette.
After this, however, things didn't go so well. The white buck kept crashing against the fence trying to get out and some of the resident deer started attacking him. This guy was an intruder to them and he was not welcome. In all fairness, he didn't want to be there either.
From Hobby to Passion—It Started with a White Deer
January 15, 2021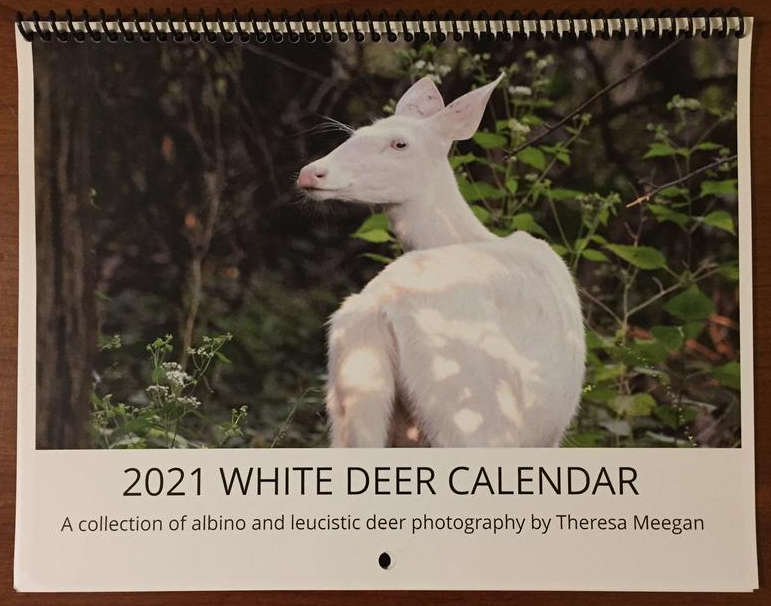 People often comment how amazed and awed they are by their first sighting of a white deer. For Theresa Meegan, however, her first glimpse of a white doe in East Aurora, NY was also life changing.
Theresa was fascinated by the doe and became obsessed with following the deer's progress and trying to get pictures of her. She had always been interested in photography, but this is when an "idle hobby" became "transformed into a passion."
During the next ten years Theresa not only gained the doe's trust, she also honed her skills as a photographer. She now specializes in wildlife photography and has put together several calendars featuring her outstanding pictures of the white doe and several other area white deer.
Theresa's 2021 calendar is almost sold out, but it looks like new calendars will be in the works for next year. Theresa says the albino doe was a very good mother and produced many fawns, but none of the offspring were ever white.
For more information on Theresa and the white doe that she pursued and befriended, read this article by David Figura from Upstate New York Outdoors. The story includes a collection of 17 of Theresa's finest white deer photos.
For a peek at another outstanding white deer calendar (unfortunately out of print and out of date) check out Mike Crowley's calendar of albino deer photos that he took near Boulder Junction, WI. This was a 2017 calendar, so we can only hope Mike puts together another calendar in the near future. One white deer photo is terrific, but twelve are even better!
Lady Clare and the White Deer
December 23, 2020
It was the time when lilies blow,
And clouds are highest up in air,
Lord Ronald brought a lily-white doe
To give his cousin, Lady Clare.
And so begins the ballad poem "Lady Clare," written in 1842 by famous English poet Alfred Lord Tennyson. Lady Clare is a wealthy young heiress and Lord Ronald is her betrothed. The white doe represents the purity of the love they have for each other.
Love is tested, though, when the noble maid, a day before her wedding, discovers she is not the person she is supposed to be. Lady Clare's nurse reveals that she is actually her mother and that Clare was switched as a baby when the real Lady Clare died. Determined to be honest about her true identity, Lady Clare goes to tell Lord Ronald…
A Work of Art
December 20, 2020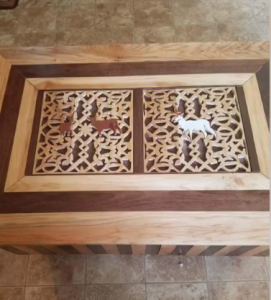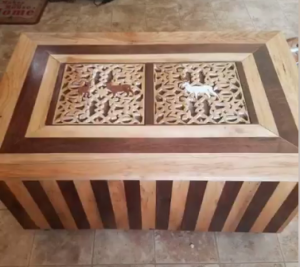 Bryan Walsh in Bear Valley has a cedar chest. It has alternating panels of dark and light hardwood and a wood filigree inlaid top decorated with deer motifs. It is just gorgeous!
But, the most eye-catching thing about this chest is that one of the deer is white. And it's not just any white deer, it's Whitey.
Whitey was a huge white buck that roamed the hills several years ago in Bear Valley, a rural community about ten miles west of Leland. The whole community loved the white buck, but Bryan often saw him on his land and felt especially close.
Locals recalled: "(Whitey) was a magnificent beast." He had such a "regal personality." "Everyone in the area became fond of seeing him around." In 2016, however, Whitey was illegally killed by a hunter and two events came together.
Prior to this Bryan had asked a very good friend, Rex Day (85 years young at the time), to make a cedar chest for him. After the buck was killed, Bryan says, "…Rex and his son Dan…decided to customize my cedar chest with a fine tribute to the big white deer."
Except Rex and Dan didn't tell Bryan about their little plan or about the chest's intricate lid pattern. "I knew nothing about the detailed scroll work on the chest until the day I picked it up. It was an AMAZING reveal!!" Bryan now says the chest is one of his most prized possessions.
The cedar chest isn't the only "Whitey artwork" at the Walsh residence. Bryan also has a large painted saw blade with Whitey lounging in a snowy landscape.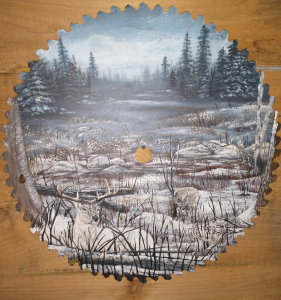 "My wife Stacy," says Bryan, "had a friend of hers do the painting of Whitey for a gift for our cabin. She explained what she wanted on the painting from a memory she had of him one morning when he bedded down for the day within sight of our house."
Even though Whitey is gone now, his genes live on in at least four white deer in the area—all offspring of this once great buck. Whitey enriched so many lives. He himself was a living, breathing work of art and Bear Valley was his canvas.
Seneca's White Deer: A License to Live
December 7, 2020




Photo from Seneca White Deer, Inc.
States across the country offer various custom license plates, but nowhere is there a more dizzying selection of specialty plates than in New York state. New York seems to have a unique license plate for every team, college, profession, organization, area, and interest there is. But there may soon be one more…
New York State Senator Pam Helming has sponsored a bill to create a Seneca White Deer license plate. A portion of the sales from the plate would go to a fund for preservation of a white deer herd that has lived at the former Seneca Army Depot near Seneca Falls, New York since 1949.

The work and idea for this novel license plate is a result of the efforts of the Seneca White Deer organization. The group was instrumental in creating Deer Haven Park on the depot property and for promoting the deer. They previously ran a visitor center there and did tours of this striking population of white deer.

Although the efforts of the organization to preserve the white deer and introduce them to tourists was highly successful, the cost to lease the land from a now private owner was too onerous for the venture to continue. Seneca White Deer is still involved in conservation efforts in the region, however, and maintains its interest in protecting the white deer.
Pam Helming is the senator of the 54th New York Senate District, which includes the Seneca Army Depot and several counties in the Finger Lakes region of north central New York. Her bill is currently in committee and will hopefully be approved early next year.
His Royal Majesty
Nov. 30, 2020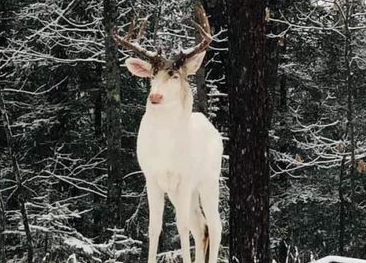 Stepping out of the woods like an apparition, this magnificent white buck was digitally captured in Vilas County in Northern Wisconsin. The photo was first posted on Facebook and soon shared by thousands. The picture was taken by Tracy Weese from her house near Boulder Junction. "His Majesty just strolled through our backyard," Tracy wrote. Hear her account of the experience in this television interview.

A particularly nice article on the buck and the legality of hunting white deer in Wisconsin was published on the USA Today Sports webpage. Lest any hunter is ignorant of Wisconsin hunting law, the article makes it clear that this buck, and any like him, are off-limits to hunting. The brown on the head and inside tarsal glands is not coat color and does not make the deer legal to hunt.

A Blizzard in May
May 11, 2020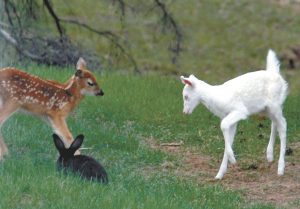 An albino fawn and his twin investigate a visitor to their pen at a park in
Iron Mountain, MI. Photo courtesy of Gene DuCharme.
Visitors to the City Park in Iron Mountain, Michigan got a big surprise on May 15, 2008–a doe gave birth to two fawns, and one of them was completely white! Magical and mesmerizing are the usual adjectives for a white deer, but for this little guy, you have to add adorable. The cuteness factor was a ten.
The fawn and its twin were not actually twins in the true sense. The albino was a buck; the brown twin a doe. They were fraternal twins–genetic siblings that were fertilized at the same time, making them more like a normal brother and sister. Except white isn't exactly normal. Only 1 in 20,000 or fewer deer are ever born white.
Several days after the birth of the white fawn, the Iron Mountain Department of Public Works reported that "the albino deer born at City Park last week is doing fine," but added, "Visitors to the park may have trouble spotting the fawn, since its mother tends to hide it behind logs or in the tall grass."
The Works Department reassured visitors: "The deer will become more visible once it is older and able to walk around on its own." After about three weeks of hiding, fawns can typically run fast enough to keep up with their mothers and start following them around. When that happened at the park, it was time to bring the kids and the camera–the star of the show was ready to meet his fans.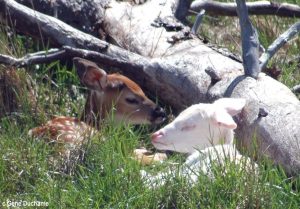 Blizzard and his twin enjoy a rest and some warm spring sun.
Photo by Gene DuCharme.
There was one thing missing though. In March of 2009, when the fawn was not yet a year old, area residents asked the city if the deer could be named. So, a naming contest was held by the Iron Mountain City Council in cooperation with the local paper, The Daily News.
85 different names were submitted for the contest and then listed on the Daily News website for a public vote. 3,753 people responded to the poll, ultimately choosing Blizzard, Snowflake, and Lumi as their favorite names.
City Council members, at their April 21 meeting, made the final choice from the top three names. The unanimous winner was "Blizzard," and the person who submitted the name received a special framed photo of the fawn by local photographer Gene DuCharme.
DuCharme told the Council that he would be putting pictures of the newly named fawn on T-shirts, sweatshirts and coffee mugs to sell around the area. "A portion of the proceeds will go towards the City Park to either feed the deer or however the city wants to use it. I think we can promote the deer as a tourist attraction…"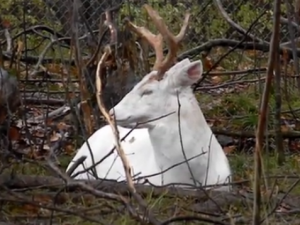 Blizzard, taking it easy again at the Iron Mountain City Park, this time as
a handsome adult buck. Screenshot from a video by Jason Asselin.
Well, Blizzard kind of promoted himself. Deer are beautiful animals, but a "not-your-everyday" white one is stunning. The Daily News commented: "Residents and visitors to the park can be seen watching Blizzard and taking pictures on any given day. The new addition to the park has become a popular attraction."
The buck never grew a huge rack or achieved herd dominance, but it was a beautiful and beloved animal for 9 years, until one morning in May of 2017 when he was found dead in his pen–a vet believed from cancer. There were still 18 other deer in the enclosure at the time, but none quite as unique.
No white deer have been born in the park since, but Blizzard's memory–preserved in both people's minds and probably thousands of digital pictures–lives on. He came into the world like a May snowstorm–unexpected and white–but left people warm and uplifted. Iron Mountain, for 9 years, was lucky to have him.
For some excellent footage of Blizzard, see these videos from Jason Asselin. The first video gives a tour of the Iron Mountain City Park deer pen. The second video shows two unique specimens: Blizzard, and Jason Asselin wearing a skunk hat.
Note: Jim Anderson, news editor for the Iron Mountain Daily News, and Gene DuCharme, an Iron Mountain photographer, provided most of the information for this article. Much thanks to both of them.
Math, Myth, and the Piebald Deer
April 13, 2020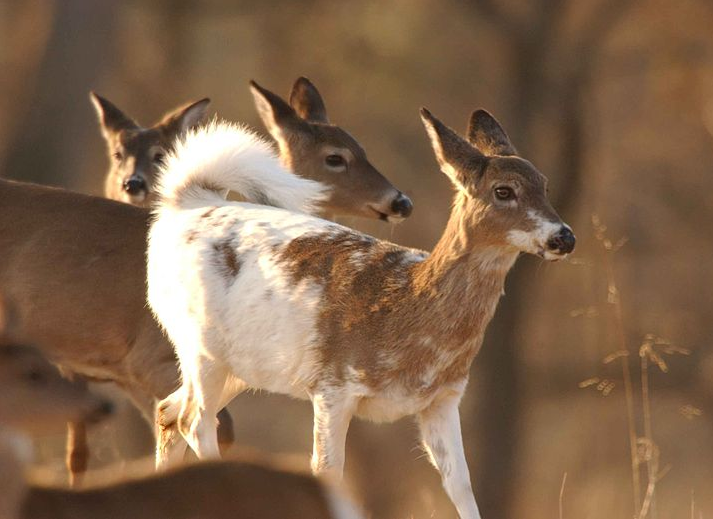 A piebald fawn with its brown herdmates. U.S. Fish and Wildlife Service – Wikimedia Commons.
Piebalds, we are told, are supposed to be much more common than white or albino deer, but perhaps an oft-cited number makes them a little more common than they really are…

Read any story on piebald deer and somewhere in the article the writer will state authoritatively that "piebalds occur in 2%, or less than 2%, of the deer population." For anyone that stops to think about that number though, that's an amazingly high statistic.
If 2% of all deer are piebalds, that would mean that 2 out of every 100 deer, or 1 in 50, have a mixed coat of brown and white. That is very hard to believe. Even if many of those piebalds died as fawns, which happens to fawns of any color, 2% is still a very high number.
In the Leland area, where cervid hooves traverse every wooded bluff and field, 1 in 50 would mean that a piebald deer should be grazing around every bend in the road. How come, then, most people here have never seen a piebald deer? White ones…maybe, but not piebalds.
And a word here on the definition of piebald: this is not referring to a pure white deer with a tiny spot of brown or black. The word piebald typically describes an animal with patches of brown or black mixed with white (think pinto horses). Even small amounts of either white or brown could qualify a deer to be a piebald, but a single spot…that is really stretching the definition.
A White Deer in Middle Earth
March 19, 2020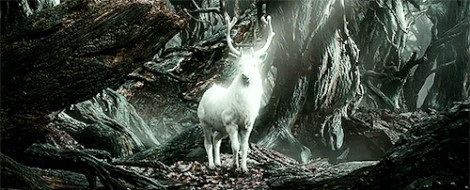 Magical animals, especially white ones, play an important role in various legends and myths. Their presence in these stories is no accident.
Very often a white deer "signifies a spiritual quest, where new insight and knowledge can be gained, and the deer becomes a foreboder of great change to follow."
Bilbo Baggins, in The Hobbit (J.R.R. Tolkien) meets just such an animal while traveling with his Dwarf companions in the dark and dangerous forest of Mirkwood.
"Suddenly on the path ahead appeared (a) snowy white deer" gleaming in the darkness. Even though the Dwarves are impelled to shoot their arrows at the deer… "(none) seemed to find their mark. The deer turned and vanished in the trees as silently as (it) had come."
Bilbo and his friends are subsequently attacked by giant spiders. They barely escape, only to be captured by Wood Elves. Their way and their cause all seem lost, but the trials and tribulations are in fact a spiritual quest unfolding. Hearts and destinies are being shaped.
Girls Night Out
March 18, 2020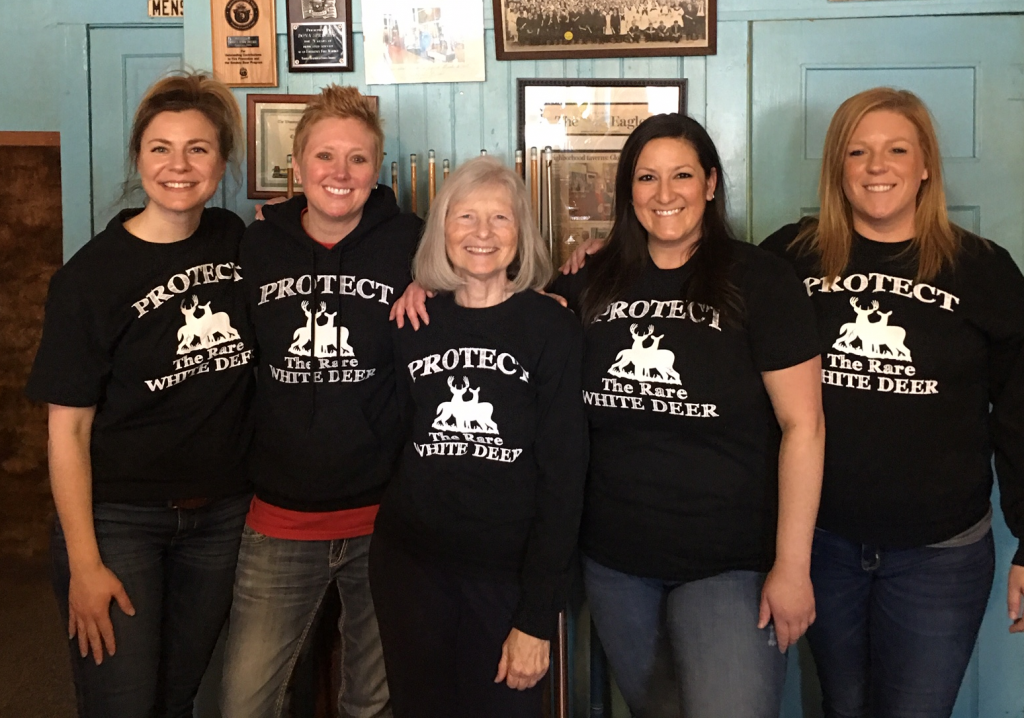 Amy Sprecher and friends pose with their "Protect the White Deer" shirts at Sprecher's Tavern in Leland, Wisconsin. White Deer are a treasured resource in the Leland area, and residents and visitors want to keep them protected.
Although Wisconsin has statewide protection, white deer with any brown coloring can still be shot. Amy and others in the community are still working to educate hunter's about the white deer and push for laws protecting predominantly white deer.
Tracking Down the "Albino Twins"
February 29, 2020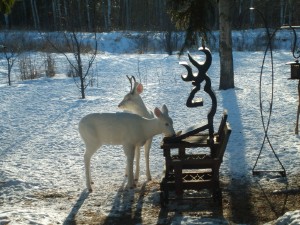 Around 2008 a popular photo went viral on the internet. The photo showed two young albino deer in a snow-covered backyard eating from a feeder. What was unique about the photo–besides the two white deer–was the buck-shaped outline that decorated the feeder.
People wondered where the photo had been taken. Like a game of "telephone," however, the picture's source was soon lost and various websites claimed the picture was taken in Montana, Minnesota, Michigan, Ohio, Idaho, and even Texas (even though Texas virtually never gets snow).
On March 24, 2008 the photo was featured on the Outdoor Oddities website and subsequently attracted thousands of viewers, including the one person who could finally set the record straight—the photographer himself.
It turns out the photo was taken by Tim Roeschlein from his house near Wahkon, Minnesota-–a short distance from Father Hennepin State Park where there is a small population of white deer. The twin fawns (one male and one female) started coming to Tim's feeder in 2006.
Genetics and the Making of a White Deer
January 25, 2020
What makes a white deer white? How is it inherited, and how does hunting or not hunting affect white deer populations? It all goes back to genes…
White Deer Genetics 101: The Basics

All characteristics in deer (and animals in general) are passed on by cellular units called genes. Genes can be dominant (expressing a trait) or recessive (covered up or hidden in the presence of a dominant gene).
Offspring receive or inherit one gene for each characteristic from each parent, so the genes occur in pairs. Combinations of genes for coat color in deer include brown/brown, brown/white, and white/white.
Because brown is dominant, the only gene combination that can produce a white fawn is white/white. White is already an extremely rare gene, so this further decreases the odds of a fawn being born white.
The more white genes there are in a population, however, the higher the chance of getting white fawns. Barriers that restrict the movement of breeding adults can also increase the chances of two white genes coming together. (See Seneca white deer herd)
If a fawn has a gene for both colors (brown/white), it will be brown, but it still carries the white gene and can pass that on to future offspring. This brown deer is known as a "carrier."
Landowners who protect the white deer on their property but who think nothing of hunting the white deer's companions (often the deer's family members) may inadvertently be removing white genes from the population.
Conversely, hunters who view white deer as defective and want to hunt them don't understand that shooting just the white deer will not get rid of the carrier genes. On the up side, when a valued white deer is lost, there is a chance the white genes will appear again in another individual. (See article below: "Her Name Is Snow White"–April 15, 2018)
Click here to find out what makes a leucistic (white) deer, an albino, and a piebald, and how they are different.

An Idea Too Good to Die–a Seneca White Deer Update
January 4, 2020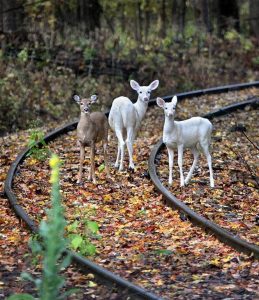 The white deer tours are ending? Say it isn't so…
(Photo by David Lassman)
Proverbial shock waves are still shaking the New York Finger Lakes region after a mid-December announcement by Seneca White Deer, Inc. that it was closing down its visitor center and white deer tours at an old decommissioned army depot. The depot has been home to a herd of white deer for 70 years.
The otherwise successful enterprise, riding on the crest of dedicated visionaries and volunteers, could not meet its expenses—the most onerous being the $8450 per month rent charged by property owner Earl Martin for the 3,000-acre conservation area dubbed Deer Haven Park.
Seneca White Deer hosted over 15,000 visitors in the two years since it officially opened, and the property grew into both a wildlife haven and repository of local military history. In October in 2019 the organization even sponsored its first "White Deer Festival," which included a "Run with the Deer." A local vineyard promoted the white deer with their own wine creation, and the Seneca group and the tours were often featured in both local and national news stories.
But it all came down to money. Despite Seneca White Deer's growing success, revenues could not keep up with expenses. A winter slump—a slowdown for virtually all tourist activities in northern states—dragged down tour sales.
A Winter of White
December 16, 2019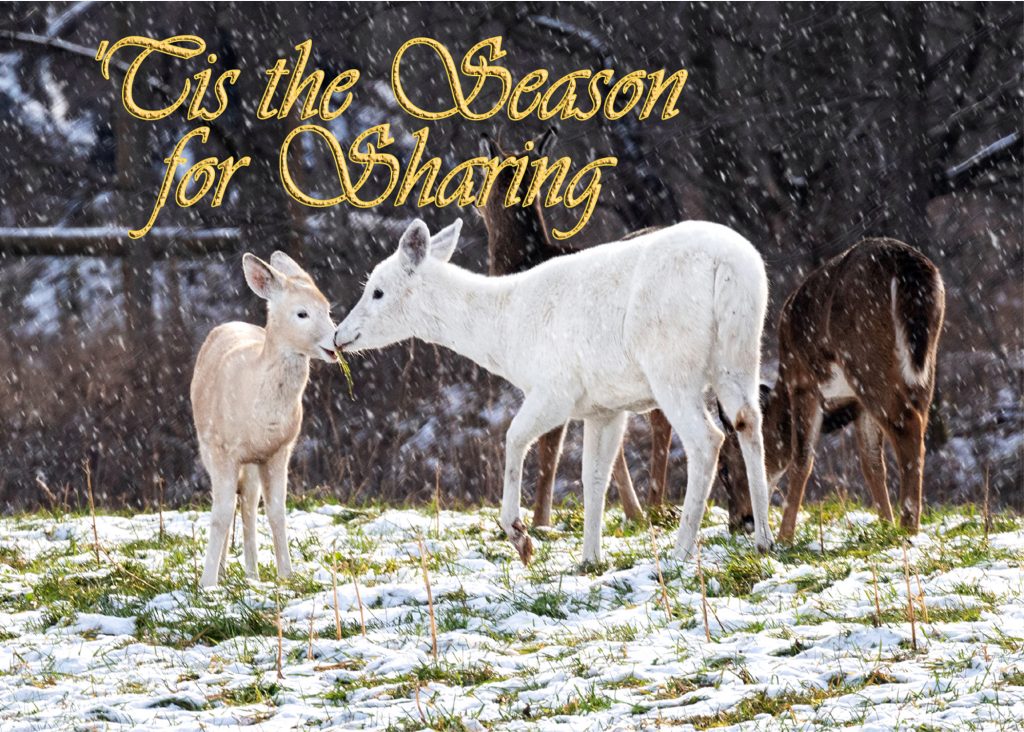 Seneca white Deer, Inc. is again offering Christmas cards featuring white deer. But with this uplifting scene comes a sad note: Seneca White Deer will be no longer be giving tours of the deer and the depot where they live.
Seneca White Deer has worked tirelessly for years to protect a population of white deer at an abandoned army depot in New York state, but the bright flash of the deer and the inspiration of its founding members has not been realized in revenue.

The president of Seneca White Deer, Dennis Money, writes on their website: Our efforts to build a tour program that could survive on revenues from tours and donations from our supporters were ultimately unsuccessful. We simply are unable to continue a program that cannot meet its expenses.
Dennis finishes his letter: We are proud of our role over the last 20 years in protecting and preserving the white deer and other wildlife of the former Depot. We hope that you, and the rest of the Finger Lakes community, continue to cherish this unique resource. Seneca White Deer, Inc. will continue to operate as an advocacy organization for the white deer and the other wildlife of the former Depot.
A thank you is in order to Dennis and all the people who worked so hard to make their dream a reality. In the process, they have educated so many people about the value and wonder of the white deer, both in New York and across the nation.
What Hunters Need to Know for the 2019 Wisconsin Deer Season
November 14, 2019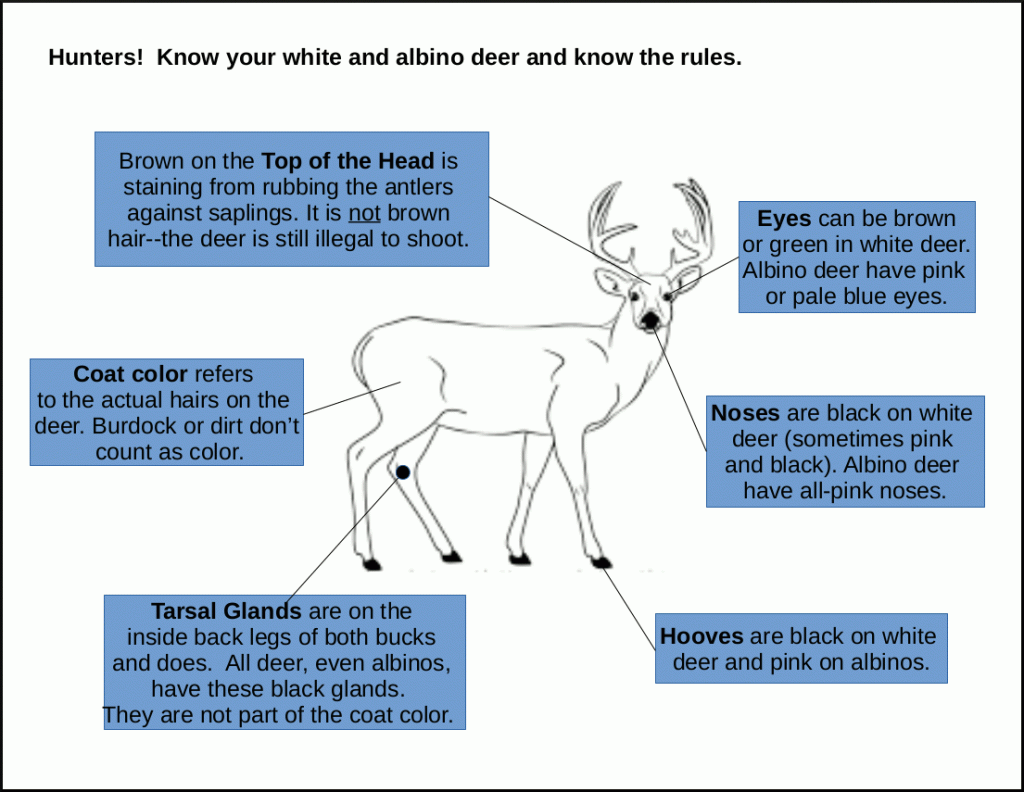 White and albino deer are protected in the entire state of Wisconsin and are illegal to hunt or possess.
The 2019 Wisconsin Deer Hunting Regulations state more specifically: It is illegal to "possess albino or all-white deer which are entirely white except for the hooves, tarsal glands, head and parts of the head."
"White deer" refers to any deer with a white coat, but otherwise normal coloring (dark hooves, a black nose, and colored eyes). A white deer with brown eyes (or even green) does NOT make them legal to shoot.
"Albino deer" lack all pigments, or color, and have pink eyes (sometimes blue), a pink nose, and pink hooves–the pink color being from blood vessels that show through the skin.
The antlers, hooves, tarsal glands (the dark "spot" inside each hind leg), and color on any part of the head also DO NOT make a white deer legal to hunt. The exclusion for head color was made because bucks often have brown staining on the head from rubbing saplings with their antlers.
Remember the most important rule of hunting: always be sure of your target!
A Ghostly Deer Haunts Brightens an Oconomowoc Cemetery
November 10, 2019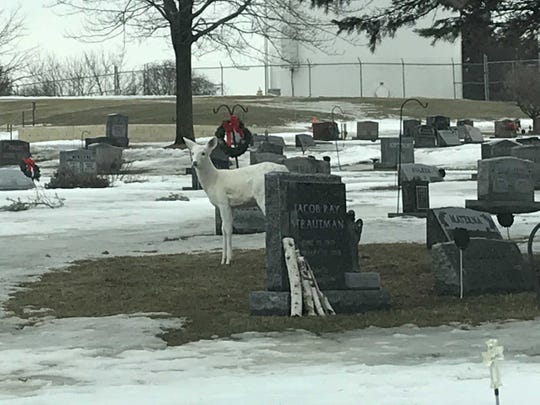 The St. Jerome cemetery on the west edge of Oconomowoc (along with nearby woods and apples trees) makes a great place to hang out for several white deer. Photo taken by Tim Boelter, St. Jerome groundskeeper.
What's scarier than a "ghost deer" in the local cemetery? Answer: Snow in October! (Alternate answer: Out-of-state folks trying to pronounce Oconomowoc.)
This "ghost deer" in an Oconomowoc cemetery isn't at all scary. Although this picture was taken last winter, it could have been taken this past Halloween when snow greeted trick-or-treaters in much of Wisconsin.
According to Halloween legend, October 31 is a portal for spirits to walk among the living. Many Native Americans believed the white deer was also a spirit or ghost–but it came back to the material world, not to haunt people, but to guide them. A sighting was also an omen of change or an invitation for self-reflection.
Read more about Oconomowoc's ghost deer here.
White Fawn Rescued on a California Highway
July 28, 2019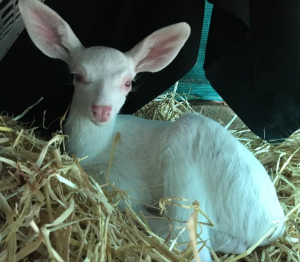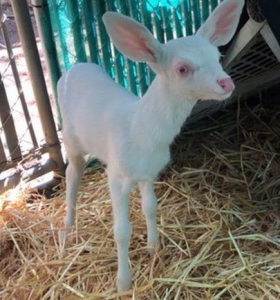 An albino fawn that was found on a busy California highway is now safe at a wildlife rescue center.
Photos courtesy of Kindred Spirits Fawn Rescue.
The most important rules if you find a fawn are 1) don't touch it, 2) don't move it, and 3) leave as quickly as possible. But if the fawn is in the middle of a busy highway with trucks barreling down on it, scratch all rules—which is what a trucker did recently when he rescued an albino fawn sitting in the middle of a busy highway near Sacramento, California.
The driver wasn't sure what the fawn was at first: a lamb? a goat? White isn't exactly a color you associate with a fawn. But the driver acted fast and was able to get the fawn off the highway and eventually to the Kindred Spirits Fawn Rescue in nearby Loomis. The center founder, Diane Nicholas, said the fawn is now strong, healthy, and very feisty–"and that's exactly what we really want."
Kindred spirits attempts to keep their orphaned fawns as wild as possible and then release them at about six months of age on private land. The public's main concern, naturally, has been whether the fawn will be vulnerable to hunters once it's mature. They can rest, however. Plans are to release the albino fawn on a 21,000-acre private ranch where hunting is not allowed. This was one lucky fawn!
Click here to read more details on the story and here to see more photos of the fawn.
2019 "Forest and Flight" Art Fair Schedule
May 29, 2019
Forest and Flight Photography will again be offering outstanding wildlife photos for sale at several area art fairs this summer. Photos include eagles, cranes, waterfowl, songbirds, butterflies, various mammals…and, of course, white deer. Some photos, called "stitched" photos, show a sequence of animals in motion. You can also see and purchase photos any time of the year at Sprecher's Tavern in Leland, Pamela's Fine Jewelry in Spring Green, and The Flower Shop in Portage (click here for more info on these locations).
Jun 1 & 2—Holy Hill Art and Farm Market–4958 Holy Hill Rd (Hwy 167), Hubertus, WI–Sat 9-4, Sun 9-4
Jun 29 & 30—Spring Green Arts & Crafts Fair–Jefferson St, Downtown Spring Green, WI–Sat 9-5, Sun 9-4
Aug 10 & 11—Green Lake Fine Arts Show–Mill St, Downtown Green Lake, WI–Sat 10-5, Sun 10-4
Aug 31—Cow Chip Arts and Crafts Fair–Marion Park, Grand Avenue & First Street, Prairie du Sac, WI–Sat 9-5
Sept 13-15—Wo-Zha-Wa Arts & Crafts Fair–Bowman Park, Wisconsin Dells, WI–Fri 12-5, Sat 9-5, Sun 9-3:30
Sept 28 & 29—Green Lake Harvest Fest–Mill St, Downtown Green Lake, WI–Sat 10-4, Sun 10-4
Hazard in the Hay Field
May 19, 2019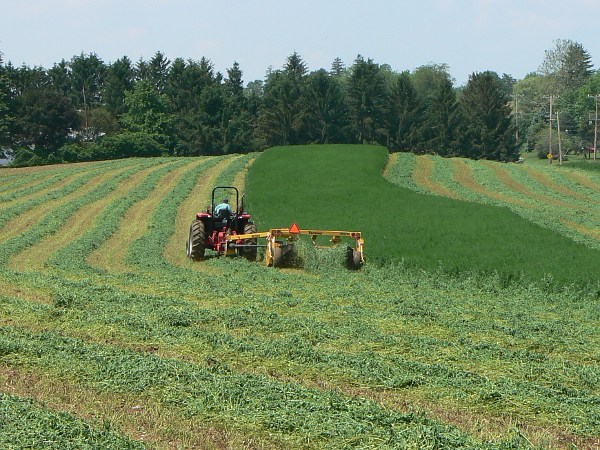 According to a 2010-2014 study on deer predation in Wisconsin done at two locations, one in east central Wisconsin and one in northern Wisconsin, the main predators of fawns are bears, bobcats, and coyotes. But those of us in southern Wisconsin–at least in Sauk County, and at least in the Leland area–know that the main "predator" of fawns by far is the hay mower.
One farmer in the Leland area says he gets an average of five fawns a year, with 13 being the record one year when there was an abnormally early spring and tall alfalfa crop. It's a sad picture, but last spring it was even sadder when one farmer hit two white fawns with his mower. How many other white fawns were killed by hay mowers and not reported?
It's an unfortunate truth that deer love to hide their fawns in the edges of alfalfa fields where they are nearly impossible to see (even the white ones). Even when in obvious danger, a fawn's instinct is to hunker down and freeze–behavior that at other times would make perfect sense. But not when a hay mower is bearing down on them.
Nobody is happy with mower deaths–whether they are fawns or wild turkeys, game birds, small mammals, or even domestic cats and dogs. But most people throw up their arms in resignation and say, "But what can you do?"
Although nothing is 100%, there are methods to minimize the grisly deaths that often come with the hay harvest. Here is a list that will help ensure that fawns of any color have a better chance of beating the mower.
Children in the Woods
May 11, 2019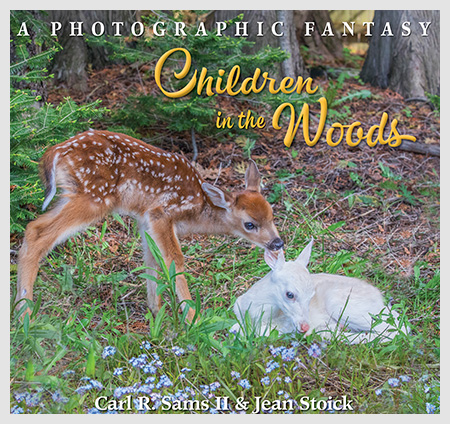 Photographer and author Carl Sams and his wife Jean Stoick have come out with a new book, Children in the Woods—a companion book to Stranger in the Woods and the third of their very popular children's books to feature a white deer.
Children in the Woods is about two sets of children: the two-legged kind (a boy and girl) who start a hike of exploration and discovery in a big woods, and the four-legged kind (a couple of fawns—one brown and one white), which they encounter on their walk.
But who is discovering whom? It's the humans who begin the exploration, but by the end of the book, it is the fawns who are venturing out to discover a world that happens to include two human children.
This book is a treasure of photos for both adults and children, but the story behind the book is even more fascinating.
Causing a Stir in Canon City
April 30, 2019
No everyday adjectives for this deer. Awed viewers have described it as stunning, gorgeous, straight up chilling, and absolutely mesmerizing.
Another Wisconsin white deer? Not this time. The big ears are the giveaway. This is a white mule deer and a resident of Canon City (pronounced "canyon city"), Colorado, located just southwest of Colorado Springs. He's also a bona fide celebrity. In fact, according to Carie Canterbury of the Canon City Daily Record, "The deer has drawn in attention from all over the country."
The white deer was first seen in the spring of 2018 and became a regular in some open fields on the east side of the city—"a deer hot spot because of larger grazing fields," according to Canterbury. Many people come out to that neighborhood to take pictures. Reporter Dan Beedie exclaimed, "This young deer takes fantastic photographs!"
Merlin: The Story of a Special White Deer
March 27, 2019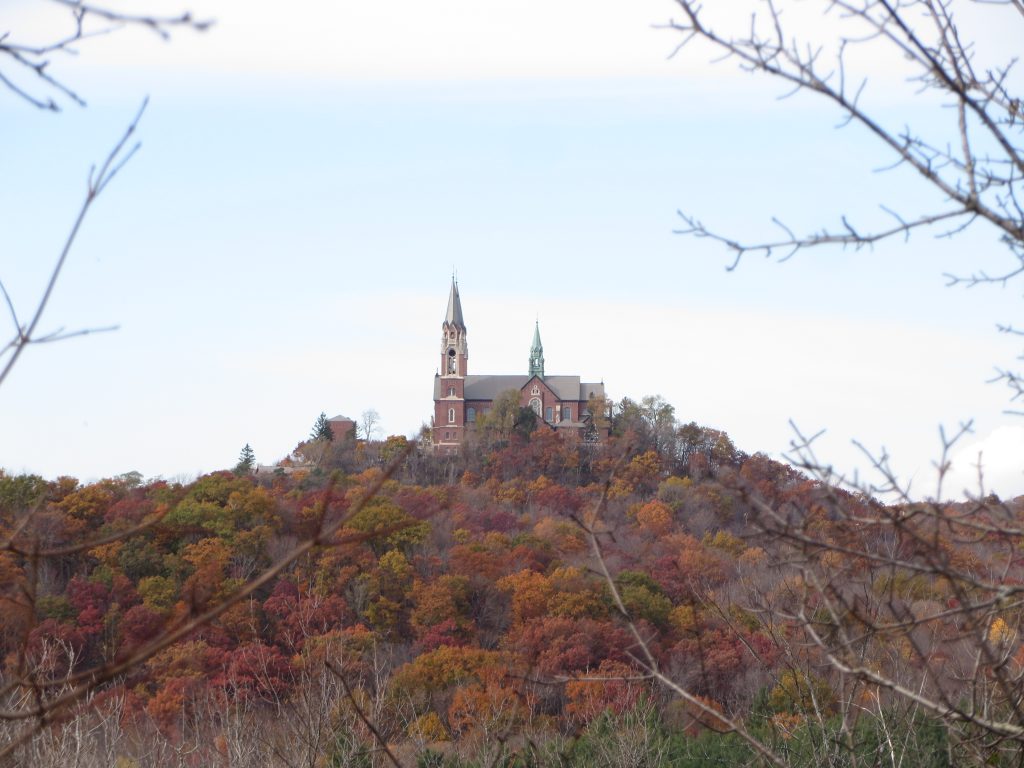 About 30 miles northwest of Milwaukee, the Holy Hill National Shrine of Mary appears like a Disney castle above the glacially flattened horizon. The stone edifice and bell towers of the church rise into the sky atop a huge kame, or hill of gravel, left thousand of years ago by the melting of Wisconsin's last glacier.
Holy Hill is a special place. But even before the church was built, the kame (the highest point in Washington county) was recognized as unique by early settlers. And before that for hundreds of years Native Americans considered the place sacred. It is a fitting location for a special white deer named Merlin and his story.
Area resident Ken G. first encountered Merlin 5 years ago. The deer was very tame. In fact the deer was so tame that Ken went into his house and got a carrot, which Merlin promptly ate–the first of many hand-dispensed carrot dinners. Ken recalls, "Everyone was feeding him!"
Of Dragons and White Deer
February 27, 2019
Author and photographer Jeff Richter recounts how a couple of people were looking at the photos of white deer in his richly illustrated book, White Deer: Ghosts of the Forest, when he overheard one of them say: "They're beautiful! Too bad they aren't real."
For people who have never seen a white deer, such animals are closer to mythical beasts than real-life animals. "Show me one," challenged writer and editor Joel Patenaude, "and then I'll believe in them." But then the magical moment happened and Joel became a believer.
Read about Joel's adventure, from a childhood with dragons and make-believe to his first sighting of a real white deer in a Minnesota park. Perhaps, though, believing goes both ways. Joel's story ends:
"The white deer will have to believe in us–and imagine we will do the right thing by them."
Note: Joel saw his first white deer while working as the managing editor of The Mille Lacs Messenger in Isle, Minnesota in 2002. He is now an associate editor of Madison Magazine in Madison, Wisconsin. Joel also wrote an Isthmus newspaper opinion piece in 2016 in response to the illegal shooting of a white buck in Bear Valley.
The Seasons and the Reasons
January 31, 2019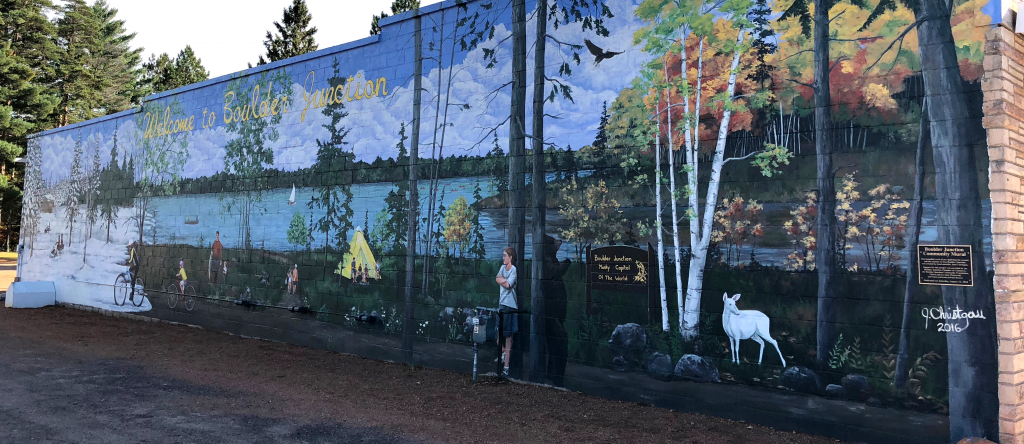 A white deer looks attentively at viewers from a new Boulder Junction mural designed to showcase the area's natural resources and recreational opportunities. Visitors in the photo below pose in front of the mural. Photos courtesy of the Boulder Junction Chamber of Commerce.
On August 13, 2016, as part of Boulder Junctions 60th annual Musky Jamboree, a long tarp was pushed from the side of the Badger Heating and Air Conditioning building in downtown Boulder Junction to reveal a giant mural.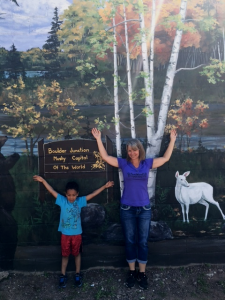 The mural, designed and painted by local artist Joan Christgau and sponsored by the Boulder Junction Chamber of Commerce, was intended to depict "the seasons and the reasons we love Boulder Junction."
The panorama shows fishing, swimming, canoeing, kayaking, hiking, biking, snowmobiling… and, of course, white deer watching. According to one news source, the mural has quickly become a favorite photo backdrop for town visitors.
A population of white deer has had a long presence in the Boulder Junction area in northern Wisconsin and is still a popular draw for tourists who come from all over to see the famous "ghost deer." Click here for information on the white deer and directions on where to find them.
From Weapons to White Deer
December 23, 2018
A White Fawn, the Big City , and New Hope for an Old Project
December 11, 2018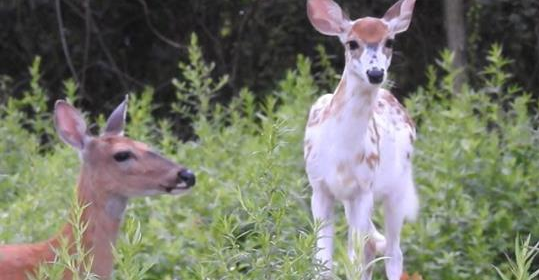 Photo by Maureen Seaberg. Used with permission.

New York City—known for the Statue of Liberty, Wall Street, Central Park, and…..a white deer?!! What was
actually a piebald (brown and white) fawn, was born last spring on Staten Island, one of New York's five boroughs.
The fawn made big news, including this National Geographic article.
Deer are actually fairly common on Staten Island. The island has seen a lot of changes over the years: as a Lenape Indian village, a 1600s Dutch settlement, and until quite recently, as a dump for New York City's garbage. The fawn was born near Fort Wadsworth on the east end of the island on land managed by the National Park Service.

But there is another story to this story. Besides being strikingly beautiful and unusual, the "white"
fawn has become an inspiration for the resurrection of a forgotten project–a project of colossal
proportions.
They Left the Woods a Little Darker...
December 2, 2018
A huge spike in hits on a white deer website can be a good thing or a bad thing, but right after hunting season, it's usually not a good thing. And that was the case with this year's season, which ended November 25. After a quiet week, the ink hit the sky when a Channel 27 (WKOW) lead story broke the news.
A white deer was found shot and dead beside a road near New Diggings, a small community southeast of Cuba City. The body was found Sunday and was probably shot over the weekend, the last days of the gun deer season. No more details are known and the incident is under investigation by the DNR.
A Reminder to Hunters
November 15, 2018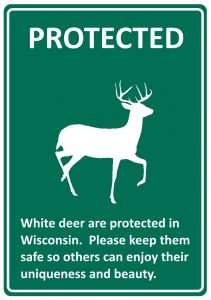 White and albino deer are protected in the entire state of Wisconsin and are illegal to hunt or possess.
The 2018 Wisconsin Deer Hunting Regulations state more specifically: It is illegal to "possess albino or all-white deer which are entirely white except for the hooves, tarsal glands, head and parts of the head."
"White deer" refers to any deer with a white coat, but otherwise normal coloring (dark hooves, a black nose, and colored eyes). A white deer with brown eyes (or even green) does NOT make them legal to shoot.
"Albino deer" lack all pigments, or color, and have pink eyes (sometimes blue), a pink nose, and pink hooves–the pink color being from blood vessels that show through the skin.
The antlers, hooves, tarsal glands (the dark "spot" inside each hind leg), and color on any part of the head also DO NOT make a white deer legal to hunt. The exclusion for head color was made because bucks often have brown staining on the head from rubbing saplings with their antlers.
There have been new white deer born each year in the Leland area, but others have been lost (cars, coyotes, and hay mowers). They continue to be a very rare find anywhere in Wisconsin. Help us keep the white deer safe so more people can enjoy them for many more years to come.
White Fawn Found by Mushroom Hunter
May 30, 2018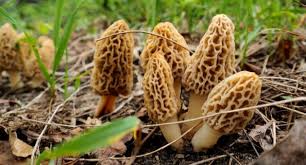 Their sporadic occurrence and seasonal nature make morels an elusive and prized find. But one Sauk County morel hunter found a prize far more valuable: a pure white fawn! He didn't take home a basket of morels, but was able to take home photos and memories of an encounter more rare than the white deer themselves. He shares that experience and his photos with outdoor writer Paul Smith in this Milwaukee Journal Sentinel article.
That "White Deer Experience" in Mukwonago
May 20, 2018
Hearing about a white deer is interesting. Seeing a photograph or video is terrific. But actually SEEING a white deer, now that's an experience!
Reporter Rikki Mitchell had just such an experience recently as she videotaped her quest to find a reported white deer near the small city of Mukwonago about 30 miles southwest of Milwaukee. The superlatives came flying when Rikki finally saw the deer:
"Nature is amazing!" "This is, like, the most exciting day of my life!" "I'm seriously freaking out right now."
Forest and Flight 2018 Art Fair Schedule
May 13, 2018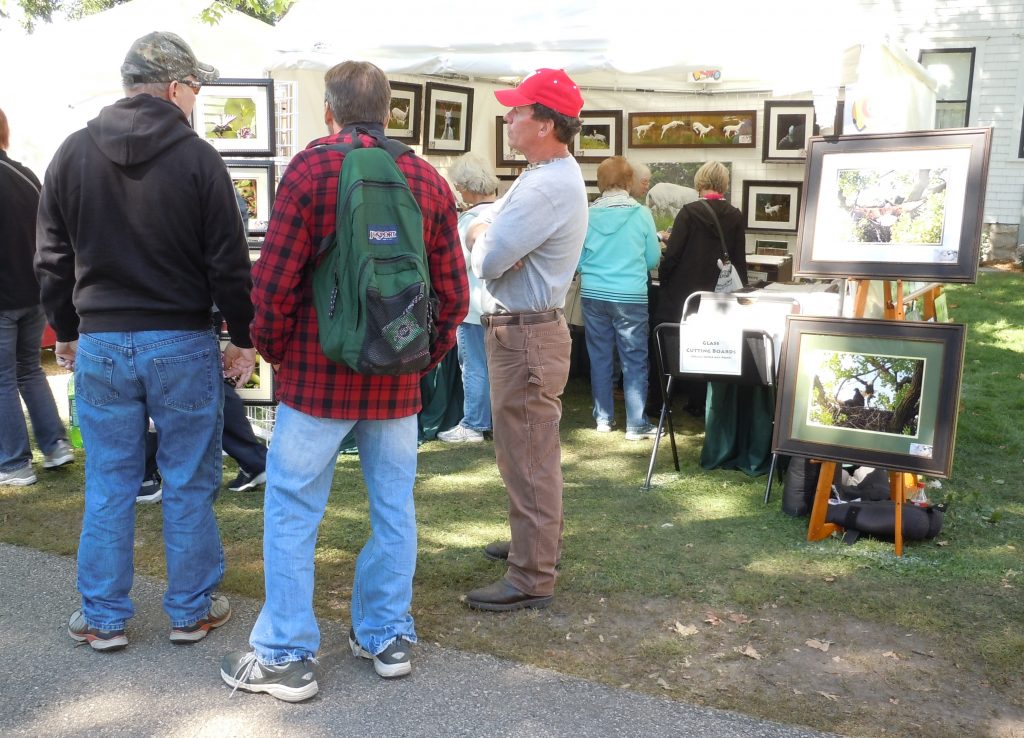 The next best thing to seeing a white deer is to have a photograph, and Mike Richard of Forest and Flight Photography, takes some of the best around. Mike, along with Amy Sprecher, will have both prints and framed photos (including "computer stitched" panoramas) for sale at area art fairs this summer.
Mike's pictures are taken mostly in Sauk County and include eagles, cranes, pelicans, ducks, songbirds, some mammals, and even butterflies. Some of his best viewing and photos are taken, however, right from his own home near Leland. Mike says he's currently taking pictures of fox pups and this year's first white fawn.
May 19 & 20—DubuqueFest Fine Arts Festival, Dubuque, IA
Washington Park and Town Clock Plaza (Sat 10-5, Sun 10-4)
June 2 & 3—Holy Hill Art and Farm Market, Hubertus, WI
4958 Hwy 167 (Holy Hill Road) (9-4 both days)
June 23 & 24—Spring Green Arts and Crafts Fair, Spring Green, WI
101 E. Jefferson Street (Sat 9-5, Sun 9-4)
July 21 & 22—Mt. Horeb Annual Art Fair, Mt. Horeb, WI
Downtown Mt. Horeb (9-5 both days)
August 11 & 12—Green Lake Art Show, Green Lake, WI
Playground Park along the Mill Pond (Sat 10-5, Sun 10-4)
September 1 (Saturday only)—Cow Chip Arts and Crafts Fair, Prairie du Sac, WI
Marion Park on Grand Ave (9-5 both days)
September 14, 15, & 16—Wo-Zha-Wa Arts and Crafts Fair, Wisconsin Dells, WI
Bowman Park, downtown Wisconsin Dells (Fri 12-5, Sat 9-5, Sun 9-3)
October 20 & 21—From the Land–Folk Art Festival, Green Lake, WI
Landowski Farm, W1648 Cty J (Sat 10-4, Sun 10-3)
Her Name Is Snow White
April 15, 2018
Kensington Metropark is lucky. They have a pure white deer. Again.
In 2015 Kensington Metropark, located 30 miles west of Detroit, lost its most prized inhabitant–a pure white buck. The loss was especially poignant because the deer was killed during a botched herd cull conducted by the park itself.
Locals were not only angered by the loss, they felt the whole situation was badly handled by park management who didn't admit to what had happened until four months after the kill.
Last May, however, Providence (and recessive genes in the deer population) gave Kensington Metropark a second chance to "do it right." A new white deer, a doe, was born to a brown mother.

At almost a year old, this white deer is now drawing plenty of attention and was featured in several recent newspaper articles. Local photographers, like Lou Waldock, are feeling doubly fortunate to once again have such a rare and beautiful animal to photograph.
But Lou and others are warning the public to give the deer some distance. They fear it could be spooked onto a road where it could be hit by a car or pushed outside the park's boundaries where it would no longer be protected (Michigan removed protection for white and albino deer in 2008).
A legendary white buck lived for many years in Buffalo County in Wisconsin where albino and white deer are protected. He was so popular that, as one source wrote: "People (drove) for miles to check him out, lining up along his favorite fields with spotting scopes sprouting from their truck windows."
Hopefully, this new white deer will have an equally peaceful life, providing viewing pleasure and treasured photographs for countless park visitors for years to come.
"Snow White" is what Lou Waldock calls the new deer–a fitting name for a deer so rare and so pure in color.
But this story has all the elements of a fairy tale too: a "magical" animal, pilgrims on quests to see it, a ghostly presence, the" resurrection" of a lost animal, and a lesson hopefully learned.
Pages from a Storybook: A Snow White Gallery
April 15, 2018

Below are some of the photographs of Snow White taken by photographer Lou Waldock during 2017 and 2018, and which he has graciously agreed to share. These were all posted, along with many other outstanding wildlife photos, on Lou's Facebook page: Lou Waldock Photography.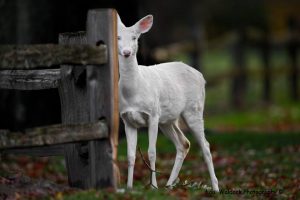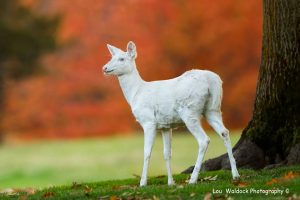 Left: Sharing gazes. Right: White contrast to an early fall morning.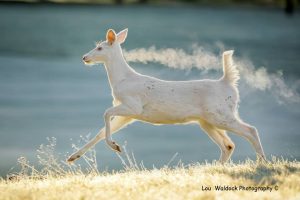 A trail of steam on a frosty day.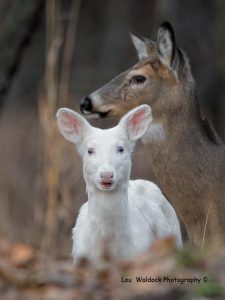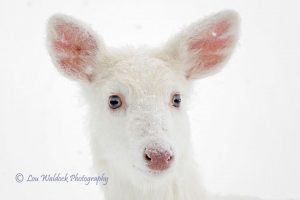 Left: A mother and daughter portrait. Right: Where does the snow end and the deer begin?
Whitey Finally Has a Home
March 26, 2018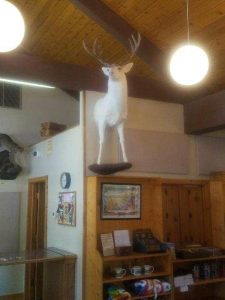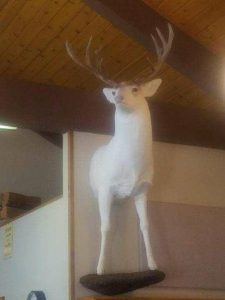 Whitey at Devil's Lake State Park Visitor Center. Photos from Sean Neverman
Bear Valley residents who have been asking the question, Where's Whitey? for the last 16 months, finally got an answer. A half mount of Whitey was recently put on display at the Devil's Lake State Park north shore Visitor Center.

Renowned artist Victor Bakhtin lived for some time in an old farmhouse on an obscure Sauk County back road between Leland and Prairie du Sac.
An unexpected encounter with a white deer one day in 1998 both amazed and inspired him. He instantly had ideas for a painting. The finished product, "Ghost of Winter," was completed in 1999.
Originally from Russia, Victor made his way to the U.S. and Sauk County in 1994 through his connections with George Archibald and the International Crane Foundation. Some of his incredible natural landscapes can be found at the ICF headquarters near Baraboo and in the orientation theater in Madison's UW Arboretum Visitor Center.
A painting by Victor, "Sauk Prairie Remembered: A Vision for the Future," has become the visual depiction of the goal of the Sauk Prairie Conservation Alliance–a group working to restore the land at the former Badger Army Ammunition Plant between Prairie du Sac and Baraboo. The painting is iconic of Victor's ability to handle a rich tapestry of detail within a broad historic landscape.
Victor reveled in the beauty and detail of nature and saw his work as an attempt to solve a natural code–what he called "touching the mystery." 

Hunter Group Appeals to DNR Board to Legalize Hunting of White Deer
December 20, 2017
A group of hunters in Wood County, where there is a small population of white deer, has been trying for several years to legalize the hunting of white deer. Larry Bonde, chair of the Wisconsin Conservation Congress, took their request directly to the DNR Board at its December 12 meeting. His proposal, however, did not convince Board members. Leland resident Amy Sprecher was at the meeting and took notes of the member's responses and comments.

Larry's arguments for hunting white deer and claims of "nothing but white deer" in some areas were countered by several letters to the Board, including one from Leland area resident MaLenna Smith, and one from Mercer resident John Bates (co-author of White Deer: Ghosts of the Forest). Their arguments were basically that a handful of white deer in one location doesn't constitute an overpopulation, and that the genetics of a recessive gene for coat color would not make this possible anyway.
MaLenna and John's letters also stated how popular the white deer are and argued that the DNR Board needs to represent the interests of those people who just enjoy viewing the white deer, including the majority of hunters, who voted 3939 to 1915 against a 2014 Conservation Congress proposal to legalize the hunting of white deer statewide.
Both MaLenna and John mentioned the negative consequences of allowing white deer to be hunted–both to the deer and to the image of hunters. A far smarter alternative to any so-called "growing" population of white deer would be to turn them into a tourist attraction, like Boulder Junction has done and Seneca, New York. These residents already know the wisdom of promoting a resource that so many people love!

Albino Deer Found Shot in Douglas County
November 25, 2017
An albino buck was probably shot prior to gun season but found later near Gordon, Wisconsin. Based on early trail cam photos, the deer was at least six years old. Anyone with information on the illegal shooting is asked to call the DNR tipline: 1-800-847-9367.
Pepin County White Deer Shot by Mistake
November 22, 2017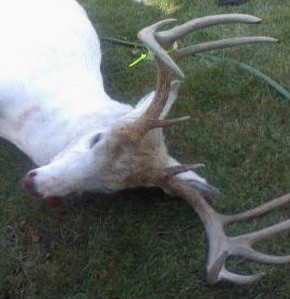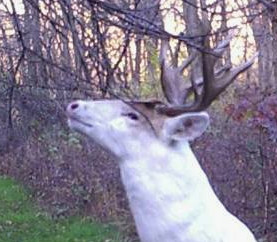 The brown color on the foreheads of these two deer (the Leland Buck, left, and
Whitey, right) shows staining and is not natural coat color. This brown color,
however, resulted in the recent illegal shooting of another white deer.

While legal work still needs to be done to protect all our state's white deer, it is apparent that public education is still needed, too.
During the opening weekend of gun deer season a protected white deer was shot in Pepin County in west central Wisconsin. The hunter thought the brown on the buck's forehead made it legal to shoot.
The brown is actually staining that results from the buck rubbing its antlers against saplings and does not make the deer legal. This is one of several misconceptions that some hunters have about Wisconsin white deer law.

Amy Sprecher, who has been working to protect white deer and owns a tavern in the small village of Leland in Sauk County, says she is also amazed (and aghast) at how many hunters come into her establishment and think you can shoot an all-white deer if its eyes are brown.
The Wisconsin DNR has been specific in its definition of white deer: It is illegal to possess albino or all-white deer which are entirely white except for the hooves, tarsal glands, head and parts of the head…" In other words, any color on the head, including the nose and eyes, makes an otherwise all-white deer illegal to hunt in Wisconsin.

"Ignorance of the law is no excuse," but to the hunter's credit, he did realize his mistake and notified the DNR. The deer will be mounted and used for hunter education classes at a local conservation club "to teach hunters what not to shoot if there (are) questions about what is an albino deer and what isn't."
An Open Letter to Hunters
November 9, 2017
Fall marks hunting season in Wisconsin, beginning with the September 15 bow deer season. It is not a restful time for local residents who know and cherish the area's white deer. These deer have taken severe hits from both illegal hunting (the shooting of all white deer) and legal hunting (the shooting of nearly all white deer). If you are a hunter in this area and see a white deer, here are some things you should know…
First, it is illegal to shoot white and albino deer anywhere in Wisconsin. And just because they have a black nose or dark eyes does not mean you can shoot them.
Second, if you see a white deer, you are not the first person who has ever seen it. Many people have probably watched it grow from a young fawn to a full-sized doe or buck. Conversations around here commonly involve the latest in white deer sightings.
Third, that deer probably has a name. Most locals refer to various white deer by the farm where they tend to hang out, but some have specific names, like Whitey, who was illegally shot last year in Bear Valley. Deer, white or brown, often get names if they are unique, and they don't come much more unique than white.

Seneca to Have White Deer Tours
August 4, 2017


Photo from Seneca White Deer newsletter. Used with permission.
Although a conservation group was disappointed not to have the winning bid for a decommissioned army depot in Seneca County, New York, they were happy the new owner was "white deer" friendly.
The group, Seneca White Deer, Inc. (SWD) has been working to save a herd of white deer that have lived protected within the depot fence for over 60 years. Both the property and the white deer were threatened when the depot closed in 2000 and was transferred to a county industrial development organization.
True to his word though, new owner Earl Martin has been cooperating with the Seneca White Deer group to preserve habitat for the deer, create food plots, and secure the depot perimeter. SWD announced in July that bus tours will be available this fall to see the deer, and ground breaking is currently underway for a "white deer" welcome center. The group is soliciting private donations to fund the center and tours.
The members of the SWD group have always known the white deer were special and have worked tirelessly for years to preserve this natural resource. Now others will get a chance to see and enjoy the white deer, too. (For a glimpse of what tourists might see, click here.)
Running with the White Deer
June 30, 2017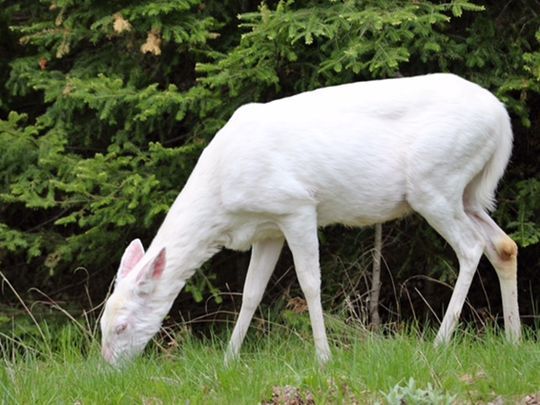 A post-race perk: a sighting of a white deer after Boulder Junction's White Deer Triathlon. Photo by Pamela Muenzner. Used with permission.
Last month 342 athletes converged on Boulder Junction in Vilas County to run, bike, and paddle in the city's 3rd annual White Deer Triathlon. In this unique race the typical triathlon swimming leg has been replaced with a paddling segment over Boulder Lake.
There is one other thing that is unique about this race–you just might see a white deer!
"Forest and Flight" Summer Show Schedule
June 17, 2017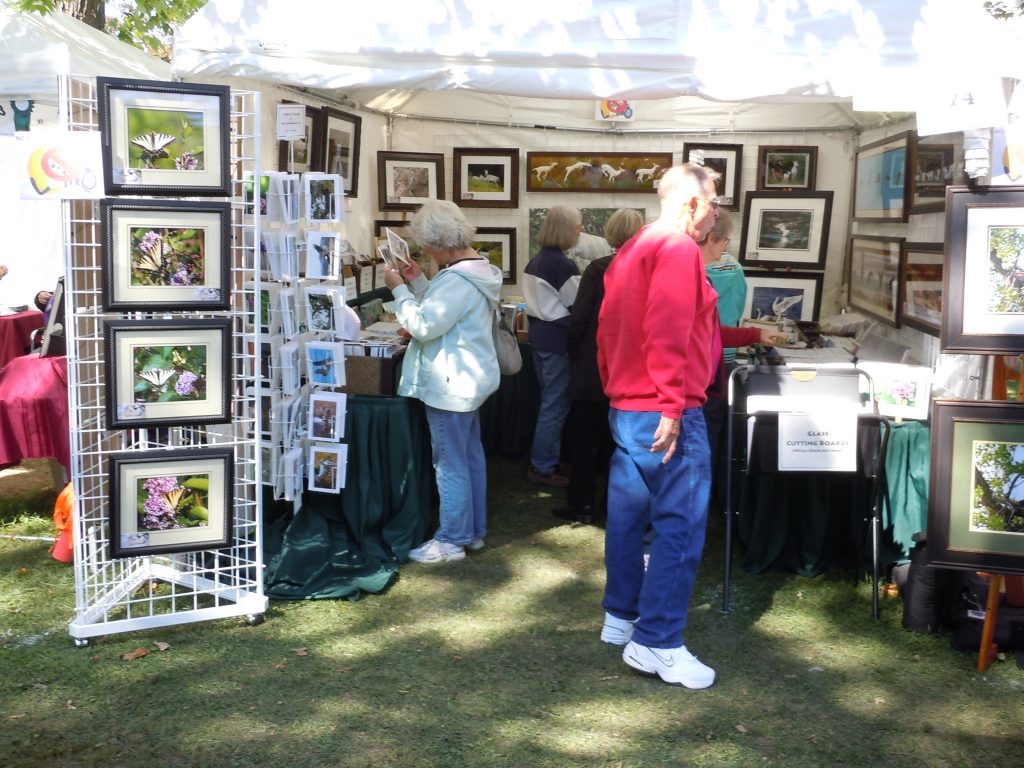 Forest and Flight Photography will have prints and mounted photos of white deer, eagles, cranes, waterfowl, butterflies, and other area wildlife for viewing and purchase at the following summer arts and crafts fairs.
Wildlife photographer Mike Richard and Amy Sprecher will be there to talk about the many photos, but especially about the rare white deer (including a couple of new white fawns!) that brighten the Leland landscape.
June 24 and 25 – Spring Green's 47th Annual Arts & Crafts Fair
Downtown Spring Green on Jefferson Street; Sat. 9 am-5 pm; Sun. 9 am-4 pm
July 15 and 16 – Mount Horeb's 46th Annual Art Fair
Downtown Mount Horeb; Sat. 9 am-5 pm, Sun. 10 am-4 pm
August 12 & 13 – Green Lake's 45th Fine Arts Show
Downtown Green Lake Playground Park on Mills Street; Sat. 10 am-5 pm, Sun. 10 am-4 pm
September 2 – Cow Chip Arts & Crafts Fair
Prairie du Sac's Marion Park; Sat. 9 am-5 pm
September 15, 16, & 17 – Wo-Zha-Wa Fall Festival Arts & Crafts Fair
Bowman Park, Wisconsin Dells; Fri. 12 noon-5 pm, Sat. 9 am-5 pm, Sun. 9 am-3:30 pm
Where's Whitey?
May 20, 2017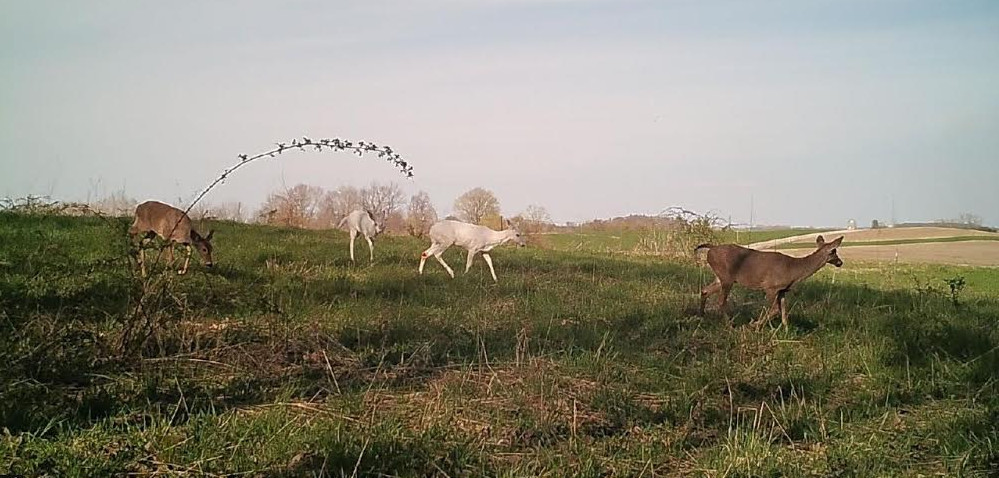 "Whitey" no longer graces this Bear Valley ridge, but his genes live on in these twin fawns. Trail cam photo from Jack Rush, provided by Bryan Walsh.
When the pure white buck known as Whitey was illegally shot in Bear Valley in southwest Sauk County last fall, the carcass was confiscated by the DNR. So what happens when an animal is confiscated, especially one as large and incredibly unique as Whitey?
A Wisconsin Tradition
April 25, 2017
At a 2014 Wisconsin Conservation Congress (WCC) Spring Hearing, a citizen resolution to "Legalize the harvest of white and albino deer statewide" hit the ground with a thud. An audience of primarily hunters voted 3939 to 1915 against the proposal, and the resolution failed in 69 of 72 Wisconsin counties!
Although WCC results are only advisory to the DNR and Wisconsin legislature, the Spring Hearing vote made a statement: few people are in favor of hunting white and albino deer.
Click here to read more about Wisconsin's law and its 77-year history of white deer protection.

A Northwoods White Deer
April 8, 2017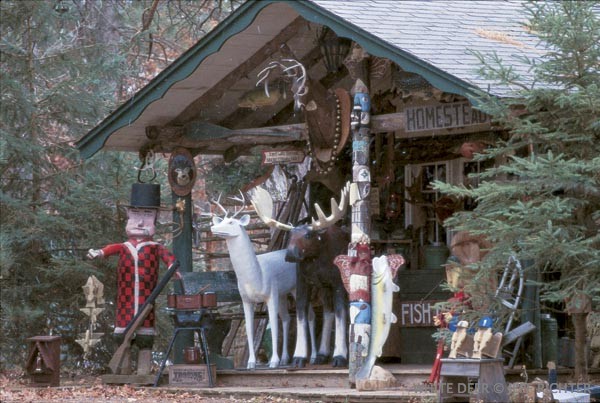 The Homestead Shop, Boulder Junction, WI. Photo by Jeff Richter. Used with permission.
Word has it that The Homestead Shop isn't open anymore, but for many years it was as iconic as Boulder Junction's white deer. It was a craft and curio shop that had a little bit of everything, including many wood carvings that were made by the owner.
Jeff Richter, white deer author and photographer, couldn't pass up the opportunity to take a photo of this life-sized faux white deer. It's uncertain where the carving is now, but if it's outside, it's probably still attracting viewers who are more than glad to have a white deer that will finally let them get close enough to take a picture.
Black Sheep of the Family
March 31, 2017
Melanin is the name of the game. It's a dark pigment that is responsible for the coloration of most animals, including deer. When a deer is genetically unable to produce melanin, you get a white deer (with just a white coat), or an albino (which lacks color in all parts of its body, including the eyes).
But if a deer can have little or no melanin, could a deer also have "too much" melanin?

A White Deer Memorial
February 26, 2017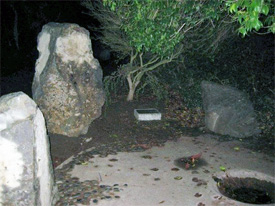 Standing stones in a San Diego park, a plaque, and a concrete pond with hoofprints memorialize a legendary white deer. Photo from san-diego-travels.com
Residents of Bear Valley have set up a Facebook page in memory of "Whitey," a 5-year old pure white buck that was illegally shot last fall in southwestern Sauk County. But a beloved white deer in San Diego in 1975 got more than a Facebook page when it died. "Lucy" got a farewell gathering of 200 people, a wooden coffin, flowers, a stone monument, a small pond, and a plaque inscribed with poetic verse.
People had often put food out for Lucy, but she was an elusive deer that lived for over a decade in the Mission Hills/Presidio Park area on the edge of San Diego. It was considered a lucky omen to see Lucy, but she herself was not so lucky. Ironically, she died after being shot with a tranquilizer during an attempt to relocate her from the busy nearby interstate that people feared would take her life.
The facts about Lucy are getting murkier with age–whether she was an escaped deer, came from a zoo, or was a fallow deer (a species of deer with sometimes white or cream coloring). Lucy's story may not be over quite yet, though, as people claim to catch glimpses of a phantom white deer in the park–perhaps a ghost of an already ghostly deer.
Rep. Considine Hears Pleas for Increased White Deer Protection
February 4, 2017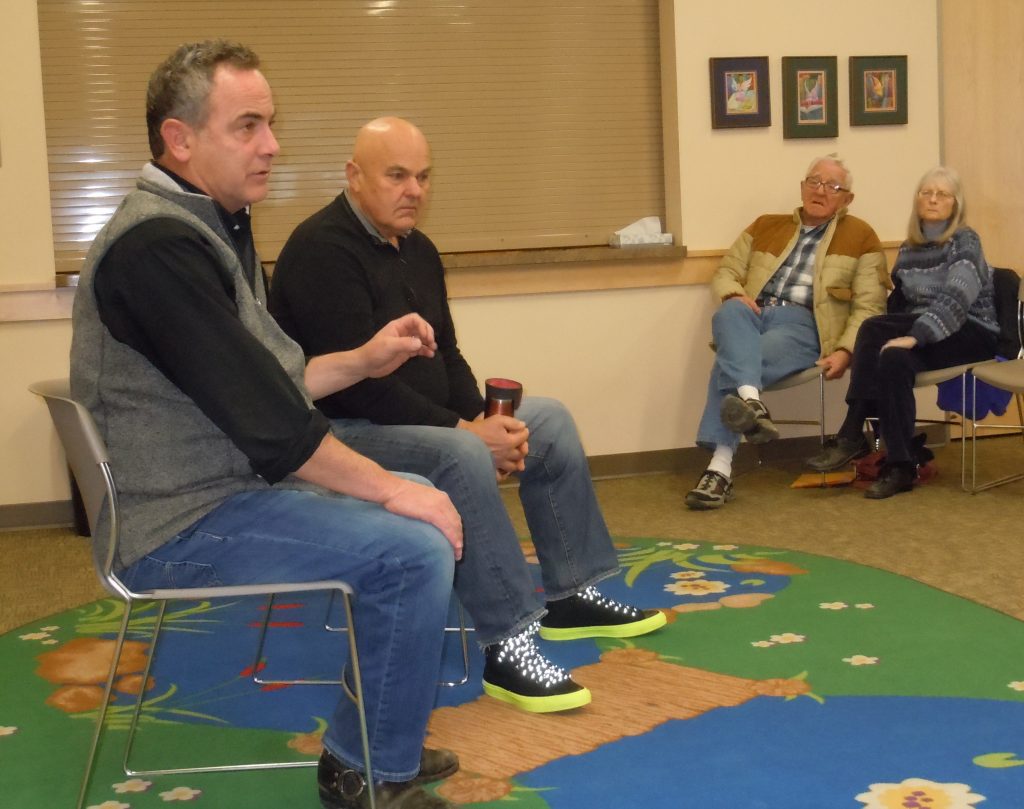 Senator Jon Erpenbach (left) and Representative Dave Considine discuss constituent concerns at a February 4 listening session at the Ruth Culver Community Library in Prairie du Sac. They are joined by Vilas Richards and Amy Sprecher (right) and five other people who came to the meeting to support increased white deer protection.
Amy and Leland area resident MaLenna Smith both spoke at the meeting about the need for a broader definition of white deer in Wisconsin law and for increased fines for illegally shooting white deer. White deer with only a small spot of brown can currently be shot, and fines for illegally shooting a pure white deer are a meager $303.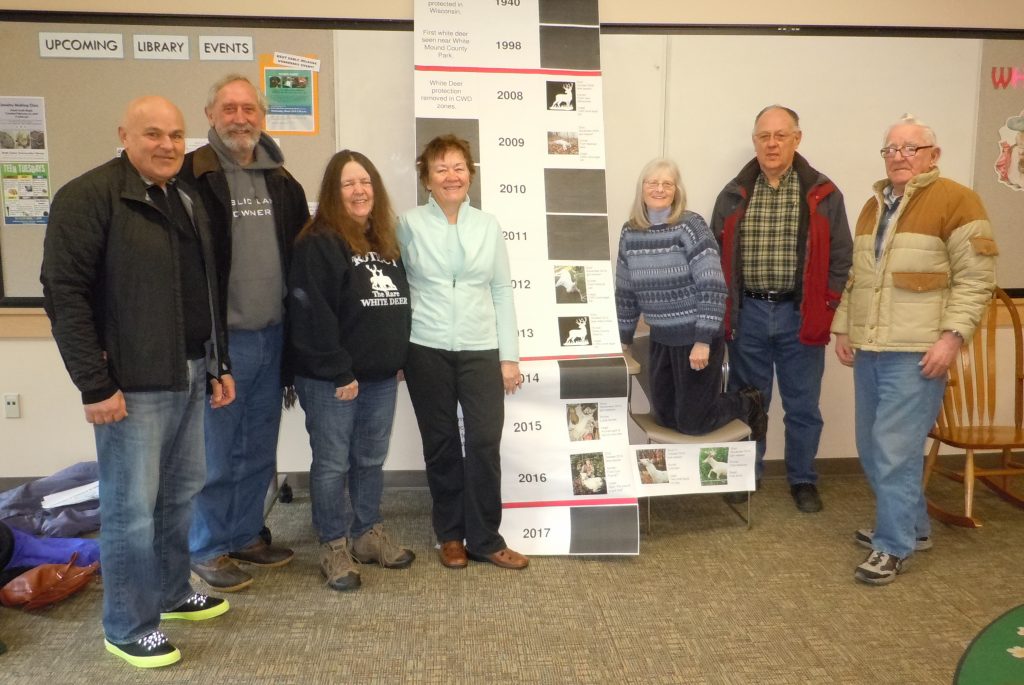 Here is Representative Considine with some of the people who came to the listening session. They are standing in front of a timeline that shows major events in the Leland area's white deer history. The timeline also chronicles the hunting deaths of eight area white deer: eight bucks (all pure white or virtually all white), all legal except one, and all except one shot by out-of-town hunters.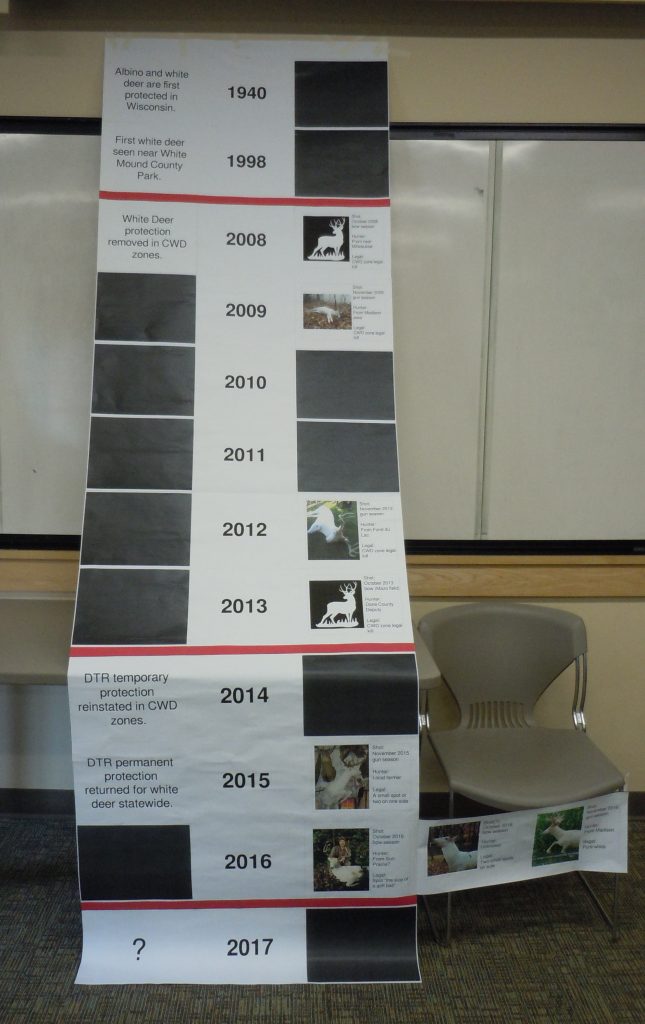 A closeup of the timeline shows these important dates:
1940 – The beginning of white deer protection in Wisconsin.
1998 – The first white deer seen near White Mound County Park.
2008 – Protection of white deer is removed in CWD zones (which includes Leland).
2014 – The WI Deer Trustee Report Rules Package provides temporary protection of white deer in CWD zones.
2015 – The DTR Rules Package reinstates permanent protection for white deer statewide.
The first two red lines demarcate the years of lost white deer protection in Leland and much of southern Wisconsin. The fact that so many white deer have been killed since "protection" was reinstated shows how inadequate the current white deer law is. The third red line is a hopeful baseline for improved protection in 2017.

Birth of a White Deer
January 29, 2017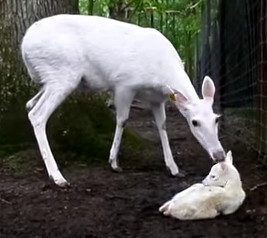 What's more rare than seeing a white deer? Seeing a white deer being born! Click here to see the birth of this white fawn. The video was posted on YouTube by a deer farm that specializes in raising and selling white and piebald deer. A longer version of the video (without music) has had nearly two million views.
The white fawn in the video and in the above photo (now cleaned up) was born just a few minutes after the doe gave birth to a brown fawn. Different colored siblings are not unusual in white deer, as different eggs are often fertilized by different sperm with different traits, and sometimes even (in both white and brown deer) by different fathers!
The "Snow Deer" Lives
December 28, 2016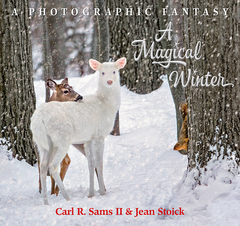 Wildlife photographer and popular children's author Carl R. Sams and his wife, Jean Stoick, have come out with a new book about a white deer that brings magic to a winter woods. The other forest creatures are amazed at first and think the deer is made of snow.
This book of talking animals and make-believe is a fun fantasy, but the deer was no fantasy–it was indeed real and it did bring magic to a Michigan woods.
The story and photos are from Sams' real life experience with a white deer that showed up in his yard outside of a park about 40 miles from Detroit, Michigan. He tells a news interviewer: "It's like a miracle. I mean, like, a white deer…showing up in a wildlife photographer's backyard? I couldn't believe it."
But the story does not end happily ever after for this white deer, as it was shot in 2015 in a botched herd cull in the Kensington Metropark where it had been, ironically, "protected." Sams and another wildlife photographer, Lou Waldock, lament the loss of the deer in the interview.
The white deer "lives on" in this wonderful book and continues to bring magic to reader's lives–as white deer have always done in people's lives and hopefully will continue to do in the future.
Fear for the White Deer
Sauk County residents want hunters to obey hunting ban on rare breed
December 17, 2016
This is the title of a news article that just came out in Madison, Wisconsin's weekly newspaper, Isthmus, by writer Joel Patenaude. The story is about the illegal killing of a pure white buck near Bear Valley in Sauk County during the 2016 deer gun season.
Although white deer aren't really a breed, but a recessive coat color, the article does a good job of looking in depth at the issue. Local residents who read the story, however, will be surprised to see that the person cited for the violation was not actually the hunter who shot the deer–a likely ploy by family members to save the more prominent hunter from public backlash.
According to a local warden, "During firearm deer season, state law allows one member of a hunting party to kill game for another member." This "sharing" arrangement, however, was hardly intended to be used for illegal kills.
Coyotes rarely prey on adult deer (either white or brown), but writer Joel Patenaude is right about one thing–the coat color of white deer makes them vulnerable to the deer's biggest predators: hunters who don't know the deer are protected. Joel could have also added: and to hunters who don't care.
A White Deer Christmas
December 13, 2016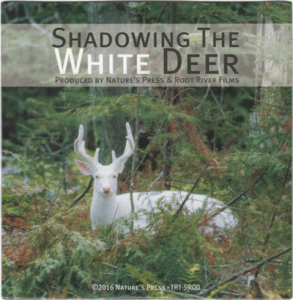 Jeff Richter, author with John Bates of White Deer : Ghosts of the Forest, has just released a new documentary on white deer titled Shadowing the White Deer.

Jeff's photos for both the book and video were taken in the Boulder Junction area in northern Wisconsin where there is a small but long-time population of white deer. Jeff refuses to use computer enhancement and takes photos the old-fashioned way: with considerable time, patience, skill, and luck.

Shadowing the White Deer also includes many other gorgeous "up north" photos–both life and landscape, along with numerous interviews with people on the history, science, spiritual, and personal significance of the white deer.
Tess Gallun of Root River Films produced and edited the film, which is available through Jeff's website: naturespressbooks.com. Jeff's book,White Deer: Ghosts of the Forest, is available from Natures' Press, Barnes and Noble, and through Amazon.com.

Another great Christmas gift idea: Outstanding wildlife photos, including white deer pictures by local photographer Mike Richard, can also be purchased from Forest and Flight Photography or from Sprecher's Tavern in Leland, Wisconsin.
Pure White Buck Is Illegally Shot in Sauk County and Hunter Only Gets a $303 Slap on the Wrist
December 7, 2016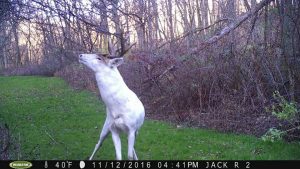 Is "Whitey" showing off his profile in this deer cam photo, or just stopping to smell the roses? Life was good for Whitey and area residents before a hunter, just two weeks later, illegally shot the deer.
The 2016 Wisconsin Deer Hunting Regulations booklet (pg. 18) clearly states: Albino and white deer may not be harvested. Two of the most important rules for hunting are "Always be sure of your target" and "Always know the rules." So whether it was ignorance or arrogance, the results were once again devastating for locals: Another white deer has been shot in Sauk County.
The pure white 5 1/2 year-old buck was killed November 25 on a hill near Bear Valley, a community just west of Leland. Another hunter saw the buck being loaded into a truck and called the local warden, who found and confiscated the deer. The hunter who shot the deer was a prominent Madison businessman who owned hunting land in the area…and should have known better.
A Hunter Reminder
November 19, 2016

Hunters take note: White and albino deer are protected in all of Wisconsin! In the 2016 Wisconsin Deer Hunting Regulations booklet (p. 18), under "Transportation, Possession and Sale of Deer," it is stated simply: Albino and white deer may not be harvested.

White deer were first given protection in Wisconsin in 1940, but an exception was made between 2008 and 2013 in Chronic Wasting Disease (CWD) zones. Protection of white and albino deer was temporarily reinstated in CWD zones in 2014, then permanently reinstated in 2015 as part of the Deer Trustee Report Rules Package.

When Nature Runs Out of Printer's Ink…
October 31, 2016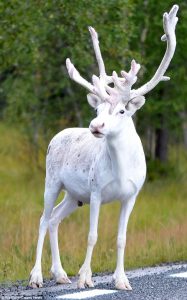 This "ghostly" reindeer is anything but scary. Beautiful, amazing, magical, and stunning are the adjectives used by viewers of this photo, taken in southern Sweden and now circulating through international news sites. Because of their extreme rarity and incredible beauty, people universally are delighted and awed by these animals.
This is a particularly "white" animal and not a true albino because it has white hooves, a white nose, and blue eyes, which are all pink in a pure albino. The white antlers are from the lack of pigment in the velvet skin covering the antlers, which will dry up and be scraped off later in the season.
Most, if not all, reindeer in Sweden (and in Scandinavian countries in general) are considered semi-domestic (owned, but allowed to free range). In all likelihood, this reindeer is part of someone's private herd. Sport hunting of reindeer is almost nonexistent in Sweden because you must have a connection to the native Sami people, who own rights to all reindeer and rarely allow such hunting. Bottom line…this guy is probably safe.
A Change of Hart
July 6, 2016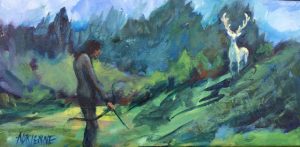 Photo used with permission from Adrienne Stone and Seneca White Deer

Most people, including most hunters, admire the beautiful white deer and want to protect them, but there are those that still see them only as trophies–and never the twain shall meet…or will they?
Nashville area singer/songwriter Cathy Lynn Wilson immortalizes an encounter between a hunter and a white stag in her newly recorded song, "The Archer." It is dedicated to the efforts of the Seneca White Deer group, an organization working to protect a portion of a decommissioned New York army depot and the white deer that live there. Click here to read more about Cathy, learn the story behind "The Archer," and hear this wonderful song.

For another "change of hart" moment, read this hunter's tale of how a white deer triggered a deeper reflection.
"Forest and Flight" 2016 Art Fair Schedule
May 28, 2016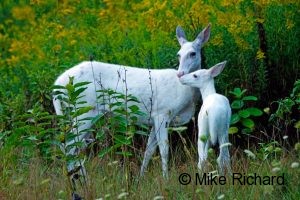 Leland area resident Mike Richard of "Forest and Flight Photography" uses his hunting skills and camera to capture wildlife the best way possible–in large-size, high resolution pictures that everyone can enjoy. See his white deer photos, plus pictures of eagles, cranes, swans, pelicans, ducks, and songbirds at the following art fairs and events. (Additional events and dates may be added later.)

June
Dragon Arts Fair
Saturday, June 4, 9-4; DeForest, WI
Sauk Prairie Fly-In
Saturday, June 11, 7-4; Prairie du Sac, WI
Spring Green Arts & Crafts Fair
Saturday, June 25, 9-5; Sunday, June 26, 9-4; Spring Green, WI
July
Mount Horeb Art Fair
Saturday, July 16, 9-5; Sunday, July 17, 10-4; Mount Horeb, WI

August
Green Lake Fine Arts Show
Saturday, Aug. 13, 10-5; Sunday, Aug. 14, 10-4; Green Lake, WI

September
Cow Chip Arts and Crafts Fair
Saturday, Sept. 3, 9-5; Prairie du Sac, WI
Wisconsin Dells Wo-Zha-Wa Days
Friday, Sept. 16, 12-5; Saturday, Sept. 17, 9-5 and Sunday, Sept. 18, 9-3; Bowman Park, Wisconsin Dells, WI
White Deer Videos from Wisconsin and Norway in the News
April 9, 2016

A video of three Vilas County white deer has become national and international news. Vilas County in far north central Wisconsin has had a small population of white deer for decades.
Also in the news is a video of a white reindeer taken by a drone in remote coastal Norway. White deer, whatever kind they are or wherever they are found, continue to capture public interest because of their incredible rareness and beauty.
Wauwatosa's "Cecil the Lion"
April 9, 2016

On December 13, 2015, a hunter used a crossbow to shoot a favorite neighborhood buck in a Wauwatosa, Wisconsin park just west of Milwaukee. The subsequent outrage proves that, once again, shooting a popular animal is not a popular thing to do.
The buck, like Cecil the Lion, was a beautiful animal with distinctive coloration. He was well known to park visitors and fondly referred to by name. He was also a special favorite of photographers, whose pictures of the buck ended up on calendars, outdoor magazine covers, and websites.
The results of the killing were standard: newspaper headlines, a big spot on the evening news, and interviews with upset residents. Endless online comments followed about the hunter's unfortunate behavior and about how much the buck would be missed by hundreds, if not thousands, of park visitors who had seen the deer during its nine year life in the Menomonee River Parkway .
The kill, however, was not legal. The hunter wasn't wearing blaze orange, it was antlerless season, and the deer was in a Milwaukee County park where hunting is prohibited. The hunter, who fled the scene after wardens were notified by another park visitor, was eventually identified and cited for multiple hunting violations.
Jerome Nachreiner: A Tribute to the Watcher and the Watched
March 25, 2016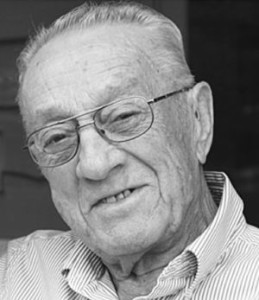 "Jerome, come and look! There's a white deer out here!" So began Evelyn and Jerome Nachreiner's history of watching the white deer that often came to their hillside home between Leland and Plain. Fourteen years later, they would still drop everything and go over to the window to look, no matter how many times the white deer appeared.
Whenever a car would drive by and stop on the nearby road, Evelyn and Jerome would always look outside because it meant there were white deer close by. The deer seemed to like the thick cover above their house and would often come under their bird feeder.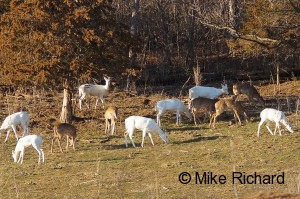 There were only two or three or four white deer at first, says Evelyn. Seven or eight years ago there were a lot more–we would see 7, 8, or 9 from our house. There aren't as many now, Evelyn laments.
Jerome loved watching the white deer, especially as health problems kept him increasingly confined to his house. When Leland's big white buck was shot in 2008, Jerome "thought that was not right" and attended meetings to advocate for their protection. Read more…


Another Leland White Deer Kill Illustrates Need for a New Legal Definition
December 31, 2015

After a treasured white buck was shot in the small Wisconsin community of Leland (the third over a five-year period), residents vowed not to let it happen again. But, after three years, much work, and a change in law later, the very same thing happened again. Why? Read more…
A White Deer Christmas Card
December 22, 2015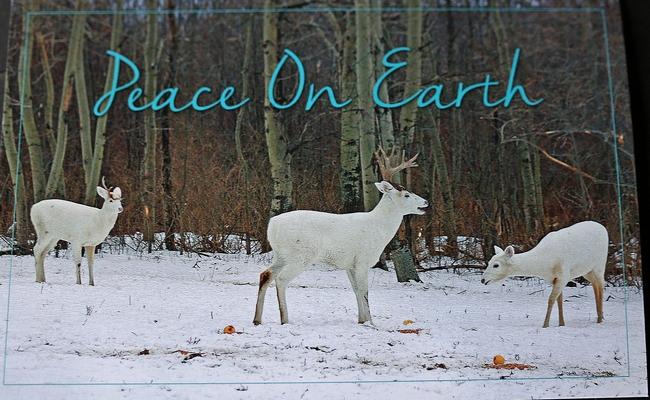 Photo from Seneca White Deer Inc.
A decommissioned army depot in Seneca Falls, New York, very much like Sauk County's Badger Army Ammunition Plant, is home to a herd of white deer that has been isolated within a fence and protected from hunting since 1949.
200 of 800 deer now at the plant are white, but their fate is in jeopardy as development interests threaten to take over the deer's home. Locals have organized to get at least some of the 10,000 acre former army site preserved for the deer.
As part of an effort to raise funds, the "Seneca White Deer" group this year is selling Christmas cards with pictures of white deer on them–a fitting symbol of the holiday season. Cards can still be purchased, which will hopefully help the white deer find "Peace On Earth" and a place to live.
It's like going to Disney World and shooting Mickey Mouse…
November 29, 2015
So remarked local nature photographer Carl Sams after a pure white buck was shot in Kensington Metropark 40 miles northwest of Detroit, Michigan last February. "It was the golden goose of the park."

Area photographer, Lou Waldock, lamented, "They (park leaders) were given a beautiful gift and they squandered it." "People are utterly devastated."
Once again a treasured white deer is shot, but this time not by hunters. And this time, the ethical aspects have some added dimensions. Read more
Protected!
July 18, 2015
White deer are again protected in all of Wisconsin!
The Deer Trustee Report Rules Package, which contained a provision for reinstating statewide protection for white deer, was signed by Governor Scott Walker in April and recently passed committees in both the State Senate and Assembly without opposition or change.
The new law will take effect on August 1 of this year.
White deer were protected statewide from 1940 to 2008 when protection was removed in CWD (Chronic Wasting Disease) zones as a drastic response to the disease. A temporary rule protected white deer again in all zones during the 2014 hunting season.

The DNR does not record coat color for deer kills, so there is no way to know how many white deer were killed during those six years when the deer were unprotected. Three white bucks alone were shot in the Leland, Wisconsin area.

This new law is welcome news to Leland residents, who have worked so hard to get the deer protected. The white buck in the video above was the third Leland kill and the impetus to get hunting law changed.
There is still a small herd of white deer in the area–so much appreciated by both residents and the lucky travelers who catch a furtive glimpse of white or see a ghostly figure mixed with the "everyday" brown deer along Leland's back roads.
Special thanks to former Representative Fred Clark for his instrumental efforts in navigating the legislative channels to make this happen.

One Yard, One Picture Says It All
May 20, 2015

One yard sign–nice. Two yard signs–terrific. A white deer statue–pretty eye-catching. A second white deer statue–double the impact. Nicely arranged setting. Great job homeowners! (Photo taken at a rural Sauk County home.)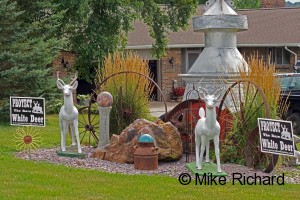 Summer Dates for Forest and Flight Photography Shows
May 18, 2015

Wildlife photographer Mike Richard will have framed prints, photos, and cards for viewing and for sale featuring Leland's white deer and other area wildlife (including eagles, cranes, and swans). See why the white deer are so incredible and purchase a print so you can enjoy seeing them every day.

Also, check out Forest and Flight's new website for a sampling of Mike's outstanding photos and to purchase prints online. http://www.forestandflightphotography.com/

June
Artjune Fine Arts and Crafts Show
Saturday, June 20, 9-4; Baraboo, WI
Spring Green's 45th Annual Arts & Crafts Fair
Saturday, June 27, 9-5; Sunday, June 28, 9-4; Spring Green, WI

July
Mount Horeb's 44th Annual Art Fair
Saturday, July 18, 9-5; Sunday, July 19, 10-4; Mount Horeb, WI

August
Middleton Good Neighbor Festival Arts & Crafts Show
Saturday, Aug. 29, 9-5; Sunday, Aug. 30, 9-5; Fireman's Park, Middleton, WI

September
Sauk Prairie Chow Chip Throw Arts & Crafts Fair
Saturday, Sept. 5, 9-5; Marion Park, Prairie du Sac, WI
Wisconsin Dells Wo-Zha-Wa Arts & Crafts Show
Friday, Sept. 18, 12-5; Saturday, Sept. 19, 9-5; Sunday, Sept. 20, 9-3:30; Bowman Park, Wisconsin Dells, WI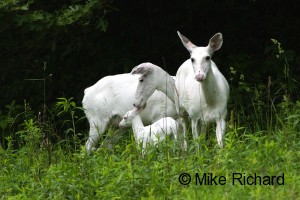 WCC Attendees Vote Against County Hunts for White Deer
April 17, 2015

Final votes from Wisconsin's Conservation Congress Spring Hearing were 1,882 against allowing counties to determine their own regulations for hunting white deer and 1,750 in favor. This was a surprise total, considering votes at the 2014 spring hearing were 3,939 against legalizing the hunting of white and albino deer statewide, with only 1, 915 votes in favor of allowing hunting.
The decreased support for white deer may have been a product of the very low turnout at this year's hearings (a mere 4,610 compared to 7,053 in 2014), plus an increased interest by hunters in moving deer management recommendations to County Deer Advisory Councils (CDACs).
The introduction to Question 7 on the ballot also had inaccurate and misleading information on white deer populations. Since information on the ballots can neither be checked nor challenged, it could have lead some people to believe, MISTAKENLY, that white deer numbers could justify local hunts–which they cannot.

Considering voters overwhelmingly supported all 69 of the DNR's proposed rule changes and rejected only 5 of 41 of the WCC's advisory questions–most of which either increased seasons or increased bag limits, it's probably amazing that a proposal to allow counties to hunt white deer was rejected at all.

Find a complete summary of the 2015 WCC Spring Hearing results and county breakdowns here:
http://dnr.wi.gov/About/WCC/Documents/spring_hearing/2015/2015_StatewideResults.pdf
http://dnr.wi.gov/About/WCC/Documents/spring_hearing/2015/2015_CountyResults.pdf
Vote for the White Deer!
April 10, 2015

If you're a white fawn, it's a tough world out there: coyotes and wolves and bears, oh my, with plenty of speeding cars threatening your crossing at every road. Now a group of hunters want individual counties to determine their own laws so that people can legally shoot adult white deer, too.

There are too few white deer and they are too special. They need to be preserved and appreciated for the rare and beautiful animals that they are.
Vote "No" to Deer & Elk Committee Advisory Question No. 7 at the WCC Spring Hearing on April 13 (see info in article below). Send a message to lawmakers that statewide protection is best for both the white deer and Wisconsin.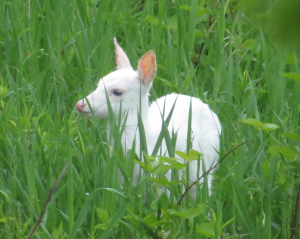 Another WCC Spring Hearing; Another Attempt to Legalize White Deer Hunting
March 29, 2015

On Monday, April 13 at 7:00, Wisconsin Conservation Congress Spring Hearing attendees will get to voice their opinions, by an advisory vote to lawmakers, on 112 fish and wildlife issues affecting Wisconsin. This year's ballot includes two very controversial questions: a proposal to hunt sandhill cranes and a proposal to let counties determine their own white deer hunting regulations.
The proposal on white deer on the WCC spring ballot reads:

The WCC Spring Hearings will be held at county locations throughout the state. Arrive by 6:30 to register. Attendance at the meetings is very important since only votes at the meeting count in the final compilation for or against a proposal.
1st Annual White Deer Triathlon
March 29, 2015
Boulder Junction, Wisconsin really knows how to make the best of a good thing. It seems the self-proclaimed "Musky Capital of the World" is getting more attention lately from their long-time population of white deer. Now they've created a sporting event named for the white deer: The White Deer Triathlon, which will take place Saturday, May 16, 2015.
This first-ever event will feature running, biking, and paddling legs (instead of the traditional swimming) on a scenic triangular course in Boulder Junction and across Boulder Lake. Check out this Boulder Junction webpage for more information, registration, and additional event activities. The "winners" will receive awards…and (along with everyone else) get a chance to see a real white deer!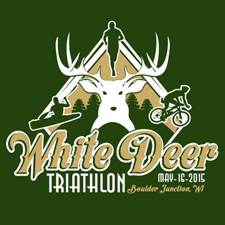 Permanent White Deer Protection on the Home Stretch
February 26, 2015

The Wisconsin Natural Resources Board, at its February 25 meeting, voted to approve the Deer Trustee Report final rule package which "restores the protected status of white deer in a CWD affected area so that they will again be protected statewide."
Ron Ruenger from Black Hawk and MaLenna Smith from Leland both spoke to the Board in favor of reinstating statewide white deer protection in the rule package.
Rob Bohmann, Conservation Congress Chair, argued that the white deer proposal did not belong in the rule package because it was not in Dr. James Kroll's (Wisconsin's deer czar's) original recommendations.
Au contraire. The Rules Package was intended to implement improved management and new regulations for Wisconsin deer hunting. The rule that removed white deer protection in CWD zones definitely needed to be changed and this was the time and the place to do it.

The Deer Trustee Report rule package will go next to the legislature for review and to Governor Walker for signing before becoming permanent law.

Permanent White Deer Protection Up for DNR Board Vote on February 25!
February 17, 2015

The Wisconsin Natural Resources Board will meet on Wednesday, February 25 to decide if changes in Wisconsin hunting laws that were enacted last year on a temporary basis (the Emergency Rules Package) will become permanent law. Included in this Deer Trustee Report Rules Package is a proposal to reinstate protection of white deer in CWD (chronic wasting disease) zones. Public comments will be accepted before the Board makes their final decision.

IMPORTANT! There is a Friday, February 20, 11:00 am deadline to register to speak at the February 25 meeting. Call or email Laurie Ross (info below) to sign up to speak. For public participation guidelines, click here.
The Board meeting will start at 8:30 am at the DNR's GEF 2 building in Madison, Wisconsin. Enter the building at the 101 S. Webster Street entrance and go down the right corridor to the reception desk.

Albino Deer Steals Hearts in Northwoods Community
February 11, 2015

A recent news story from Wausau's WFXS Fox 55 television station highlights, once again, the appeal to people and communities of white deer. In this story, a reporter interviews Jack Marasch, who was captivated by his first sighting of a white fawn near Mercer in Iron County, Wisconsin: "I'm 74 years old and I've never seen a white deer in my life."
Local bar manager, Dawn Craig, one of many people in the area who keep tabs on the white fawn says "She just is a delight to everyone and something new and interesting to see." Marasch adds, "She's just a great little deer and she's touching everybody's hearts up here and we love her… We just love her."

White Deer in Art and Christmas
December 22, 2014

White deer make their way into hearts and minds and even sometimes onto canvas. Check out these websites where artists combine myth, magic, and design to create some of the finest in white deer paintings: Pininterest and Tumblr and Google
Even at Christmastime, white deer can be found on lawns as plywood cut-outs or light-draped frames and as elegant statues for mantles and tabletops. In the Leland area, the white deer on the lawn could be the real thing–scouting out the foundation plantings, no doubt, to nibble when the snow gets deep.
Whether real, or in paint or porcelain, the white deer are a thing of incredible beauty.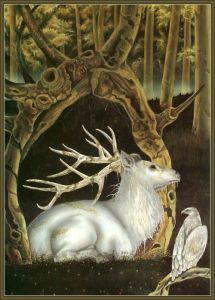 Representative-Elect Dave Considine Hears About Sauk County's White Deer
December 20, 2014

Wisconsin's Assembly District 81, home to some of Sauk County's white deer, has been represented for the last six years by Fred Clark, who will be retiring at the end of this year. Fred will be replaced by newly elected Dave Considine from Baraboo. District 81 takes in Leland and an area east of Leland, including the townships of Honey Creek, Troy, Freedom, and Sumpter, and the cities of Baraboo, Portage, Prairie du Sac, Sauk City, Mazomanie, Black Earth, and Arena.

On December 11 this month, several people from Leland attended a community listening session with Rep. Clark and Rep.-Elect Considine at the Ruth Culver Library in Prairie du Sac. They showed pictures of white deer as trophy kills in states where white deer are not protected, with newspaper articles about the outrage and helplessness felt by local citizens who had enjoyed viewing the deer. "This is going to be what happens here (again!) if we don't get permanent protection for the deer."

Dave expressed his support for protecting the area's white deer and spoke later with a DNR official regarding the issue. He emailed that permanent protection is proposed and will receive final hearings across the state in January. (Check the website later for more details.)


Cape Girardeau's "Great White Buck" Is No More
December 6, 2014

After a nearly 2000-hit viewer spike for this website on October 21 following the news of a Michigan white deer kill (also see "White Buck Deja Vu" below), a similar spike on December 2 didn't bode well. Sure enough. That's the day a large white buck was shot by a bow hunter in the southeastern Missouri city of Cape Girardeau.
This unfortunate deer was living in the wrong place by just a matter of miles, since right across the Mississippi River in Illinois, it is illegal to kill white and albino deer. In Missouri, it is not.
The "Great White Buck" was a legend of sorts in Cape Girardeau, where people had enjoyed catching a glimpse of the ghostly deer since it was a fawn.
Cape Girardeau's local paper, the Southeast Missourian, wrote: "For the past seven years, the albino buck has treated area outdoorsmen to a rare display. Arguably Cape Girardeau's most notorious deer, it was striking, ethereal and possessed of a bizarre elegance that has turned it into something of a local celebrity."
Despite the buck's celebrity status, however, and despite the decision by many local hunters to let the buck pass, one hunter finally succumbed to the lure of the grand and unusual (and a prominent spot in the news and sports magazines) with the excuse: "My buddy was tired of people trespassing on his land to see the deer, so he told me, 'I want you to shoot this deer.'" So, like a good friend, he did…
Forest and Flight Photography Taking Flight
November 19, 2014

Leland area resident, Mike Richard, is using his years of hunting skills to catch wildlife on film, with some incredible results. With unbelievable patience, a steady hand, and a camera that can take rapid-fire, stop-action photos, Mike is preserving images of the local white deer and other wildlife, including cranes, swans, and eagles. Mike specializes in "stitched" photos, which are pictures fused from multiple images.
Mike's work can be seen at Sprecher's Tavern in Leland, Wisconsin, or at various arts and crafts fairs. The next chance to see his framed prints and cards will be at the Holiday Craft Bazaar at the River Valley High School gym in Spring Green, Wisconsin, Saturday, December 6, from 9 am to 3 pm. For anyone who loves wildlife, fine photos, and fine art, any of Mike's photos would make excellent Christmas gifts (including for yourself).
The Sauk Prairie Eagle will be featuring an article on Mike and his work in next week's edition.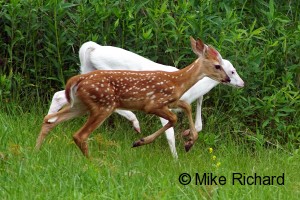 NO HUNTING ALLOWED!
November 18, 2014

For the curious, the uninformed, and those who didn't read their deer hunting regulations booklet yet, WHITE DEER ARE PROTECTED IN ALL OF WISCONSIN FOR THE 2014 HUNTING SEASON! The 2014 Wisconsin Deer Hunting Regulations booklet reads: Albino and all-white deer are now protected statewide, including those found within the CWD affected areas. The Wisconsin Deer Hunting Rule Changes For 2014 pamphlet also states: The protection of all white and albino deer has been restored statewide, including CWD affected areas. The regulations booklet goes on to say "It is illegal to possess…albino or all-white deer…"
White and albino deer were protected in all of Wisconsin since 1940, until a rule change in 2008 made them legal to hunt in CWD (Chronic Wasting Disease) zones. The Natural Resources Board, at its January 22, 2014 meeting, reversed this exception when it approved an emergency rules package for statewide deer management that reinstated white deer protection in CWD zones.
Results of this decision, unfortunately, are just for the 2014 hunting season, so more work needs to be done to gain permanent protection for white and albino deer in all of Wisconsin.

Petition Signers Give Voice
November 17, 2014

People from all over Wisconsin, the nation, and even the world have signed our Online Petition to protect the white deer. Many have left comments, from the brief to the lengthy. Here is a sampling.
From near (Shelah from Baraboo, Wisconsin):

I've only seen one in my life. When I saw it, it took my breath away! How can you kill something that leaves you frozen in complete awe of its unique beauty?
To the far (Holly from Loveland, Ohio):
The white deer are beautiful and carry the message of hope and peace. I have spent 40 years visiting and finally living on family property in Vilas and Oneida counties. Seeing the white deer are treasured memories shared with all others who have had the privilege of encountering them. To allow such a beautiful and sacred symbol to be hunted is unnecessary and wasteful. When people hear that there as been a sighting of white deer they flock to the area in hopes of glimpsing these rare animals, as well as spending money and time while on their pilgrimages. Allow them to flourish, tell their story and they will be one more thing (that is) a very special experience in the northern woods.
To the really far (Debbie from Cumbria, UK):

Just cannot understand why anyone would want to kill such a beautiful and rare animal?
And back to Wisconsin again (Gerald from Wind Lake, Wisconsin):
I am an avid hunter, but I would never take a white deer legal or not! Lets all work together to save these special and rare animals.
And we agree… Find more comments at the bottom of the petition page (and sign the petition, too, if you'd like).
New "White Deer" Website Up in Virginia
November 17, 2014

Virginia resident Regena Stith was motivated to work toward protecting her state's rare white deer after an amazing roadside encounter with a white deer. She later told a reporter: "I really think there is a lack of understanding about these animals"…"I don't think there is anyone (in Virginia) to champion this cause."
Now the deer have their "champion," and Regena is just getting started! Check out the photos, info, and links at protectvirginiawhitedeer.org The photo below (used with permission) is from Regena's website.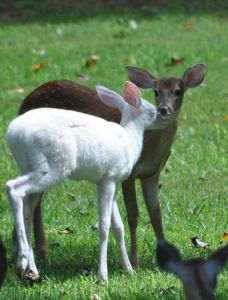 Collision Proves Deadly For Platteville White Buck
November 6, 2014

Roadkilled deer are an all too common sight in Wisconsin, but a recent roadkill near Platteville wasn't common at all. The all white buck, killed October 30 on Hwy 151 just south of Platteville, was one of several white deer that have been hanging out right on the University of Wisconsin–Platteville campus and near the city. The story of the roadkill made the local news, with additional pictures of the buck and the campus visitors on the Platteville police Facebook page.
Closer to Leland, but no less devastating, were two recent white deer losses from car collisions: a doe near Witwen in September and another doe this past week near Plain. A white fawn was killed by a car on Hwy. 23 west of Leland last summer, proving that cars and trucks are the some of the worst "predators" of white deer.
Since the normal gray-brown winter coat of most deer fades so much into the late fall landscape, one would think a pure white coat would be an advantage, but these stories prove that any deer, no matter what its color, is no match for a speeding hunk of steel. It also highlights how important it is to protect the white deer from hunting, which is just one more kind of "unnatural" selection that these deer don't need.

White Buck Deja Vu
October 23, 2014

In a story very similar to the killing of Leland's white buck, a white deer kill in Michigan last week becomes another lightning rod for both emotion and opinion (see Facebook). Hunters in favor of shooting the deer take "shots" at wildlife viewers, vegetarians, and animal rights activists. Hunters and non-hunters who want the white deer protected are outraged, while news media are delighted to have another controversial event story to send out on the wire service.
The truth is, if this hunter (an 11-year old boy) hadn't shot the white deer, someone else probably would have. White deer were protected in Michigan until 2008, when one hunter, after a fine on a "questionable" white deer kill (he claimed it had some brown on it), embarked on an intense, expensive, and ultimately successful legal fight to overturn the rule.
Without protection, more of these white deer, already so incredibly rare, will be killed. But a lifeless mount, no matter how well done or how many people see it, will only collect dust instead of attention. And the ultimate truth remains, as Outdoor Life contributor Charlie Elk once mused while viewing (and almost shooting) an albino deer: If I kill this deer, I deny another the same experience (of seeing the white deer).
Michigan local Tim Reinert agrees: "This deer was in our backyard in the spring and my wife took a picture. All of the people near us wanted to only shoot pictures, not the deer. We aren't anti hunting but instead wanted this rare deer to be able to spread his genes so his legacy lives on after he died of a natural cause." (Livingston Daily)

In contrast, the father of the hunter speaks of the pride and attention killing this deer brought to his son: "He kind of feels like a rock star right now," Mick Dingman said. "Everyone is calling, all of the hunting shows and hunting magazines." It is a sad commentary that the esteem which Native Americans once held for white deer has now become, for some people, esteem for the hunter who shoots one.
White Deer Sculpture Is Part of Reedsburg Art d'Tour
October 4, 2014

A 50-mile self-guided tour near Reedsburg, Wisconsin from October 4-13 opens the rural landscape to viewing, art, music, and culture in Fermentation Fest's Art D'Tour. One of the art pieces on the tour is a sculpture by Roxbury artist Mary Dickey called "A Call to Nature" and features a throne and two statues of white deer. The tour brochure reads:
Mary Dickey's roadside shrine, A Call to Beauty, asks us to contemplate the idea of a creation and our place in it. Inspired by Wisconsin's rich history of made environments and the profound unity of nature, Mary's piece invites you to leave the everyday, enthrone yourself and let the cherished white deer lead your vision to the beauty of the countryside.
Learn more about Mary and the making of the sculpture at facebook.com/ACall2Beauty
Click here to find out more about Fermentation Fest, the Art D'Tour, and to download a map of the tour route. Mary's art piece is No. 22 on the tour and is located just outside Ironton, Wisconsin (west of Reedsburg). This is Amish country, so expect to see horses and buggies. It is also the location of several white deer, so there's a chance (especially in the evening) of seeing both the concrete variety and the real thing!
State of Virginia Gains White Deer Advocate
September 11, 2014

It all started when Regena Stith, a Virginia resident, had that "White Deer Experience":
Some time ago, when I was driving to Charlottesville early one morning, a large white doe was standing in the center of the road. The highway was quiet, no cars in sight. I stopped the car and sat mesmerized by the sight before me. Calm and deliberate, the doe returned my gaze, then walked to the side of the road and at the edge of the woods turned and looked at me before disappearing into the dense foliage. That moment electrified me with its astounding beauty!
After that, Regena hit the internet to find out what she could about white deer. Her efforts lead to this website and a phone call to Amy Sprecher to learn more about our efforts in Wisconsin. White deer are not protected in Virginia, so Regena is already at work to raise awareness with bumper stickers, shirts, and a website of her own. She also contacted the local paper. Read her story here, plus a letter to the editor in which she advocates protection for Virginia's white deer.
CNN Features Story of White Deer in Danbury, Connecticut
August 26, 2014

"Rare deer sighting shocks neighbors" is the lead-in to this August 23, 2014 story of a white deer sighting in Danbury, Connecticut. Actually, "wonder, amazement, and awe" are better descriptions of most people's reactions to their first sighting (see our White Deer Experience page).
While entertaining, the video has some glaring inaccuracies: It is estimated that white fawns occur only once in 20,000 births–NOT in 100! Also, the deer is what is referred to as a "white deer" as opposed to a true albino because it's eyes appear normal instead of pink. The term piebald is used only when there is some brown coat color.

http://www.cnn.com/video/data/2.0/video/us/2014/08/23/dnt-white-deer-rare-connecticut.wcbs.html

White Deer Photos Available At Local Art Shows
August 25, 2014

See and buy Mike Richard's outstanding photos of white deer and other wildlife at upcoming art shows. Visitor's to Mike's Forest and Flight Photography booth at the recent Merrimac Community Festival and Middleton's Good Neighbor Festival were amazed and awed to see pictures of the area's white deer. Find Mike and more of his photos at these upcoming shows:
Pardeeville Watermelon Festival–Saturday, September 6 (10 am–4 pm), Chandler Park
Wisconsin Dells Wo-Zha-Wa Days–Friday (Noon-5 pm), Saturday (9 am-5 pm), and Sunday (9:00 am-3:30 pm), September 12-14, Bowman Park
Wisconsin Heights Holiday Arts and Craft Fair–Saturday, November 8 (8 am-3:00 pm), Wisconsin Heights High School Gym


WCC Deer and Elk Committee Passes Proposal To Change White Deer Definition
August 10, 2014

Members of the Wisconsin Conservation Congress Deer and Elk Advisory Committee, at their August 9 meeting in Plover, Wisconsin, voted to approve a county proposal, co-authored by Amy Sprecher and Ron Ruenger, to change the legal definition of white deer. Prior to the vote, Amy discussed the current definition of white deer and its shortcomings, and Ron spoke about the need to preserve respect and morals in the hunting community.
In essentially a legal loophole in white deer protection, an animal can currently be shot if it has only a tiny amount of brown in its coat (which often is just dirt or staining). This leaves judges and wardens, not to mention hunters, pondering what is legal–and they all miss the bigger picture, which is that so many people feel these deer shouldn't be shot at all!
The proposal, passed by a margin of 8-6, would change the definition of white deer to "having white natural coat color over 75% of their bodies." The proposal will now move on to the WCC Executive Committee for a vote this fall.

At the WCC Spring Hearing earlier this year, the proposal was presented in 13 counties, passed in 11, tied in 1, and lost by just 1 vote in one county. A "yes" vote by the Executive Committee will put the proposal on the 2015 WCC Spring Ballot for public vote in all Wisconsin counties.

Wood County Hunters Want to Legalize Hunting of White Deer
August 10, 2014

A group of Wood County hunters (Wisconsin Rapids area) are appealing to the DNR to legalize hunting of a small population of white and albino deer in Wood County. A proposal was introduced and passed at the April 14 Wood County Wisconsin Conservation Congress Spring Hearing and moved on to the August 9 WCC Deer and Elk Committee where, despite a motion and second to reject the proposal, it was ultimately passed by a voice vote. It now goes to the next step of the Conservation Congress, which is a vote by the WCC Executive Committee at its fall meeting.

The approving vote by the Deer and Elk committee does not represent the feelings of attendees (mostly hunters) at the WCC Spring Hearings, who voted overwhelmingly against legalizing the statewide hunting of white deer. The current statewide protection, in place for over 70 years, better represents the attitude of most hunters and the greater public who appreciate the incredible beauty and uniqueness of these animals.

Proposal To Legalize White Deer Hunt Fails In WCC Vote
April 16, 2014

The loud thud that Wisconsin residents may have heard the day after Monday night's Conservation Congress meeting was not tectonic plates shifting or a frost quake or even Wisconsin residents bemoaning a return of snow and unseasonably cold weather. It was the crashing of Proposal #35 on the WCC ballot as 3,939 attendees voted no and only 1915 people voted yes to the question: Do you favor legalizing the harvest of white and albino deer statewide?
A proposal to reinstate protection of white deer in CWD zones did not pass, but had a close vote: 2.665 yes and 2963 no. Results are only advisory to the Natural Resources Board and represent only a small fraction of Wisconsin residents. Complete ballot results for 56 other sports-related issues are posted online and can be viewed at the WCC website.
Wisconsin's White Deer: Separating Science and Myth
April 13, 2014

Members of the public and even game managers often throw out the argument against white deer protection with "it's not science." After doing some REAL research though, the "it's not science" argument starts sounding more like hollow echoes of previously voiced arguments that also had no basis. Read here to find out what's science and what's myth in Wisconsin's white and albino deer herd. Feel free to forward the article to others and to news sites.
Meeting Reminder!
April 12, 2014
Why it is so critical for you to attend: We just found out this week that the white deer protection in CWD zones that was approved in January by the Natural Resources Board is only temporary, since it was just an emergency rule. That means, depending on the vote results Monday, we could lose white deer protection in CWD zones in 2015! With Question #35 on the WCC ballot proposing legal hunting of white and albino deer statewide, we could also lose all white deer protection (and much of the white deer population) in just a few years.
A new definition: We will be presenting a new resolution at the WCC meeting to better define white deer. Currently, if there is even a single spot of brown hair on a white deer, they may be shot. Natural stains on white deer are also being interpreted by hunters as "brown" coloring and their cases are getting dismissed in court by judges who say the current white deer definition and law is too vague.
Here is an information sheet that can be printed off or emailed to friends. It has the Wisconsin Conservation Congress proposals for white deer, background info, what you can do, and a list of county locations for the April 14 WCC Spring Hearings. One stop shopping! Click here.
White Deer As a Tourist Draw? Unanimously Affirmative!
April 9, 2014

This outstanding letter was sent to the DNR in October when the public was asked to provide input on the Deer Trustee Report Proposals, which included a resolution to reinstate protection of white deer in CWD zones. B. Fuller from Madison writes:
———
Every year my family travels to Vilas Count (and surrounding areas) to take in the spectacular wildlife that Northern Wisconsin has to offer. We even go so far as to search for lodging in specific areas where the white deer can be seen and, with some patience, photographed.
I took the time to conduct an informal survey of local residents and business owners (Vilas and Iron County areas). When asked whether they viewed the White and Albino Deer populations as being a significant draw to tourism in their community, the responses were almost unanimously affirmative.
On any given summer night, for example, one can see lines of cars driving slowly down specific roads in the Boulder Junction area with cameras at the ready. The license plates of these vehicles are from many different states. The effect in terms of tourism revenue is clear, even if not empirically analyzed.
Unfortunately, the local population of white deer in most areas there has decreased due to cars, poachers, and some wolf kills, as reported by local residents in Vilas and Iron Counties, as well as from just over the border in Michigan's Upper Peninsula.
———-
While certain causes of death of these rare animals are natural or do not have clear avenues for reduction, the hunting and poaching of them is indeed controllable. The costs associated with protecting white and albino deer seem minimal. The costs and effect of NOT protecting them is considerable.
Conservatively, the numbers of white deer in the CWD zone are placed at 1 in 20,000. The possibility of localized herds being completely wiped out is significant if the harvest of these few animals continues.
I would respectfully urge the Wisconsin DNR and members of the DTR Action Teams to consider placing ALL White and Albino Deer under legal protection status.
"Harm Thee Not the King's Deer"

So writes John from Mackay, Australia, who describes the "white harts" of old as sacred "to History and Crown and Church." Read the rest of John's comment, plus what many others have to say from the new "comment" box on the website petition page: http://protectthewhitedeer.com/online_petition.html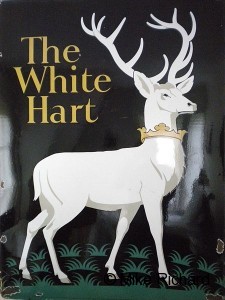 Couple Says "Put the Science Aside" and Vote Against Harvesting White and Albino Deer
April 6, 2014
Despite the title, Randy and Debbie Augustinak, in a letter to the editor of The Lakeland Times (Minoqua), point out that it's a "terrific advantage" being white where snow covers the ground nearly half the year–a small fact that pro-hunting advocates seem to overlook: "The 'normal' colored deer are easily spotted against nature's winter backdrop, while their white-colored relatives travel stealthily through the neighborhood, not easily detected by man or predator."

Randy and Debbie also take issue with the statement in the preface to Question #35 on the Wisconsin Conservation Congress Spring Ballot: "From a strictly biological perspective, there is no reason to protect white deer." The Augustinaks reply:
"So? Taking that 'logic' to the extreme, there is also no biological reason to create music or art, marvel in wonder at a Northwoods sunrise, or allow people with disabilities to live, but we should, and we must. Sometimes we need to put the science aside for a moment and appreciate things for the pure enjoyment that they provide."
Read Randy and Debbie's entire letter at: http://www.lakelandtimes.com/main.asp?SectionID=11&SubSectionID=11&ArticleID=20425

Author/Naturalist John Bates Argues for White Deer Protection
April 5, 2014
Well-known Wisconsin writer and co-author of White Deer: Ghosts of the Forest, John Bates, in his March 7, 2014 Lakeland Times (Minocqua) column, talks about the proposal on the Wisconsin Conservation Spring Ballot to legalize the hunting of white and albino deer. He presents information and observations on the health, genetics, hardiness, and value of these animals, and ends his column:

"For me, the final proof of their fitness is simply this: They have survived, and thrived, over time. If they were significantly unfit, they would have been culled out a long time ago.
So, the argument for hunting them appears to comes down to this: do rarity and beauty enhance the value, and therefore justify the protection, of white/albino deer, or not? For me, rarity and beauty, not to mention the economic benefit to the area, are the trump cards, and thus I would vote no to the hunt."
Read the entire column at http://manitowishriver.blogspot.com/2014_03_01_archive.html (scroll down the page to NWA 3/7/14 and continue scrolling until you hit: Proposals to Hunt Albino Deer and Tundra Swans Statewide) Also check out some of John's other columns–full of interesting information and good reading!

Time To Take Action…Again!
March 28, 2014

April is Wisconsin Conservation Congress time and, as it turns out, time to show your support for the white deer…yet again. Despite the popularity of the white deer, and despite the recent law to reinstate protection of white deer in CWD zones, there are still those who view white deer as trophies and want the legal right to shoot them. This is not the time to be complacent!

Question #35 on the WCC Spring Hearing Ballot asks attendees if they favor legalizing the hunting of white and albino deer statewide! Even though the vast majority of Wisconsin residents support white deer protection, if enough people at the WCC meeting vote "yes" on this question, a 74-year tradition of white deer protection in Wisconsin could be lost.
Although the Conservation Congress (WCC) has no power to make actual laws, it is advisory to the Natural Resources Board and can influence policy decisions. Because the WCC is typically attended by only a small number of people, almost exclusively hunters, fishermen, and trappers, it is EXTREMELY IMPORTANT that more people attend so that non-hunting issues can be represented.
Question #35, on the WCC Spring Ballot asks: Would you favor legalizing the harvest of white and albino deer statewide? Yes____ No____
Question #40 asks: Do you support extending protection of white deer to the CWD zone? Yes____ No ____
This last proposal is a "dinosaur," in a sense, since protection was already passed in January as part of the Deer Trustee Emergency Rules Package. However, a large number of "yes" votes is still important to show support for keeping the law and for white deer in general.
The meeting this year will be Monday, April 14 at 7:00 pm (plan to arrive by 6:30 to register) at locations throughout Wisconsin (see link below). There are 58 proposals in all on the ballot, and some are very controversial (hunting tundra swans, for instance, and allowing hunters to retrieve dogs on private property without permission). Be there to vote your opinion on all these issues!

If you cannot attend the WCC meeting, comments can be written to Mr. Scott Loomans, Bureau of Wildlife Management, P.O. Box 7921, Madison, WI 53707 or email him at Scott.Loomans@Wisconsin.gov. Written comments must be postmarked by April 14, 2014. Comments will not be counted as a vote but will be summarized for Natural Resource Board members to read. Even if you will be attending the hearing, please send a comment – the Board needs to know how you feel.
Why White Animals Need To Be Protected
March 28, 2014
An all too familiar story: Hunters impulsively kill a rare white animal (in this case, one REALLY valued by the local Native people), they post "proud" pictures on Facebook, and then the outrage begins–too late for the animal.
http://www.treehugger.com/endangered-species/sacred-white-moose-killed-hunters.html
Splitting Hairs
March 14, 2014
This article from Wisconsin rural newspaper, The Country Today, highlights the need for a better legal description of what a "white" deer really is. White deer are now protected in all of Wisconsin, but not "piebald" or partially white deer.

The term "piebald" usually means having splotches of color, as in pinto horses, but is now a technical disclaimer for otherwise totally white deer. Wisconsin hunting regulations read: "a deer that has some brown hair, even if only a small patch." In this case, we are literally talking hairs–a huge stretch of the original definition.
A proposal to change "white" to "predominantly white" (as is used in Iowa white deer game regulations) was offered at the 2013 Wisconsin Conservation Congress, but later trimmed by the Deer and Elk Committee. The reasoning seemed to be that it wasn't necessary–that hunters seeing a mostly white deer would not even chance a shot. Well, maybe not…
http://www.thecountrytoday.com/front_page/article_2490cd96-aba6-11e3-8c1e-001a4bcf887a.html
Collateral Damage
March 7, 2014

A list of field wardens' reports from the Bureau of Law Enforcement's annual report on the November gun deer season included the following entry (from Wisconsin Outdoor News, "Cuffs and Collars" column, http://www.outdoornews.com/March-2014/Wisconsin-Cuffs-Collars-March-7th-2014/):
"Warden Wayne Flak, of Menomonie, got a call about an albino deer that died after falling off a cliff. Flak contacted the party and was told they had been careful not to shoot the white deer, but as they finished a deer drive, it ran off a cliff and died of a broken neck. The buck did not meet the definition of an albino. Flak issued a permit for the party to keep the deer. They named it "Cliff." The group was going to have a body mount done to be displayed at a local business."
New White Deer Threat
February 26, 2014

Barely has the governor's ink dried on the new DNR Emergency Rules Package, which includes white deer protection in CWD zones, than a new threat has arisen for white and albino deer–and this time it is a statewide threat! A proposal has been added to the 2014 Wisconsin Conservation Congress spring ballot (No. 35) which asks conservation voters: Would you favor legalizing the harvest of white and albino deer statewide? The question is preceded by a long paragraph of outdated and unscientific "reasons" why white and albino deer are supposedly defective and need to be removed from the herd.
This last minute proposal was added to the spring ballot by DNR Board member Greg Kazmierski, who was present when the Board voted to approve the Emergency Rules Package. As a Board member, he and others were able to add questions to the spring ballot without going through the normal voting process that the rest of us had to go through. His proposal also puts inaccurate information on the ballot that could sway voters who are not informed.

Click here to read all the 2014 WCC spring ballot questions. Question 35 is on page 19. Click here for more information about the April 14, 2014 WCC spring hearings. Plan to attend and vote to protect ALL white and albino deer.
Board Passes Proposal to Protect White Deer!
January 23, 2014
The Natural Resources Board on Wednesday, January 22 unanimously approved an emergency rules package which included a rule to: "Prohibit the harvest of white deer in the CWD management zone." Four people from Leland and Black Hawk attended the meeting, and two spoke to the Board in support of the proposal, in addition to a statement by Rep. Fred Clark.
The white deer proposal was not a "done deal" previous to the vote, since the rule could have been pulled from the package or amended, and a couple of other speakers were not receptive to the idea of protecting the deer. We were later told that our testimony made the difference in changing one Board member's mind and the subsequent approval of the rule. This is a win at the highest level for our white deer efforts.
Important Natural Resources Board Meeting Coming Up January 22!
January 10, 2014

Speak up for the white deer! The Wisconsin Natural Resources Board will meet on Wednesday, January 22 to consider several changes to Wisconsin hunting laws, including a Deer Trustee Report proposal to reinstate protection of white deer in CWD zones. Public comments will be accepted before the Board decides whether to put proposals on their February agenda for consideration and a vote.
Show the NRB that people want the white deer protected! It is very important to get as many people as possible at this meeting to testify on behalf of protecting the white deer. If people don't show support for legislative change, the proposal could be dropped. We've had very good support from the Wisconsin Conservation Congress, but their votes are only advisory to the Board, which makes the actual changes in Wisconsin law.

Register to speak. There is a January 17, 11:00 am deadline to register to speak at the January 22 meeting. Call or email Laurie Ross (info below) to sign up to speak. If you are unable to attend the meeting, you can submit written comments to Laurie instead. Request that the Board reinstate statewide protection of white deer and explain why you think this is important. For public participation guidelines, click here.
Laurie J. Ross, Board Liaison
Office of the Secretary
Laurie.Ross@wisconsin.gov
608-267-7420
Laurie gives this important information to people who want to speak:
Register early so Laurie can confirm your request and get back to you. She is not in her office on Thursdays, so cannot be reached that day by phone, but can be contacted other days and at any time by email. Enter this information if you are sending an email:

Your name (and organization, if you represent a group)

The topic you will be speaking on (the white deer issue is agenda item no. 3B8)

State whether you support or oppose or have concerns with the issue

Provide your city of residence

List your phone number
The meeting will be Wednesday, January 22 at 8:30 at the DNR's GEF 2 building in Madison. Enter the building at the 101 S. Webster St. entrance and go down the right corridor to the reception desk.

"Therefore, in his other moods, symbolize whatever grand or gracious thing he will by whiteness, no man can deny that in its profoundest idealized significance it calls up a peculiar apparition to the soul." -Herman Melville, Moby Dick
So begins a November 20, 2013 article in the Edgerton Reporter, Edgerton, Wisconsin by staff reporter Jeff Brown. Jeff's positive and informative article captures the social context, the political history, and the magic of the area's white deer. Read Jeff's article here.
Nine-day Gun Season Ends With No White Deer Casualties
December 3, 2013
Nothing is for certain, but based on word of mouth and a survey of registration stations in Sauk County, it appears that no white deer were killed this gun season. Special seasons, however, including an antlerless hunt and the Holiday hunt, will continue to put the deer in jeopardy through much of December. Results so far, though, are encouraging that more and more people appreciate seeing and protecting the deer.

No Photo Editing Involved!
November 28, 2013

Photographer Mike Richard caught these white deer by his driveway. They couldn't have posed better!
"Save the White Deer" and "Protect the White Deer" signs and sweatshirts are still available at Sprecher's Tavern in Leland. We need as many signs as possible displayed on lawns and near roads to show how special the white deer are and to help protect them for all to enjoy.

White Deer Photos Now For Sale
November 28, 2013

If you have enjoyed some of the white deer pictures on this website, you may be interested to hear that local photographer Mike Richard has turned pastime into profession and is now selling enlarged prints, framed photos, cutting boards (and eventually mugs) of the white deer. With a rapid-fire shutter, a lens that can handle both low light and long distance, and with incredible patience, Mike is turning wildlife moments into jaw-dropping photos.
Mike's new business, called "Forest and Flight Photography," also includes outstanding locally photographed eagles, cranes, and swans. Mike's work can be viewed at Sprecher's Tavern in Leland (ask Amy, since photos are not on display) and at Pamela's Fine Jewelry in downtown Spring Green, Wisconsin. A website for "Forest and Flight Photography" will be coming out shortly.
If you get to Leland, ask Amy to see the computer-stitched sequence picture of a young white deer jumping–outstanding subject, outstanding photo, and outstanding art! Hint: Any of these photos or products would also make excellent Christmas gifts!
Natural Resources Board Changes Meeting Date
November 27, 2013
A conversation with DNR Board Liaison, Laurie Ross, indicates that the DNR Board has decided to postpone looking a the Deer Trustee Report Proposals (which includes protection of all white deer) until their January 21/22 meeting. Again, you will need to notify Laurie by phone or email by the Friday prior to the meeting to register to speak at the meeting. See the paragraph below for the location and other details of the meeting. We will provide more info as we get it.
White Deer Statue on Display at Plain, Wisconsin Business
November 25, 2013

Hayward, Wisconsin may have its giant muskie, but Plain has its white buck. Find this not-so-elusive deer at the I-Diehl Tap, 400 Main Street in Plain, Wisconsin. The story has it that a couple of Plain residents brought it back from out West on a trailer. Be sure to stop by for pictures with the statue and to thank the owner for his "huge" support.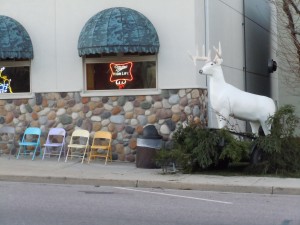 Public Input Needed at Wisconsin Natural Resources Board December 11 Meeting
November 22, 2013

The fact that the Wisconsin Natural Resources Board meets almost every month of the year except November was a very unfortunate irony in our last minute efforts to get protection for white deer in CWD zones. We are still going to the Board's December meeting to request protection for the deer, but a decision will only be made by the Board to put it on their agenda for a January, 2014 consideration and vote. Although we have been successful going through the WCC (Wisconsin Conservation Congress), it is an even slower process, and their recommendations are only advisory to the Board.
It is therefore very important to get as many people as possible at this meeting to testify on behalf of protecting the white deer. There is, however, a December 6, 11:00 am deadline to register to speak at the December meeting. Call or email Laurie Ross (info below) to request to speak. If you are unable to attend the meeting, you can submit written comments to Laurie instead. Request that the Board reinstate statewide protection of white deer and explain why you think this is important. For public participation guidelines, click here.

Laurie J. Ross, Board Liaison
Office of the Secretary
Laurie.Ross@wisconsin.gov
608-267-7420
The Board Meeting will be held Wednesday, December 11 at 1:00 at:
We received this letter from Andrew Farrar, legislative aide to Rep. Fred Clark, regarding efforts to suspend hunting of white deer yet this month:
"I am sending you this e-mail to inform you that Representative Clark and Representative Brooks sent a joint letter to the Co-Chairs of the Joint Committee for Review of Administrative Rules (JCRAR) yesterday requesting a public hearing to consider the Administrative Rule pertaining to protection of white deer (Section NR 10.02 (3) Wis. Administrative Code) in CWD zones. This request is the first step in the administrative rules suspension process. The goal would be to have this consideration heard tomorrow (11/7) at the JCRAR's public hearing and then subsequently voted on in the executive session. We are currently awaiting a response from the committee's Co-Chairs, Representative LeMahieu and Senator Vukmir. I have attached the letter to this e-mail and encourage you to share it."
We are very grateful again for all of Rep. Clark's efforts on our behalf and for the added support from Rep. Ed Brooks. Here is a copy of their letter to the JCRAR (Joint Committe for Review of Administrative Rules). Click here.
Another White Deer is Killed!
November 1, 2013

Although details are not known yet, news was received on November 1, 2013 that a young, six-point white buck was killed south of Mazomanie, Wisconsin. He was apparently shot by a bow hunter and found later some distance away by a Mazomanie area farmer. The carcass had been partially eaten by coyotes. We are trying to get more information on the kill and get the story public. This underscores how crucial it is to get protection for the white deer prior to the 2013 gun season, which starts November 23.

Attend the DNR Action Committee Public Meeting!
October 2, 2013
Upcoming meetings will be held around the state to get public input and comments on proposed deer hunting rule changes that have been proposed by the Deer Trustee Report Action Committees.
Rep. Fred Clark noted in his recent press release that "restoration of the ban on harvesting white and albino deer has yet to receive final approval." Although gun deer season is rapidly approaching, we are counting on emergency legislation to protect the deer. Public input on the new rules package is extremely important, so please try to attend! The meetings will take place at the following times and locations:
Tuesday, October 22: Richland County Courthouse Board Room 181 W. Seminary St. 6-8pm
Thursday, October 24: Portage Law Enforcement Center 711 East Cook St. 6-8pm
Thursday, October 24: Mauston H.S. Auditorium 800 Grayside Ave. 7-9pm
Wednesday, October 30: Dodgeville DNR Service Center 1500 N. Johns St. 6-8pm
"This first step is a victory for the people of the Sauk County community and all other communities who value our unique wildlife populations and the rules that enforce our hunting ethics."
"It is important to note that the restoration of the ban on harvesting white and albino deer has yet to receive final approval. If you would like to attend one of the local hearings about these rules, please refer to the dates and locations above."
Legislative Update On White Deer Protection
September 17, 2013
Four teams, representing different aspects of deer management, have been working since March to come up with proposals for implementing Dr. Kroll's (the "Deer Czar's") recommendations for whitetail deer management in Wisconsin. The DNR will use these proposals to draft rules for the 2014 deer hunting season. Public hearings on the rules will be in late October and November.
The Action Team proposal to return protection of white deer in CWD zones is a very positive statement of support by the committee and the hunting community. Click here to read the full report.
August 10, 2013
The Wisconsin Conservation Congress Deer & Elk Study Committee Meeting was held August 10 in Wausau, WI. This was the second in three levels within the WCC where resolutions are considered for approval before being placed on the 2014 WCC ballot for a final vote. Amy Sprecher, the sponsor of our proposal to protect white and albino deer within CWD zones, spoke to the group and answered questions.
The proposal passed with a 100% voice vote of approximately 36 committee members, but with some qualifications. The chairman of the committee did not want to include increased fines or added protection of piebalds, as was written in the original proposal, so the vote was just for reinstating protection of the white deer.
Having to drop parts of the proposal that we considered very important to the issue was disappointing, but not all resolutions passed at the meeting, so this may have been a political trade-off that we had to make. The resolution will go on next to the Executive Council of the WCC for final review and approval.
White Deer Float in Plain Parade
July 28, 2013
Area residents got to see the white deer float and learn more about the area's white deer on July 28 at the annual Fire and EMS 3-Day Celebration in Plain, WI. A table set up at the Plain Community Park provided pictures, information, and yard signs. Many people stopped to learn about our efforts, look at the photos, share stories, and sign the petition to protect the white deer.
White "Deer' in 4th of July Parade!
July 4, 2013
A float of white "deer" traveled Witwen's main street (and only street) in the area's biggest 4th of July event. A sign at the back of the float read: "Sauk County's Hidden Treasure"– a reminder to parade-goers of the importance of the white deer and the need to protect them. A stand near the parade route offered info, shirts, yard signs, and photos for those interested in learning and doing more. Click here to see additional photos.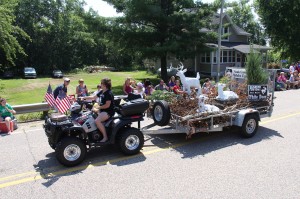 New photos are up!
June 24, 2013
See the latest white deer pictures and some new spring fawns–white enough to star in any detergent commercial and twice as fun to watch. The fawns and the photos are just super!! Click here to see the brightest, the whitest, and the cutest.
Emergency Legislation
May 29, 2013
Although the HH/CWD Action Team recommended statewide protection for white and albino deer, implementation of new rules would not be in effect until the 2014 deer season, which would be too late. Rep. Fred Clark's office is looking at an emergency rule making process and drafting legislation that would require the DNR to restore protection by the 2013 season. This might also include a modified definition of "white or albino deer" and a new fine structure. Because of the time, other legislative considerations, and politics, this is going to be close. Stay tuned!
Good news from the HH/CWD Action Team!
May 21, 2013
At their May 18 meeting in Stevens Point, the Herd Health/Chronic Wasting Disease Action Team recommended restoring statewide protection for white deer as part of implementation of the Deer Trustee Report. Final Action Team reports will go out July 20. At this point, DNR staff will draft changes to administrative code, with final approval given to standing legislative committees.
DNR Secretary Cathy Stepp Responds to Rep. Fred Clark's letter
May 9, 2013
Rep. Fred Clark's legislative aide, Andy Gill, sent us a copy of Cathy Stepp's letter regarding the issue of protecting albino and white deer in the CWD Management Zone. She said she had, due to public input, "requested that this issue be considered by the Herd Health//Chronic Wasting Disease (HH/CWD) Action Team of the Deer Trustee Report Implementation process." The Deer Trustee Report is a list or recommendations by Wisconsin's Deer Czar, Dr. James Kroll, for management of Wisconsin's deer herd. There are four Action Teams that will consider these recommendations and compile a working list for implementation. Click here to read the entire letter.
Motorcycle Fans Sign Petition
May 5, 2013
Sunday, May 5, was the annual spring Slimey Crud Motorcycle Run, which starts in Pine Bluff just west of Madison and ends in Leland. White deer advocates set up a table outside Sprecher's Tavern with information on the white deer issue. There was also a petition to sign supporting the deer, which garnered 110 signatures.
New PBS Show Visits Boulder Junction White Deer
April 25, 2013
"The Private Life of Deer" will air on the "Nature" show on May 8 on public television. A segment of the show is called "The Ghost Deer" and features Jeff Richter and John Bates, who wrote the book White Deer: Ghosts of the Forest.

Rep. Brooks Listens To Leland Residents About the White Deer
April 22, 2013
Two people from Leland attended a listening session with Representative Ed Brooks today in La Valle. They presented their concerns about the area's white deer and the need to get legislation to protect them. Ed Brooks represents the 50th Assembly District, which includes Loganville, Reedsburg, Lime Ridge, and Hillpoint. To see pictures of the meeting, go to Rep. Brooks' facebook page or to the Preservation Efforts page of this website (bottom of page).
"Ultimate Outdoors" Hears About the White Deer
April 20, 2013
Host Terry Frey of WTSO's "Ultimate Outdoors," a very popular Madison area outdoor radio program, interviewed Amy Sprecher about the white deer. WTSO has a 2.5 million listener base in southern Wisconsin and northern Illinois, including Milwaukee, Madison, and Chicago. The interview was broadcast during the Saturday, April 20th show, 8:00 am to 8:30 am, on WTSO 1070 AM. Here is an archived podcast of the show (Amy is second on the agenda): http://www.thebig1070.com/player/?mid=23117577&station=WTSO-AM&program_id=ultimateoutdoorsradio.xml&program_name=podcast

Letter from Rep. Clark to DNR Secretary Cathy Stepp
April 15, 2013
Dr. Kroll, Wisconsin's "Deer Czar" has sent a lengthy report (called briefly, the Deer Trustee Report) to the DNR with recommendations for managing the Wisconsin deer herd in coming years. Since implementation of the report will require revisions to administrative rules, Rep. Fred Clark, Assembly District 81, has sent a letter to DNR Secretary Cathy Stepp urging review of laws regarding white and albino deer. He states in the letter: "I believe this is an appropriate time to review restoring protections for albino and white deer (in CWD zones)." This is terrific work by Rep. Clark's office. Click here for full letter.
Baraboo News Republic Poll On Protecting the White Deer
April 13, 2013
Results of the newspaper's weekly poll were published in the Saturday, April 13 issue. When asked if readers favored protecting the white deer, an overwhelming majority showed their support: Yes–200 (70%), No–65 (23%), I don't know–7 (2%), I don't care–13 (5%).
Don't Forget to Sign the Petition
Help show your support for the white deer by signing our online petition!
Official Vote Count In
April 12, 2013
Kari Lee-Zimmerman, Wisconsin Conservation Congress Liaison, called us Friday night with the official vote count on our proposal to protect the white deer: 71 "yes" and 37 "no"–a substantial margin of support! The results should be up on the DNR website by mid-week.
2013 Wisconsin Conservation Congress citizen resolution results are up! Click here to see results by county or by title.
An impressive show of support!
April 10, 2013
Success at the Wisconsin Conservation Congress hearing at Baraboo! Official votes aren't posted yet, but the word is out that the resolution to protect the white deer easily passed the Conservation Congress. With a predominantly hunter attendance, who voted overwhelmingly in favor of hunting issues, this is an impressive show of support.
Wisconsin Conservation Congress Hearing
April 9, 2013
The Wisconsin Conservation Congress County Hearing was held in Sauk County on April 8th. Channel 3 in Madison covered the hearing and gave us a nice story. More details on the results of the hearing will be coming later.
Many thanks to all the people who attended the Monday night WCC meeting. It was a good show, with about 20 people wearing "Protect the White Deer" shirts and even more supporters in "plain clothes." People new to a WCC meeting really learned a lot about the organization and the process.
Note: In the Channel 3 interview taken at the Wisconsin Conservation Congress meeting, the white deer were inadvertently referred to as a species. They are not a species; just a form of white-tailed deer caused by a very rare recessive gene. See the White Deer Q&A page for a full explanation of this color phenomenon.