"Many years ago, (a) hunter took his son into the woods and saw a glorious white deer, a 10-point buck. The hunter told the child, 'Take a close look at that.  You may never see another one like that the rest of your life.' "
From the Milwaukee Journal Sentinel:  All-white buck photographed near Port Washington
http://www.jsonline.com/news/wisconsin/albino-3v34dm5-134212838.html 
In the dim light of late afternoon, "it almost looked like an angel or something," she recalled.
"I can't imagine why anyone would want to shoot it."
From the Appleton/Fox Cities Post-Crescent:  Ghost deer: An encounter with rare albino deer
http://www.postcrescent.com/article/20140312/APC045001/303120167/Yard-MD-blog-Ghost-deer

"As two extremely rare, albino deer stepped into a clearing in the snow-covered woodlands at sunset, my heart skipped a beat."
"The deep darkness settling among the forest trees prevented any truly stunning photographs, but simply being able to view these ghostly animals moving through the snow-covered forest was a once-in-a-lifetime dream."
"Seeing one of these animals in the wild is much different than seeing a picture in a magazine or on a website.  The beauty of these angelic woodland dwellers is breathtaking."

From a Peoria (Illinois) Journal Star story:  All white white-tails notable
http://www.prairiestateoutdoors.com/index.php?/pso/article_print/9103/

"My wife (Lisa) just loves them to death because they are so neat to see," said Tim Guinan, a Springfield-area bowhunter who frequently sees albinos at Sangchris. "And I've taken friends out (to the inner peninsula at Sangchris) to see them, and they are just mesmerized by them."

From Chapel Hill, North Carolina–a spiritual experience
http://www.kaygoldstein.com/page/the-white-deer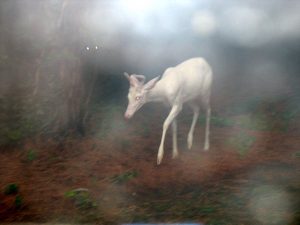 Photo:  Kay Goldstein.  Used with permission.
"It is impossible for me not to experience magic, mystery and an immense sense of wonder when I look at this photograph.  The white deer's visits, while frequent, never seemed commonplace–perhaps because he was not ordinary. His appearance, first with his brown spotted twin and mother doe, then on his own, always caused a ripple of excitement to run through the house, a dash for a camera, and reverent hushed voices. He may as well have been a unicorn. Perhaps he really was.
If I had known nothing of these stories (about the specialness of white deer in different cultures), its appearance in my life would still have been deeply moving. For the white deer evoked in me the world of imagination, spirit, and a reminder of that which is not easily seen in our everyday world."
From Virginia's Goochland Gazette:  White deer population deserving of protection
http://www.timesdispatch.com/goochlandgazette/white-deer-population-deserving-of-protection/article_1a8ca07c-3495-11e4-8c65-001a4bcf6878.html
"Some time ago, when I was driving to Charlottesville early one morning, a large white doe was standing in the center of the road.  The highway was quiet, no cars in sight.  I stopped the car and sat mesmerized by the sight before me.  Calm and deliberate, the doe returned my gaze, then walked to the side of the road and at the edge of the woods turned and looked at me before disappearing into the dense foliage. 
That moment electrified me with its astounding beauty."
From "Whiter Shade of Tail," an albino news blog
http://whitershadeoftail.wordpress.com/2008/01/11/to-shoot-ot-not-to-shoot-albino-deer-minnesota-vs-wisconsin/
"He (an albino Wisconsin buck) is now a monstrous 10-point with candelabra antlers that appear anything but genetically inferior.  People drive for miles to check him out, lining up along his favorite fields with spotting scopes sprouting from their truck windows." 
From the Columbus (Ohio) Dispatch
http://www.dispatch.com/content/stories/sports/2007/12/23/outdoors23.ART_ART_12-23-07_C13_5C8RNFS.html
Hunters are also awed by the white deer.  This is one hunter's experience.
"It's a once-in-a-lifetime thing…  A hunter sees one, and it's like hitting the lottery."
"What kept drawing his utmost attention…was the wondrously pallid buck."
"The very first thing I noticed was his stunning pink eyes…  Then I looked at his pure-white body.  His coat was perfect, and not a mark on it."
"…the whiteness of the deer registered the way a floating apparition might.  …the pink-eyed specter was close."
"He stopped and turned, positioning his body…for a perfect shot…"
"(The hunter) wondered…for a while after whether he should have taken the white deer.  He acknowledges that some people might wish he hadn't.
"The pats on the back from hunters who've heard  the whitetail story have assuaged some of the guilt, but public kicks in the derriere from animal lovers have had a different effect.  Ambivalence about killing the once-in-a-lifetime deer perhaps is being demonstrated by (the hunter's) plan to 'share' the deer with others."
"(The taxidermist) began crafting a full body mount.  The plan is to display the animal during the Deer & Turkey Expo in March."
"It should be a real draw…Hunters will want to see an albino deer."
"After that, it would be nice if the mount could be displayed in a local store for kids and others to see…"
 From Outdoorlife.com reader post:  The mysterious albino deer herd
http://www.outdoorlife.com/blogs/big-buck-zone/2010/05/mysterious-albino-deer-herd
from Charlie Elk
(Unedited) 
"Once upon a time I was an opportunist hunter if I came across fowl or beast during an open season I did my best to kill it. Then somewhere along the way it came to me I do not have to kill everything. Perhaps it was during my first white deer encounter but I can't be sure. While watching the particular small white doe her pink eye shining back at me a feeling of peace and contentment descended around me. With the thought; if I kill this deer I deny another the same experience.
Like many hunters I have numerous mounts which I have always viewed as my feeble attempt at possession of their beauty & wildness, as all hunters come to realize eventually. The mount will trigger pleasant memories of the hunt.(making it well worth effort to get a mount)
But there is a certain sadness in the back reaches of your mind – your possession is never really complete.
later,
charlie"