History of Leland's White Deer
A look back at Leland's white deer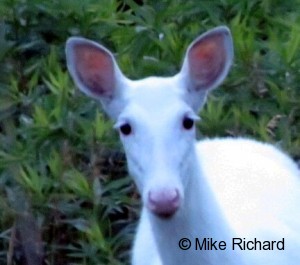 The Leland area has been blessed with the rare beauty of the white deer for approximately 14 years.  The very first white deer was seen near White Mound County Park, a short distance from Plain, Wisconsin, and was known as the "Old Doe."  She was the matriarch of succeeding generations of white deer until she died in 2011 at the ripe old age of 13.
The subsequent group of white deer moved closer to Leland over the years, but remained small in numbers–probably no more than a dozen individuals at most.  Thanks to the caring landowners and hunters in the area, most of the deer remained safe and protected.  
Around 2006, a white buck made its way to Natural Bridge State Park, a mile northeast of Leland.  He was a beautiful creature that drew many people nightly to the park with their lawn chairs and thermoses in hopes of seeing him.  Local hunters refused to shoot the deer, but during the 2008 archery season, a visiting hunter was not so restrained.  The buck was shot and killed.

In 2009, another white deer, a young buck, was killed just east of Leland during the fall gun hunting season.  He was also shot by an out of town hunter.  Residents were upset, but the hope was that if the remaining white deer just stayed on the "right" farms, no more would be killed and maybe the news of these unusual trophies would simply fade from people's minds.
Around this same time, a third buck made his way to Leland and coaxed a white doe along.  He could be seen daily with his five-doe entourage.  Referred to as "Bucky," "Jack," or the "Big Buck," he was a regular sight in the Leland area and grew into a magnificent creature, sporting a 12-point rack in 2012.  After siring several brown fawns, the 5-year-old buck finally had 3 white offspring from two brown does in 2012. 

This last white buck was particularly treasured by the local community, who vowed not to shoot him.  But during the opening day of the 2012 gun hunting season, "Bucky" was killed–once again by hunters from out of the area.  This was the straw that broke the camel's back.  Leland residents decided enough was enough and something had to be done.

And a look forward
Leland's white deer are far from safe yet.  DNR plans are to create more seasons and more opportunities for hunters in CWD zones.  This makes the issue even more urgent than ever.  What we accomplish in the coming months may very well determine the next entries in the white deer history.