What You Can Do
Contact your elected representatives
Go to the "Contact Your Representatives" page on this website for the phone numbers, email links, and web addresses for all our local and state representatives.  For those people who live outside the Leland area, or for those people who aren't sure who their representatives are, there are links for finding that out, too.

Sign our online petition
This is a good way to get as many people as possible involved in the "white deer" effort.  Express your concern by clicking the petition box and filling out the form.   (click here)

Attend the Wisconsin Conservation Congress hearings
Many people attended the Conservation Congress Spring Hearing on April 8 in Baraboo to show their support for protecting the white deer.  Although the vote tally has not been published yet, delegates on the board have informed us that there were 77 "yes" votes to protect the white deer and only 33 or 35 people voting "no"–an impressive show of support!
The resolution will go next to a WCC Rules and Resolution Committee that will assign the resolution to a WCC Study Committee for further review (in this case, the Big Game Committee).  There will be another vote on the resolution before proceeding (if passed) to the WCC Executive Council for a final vote and approval for placing on the 2014 WCC Spring Hearing ballot.
It is very important to show continued support for white deer legislation at these meetings or the resolution could "die of neglect."   The various WCC Study Committee Meetings take place from July through November and we will post the date of the Big Game Committee meeting and location.  Granted, this is a slow process, but it helps gather support within the DNR system.

For more info on the WCC, go to: 

http://dnr.wi.gov/about/wcc/
Questions: Contact DNR WCC coordinator Kari Lee-Zimmermann at 608-266-0580
Write letters to newspapers and websites
Write letters to your local and state newspapers.  Post comments on websites.  Express your desire to see the white deer protected.  Get the word out that these deer are valued and need to be protected.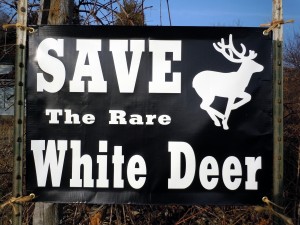 Obtain and display yard signs
Signs can be obtained by calling Amy Sprecher at (608) 544-2054 or Jolene Ballweg at The Flower Company in Portage (608) 742-4108.  They are also available at Ederer's Do It Best Hardware in Plain.  We especially would like to get signs along major roads where more people will see them.  We have both banners (pictured) and smaller yard signs that can be pushed into the ground.

Note:  Regarding comments about the "elk" on the sign–yes, it is indeed an elk.  The signs were ordered by a third party and when they arrived, it was too late to make changes.  New signs have the webpage logo with white-tailed deer silhouettes.  The website address has also been added.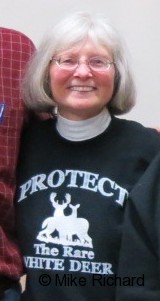 Purchase "White Deer" shirts
Shirts are available with the "Protect the Rare White Deer" message and logo.  Prices are $10 for T-shirts, $15 for sweatshirts, and $20 for hooded sweatshirts.  Call Amy at (608) 544-2054 if you are interested in placing an order.  Clothing may also be purchased/ordered at The Flower Company in Portage or call Jolene at (608) 742-4108.

Contribute information, stories, and photos
Share your personal experiences and observations of the Leland white deer and any photos you may have.  They will be added to the website for others to enjoy.  Use the "Contact Us" tab and type-in box to email information, stories, and pictures.  Photos can also be dropped off at Sprecher's Tavern in Leland.
Stay informed
Get updates and learn what's happening by going to the "Preservation Efforts" page on this website.  We'll keep you informed on what is being done, what progress is being made, and what needs to be accomplished.  The website is rapidly growing and evolving, so check often to see what's new.
For people outside the Leland area
Any and all help is welcome.  Sign the petition, write letters to websites and newspapers, and contact your legislators.  White deer remain protected in most of Wisconsin, but not piebald (partially white) deer, so some of what we are proposing is a statewide issue.  The more support we can get to change laws to protect all white and piebald deer, the better.