Thank You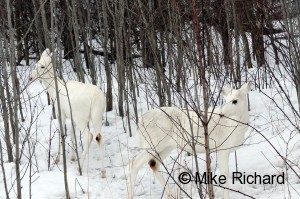 We would like to thank the following individuals and businesses for all the support they have given us to spread the word about the Leland white deer and the need to protect them so others and future generations can enjoy these magnificent creatures.

Individuals:
MaLenna Smith

– For research and writing for the website.  She has spent hundreds of hours to make this possible.


Mike Richard

– F

or his relentless hours dedicated to capturing these beautiful creatures in photography and video so everyone can enjoy the white deer experience.

Carol Hastings –

F

or sharing her wonderful video of "Bucky" so that everyone can remember him in his grace forever.

Eileen Muchow

– For sharing her photos of "Bucky" and spreading the cause.  She has been the driver behind the clothing line as well.

Aaron – For technical advice, website construction, getting all the photos and videos up,  and for hosting the website.

Brian Gurske from Pardeeville – For his generous donation for the purchase of yard signs.
 
Businesses:
Jolene Ballweg –

The Flower Company in Portage.  Jolene has been the driving force and major contributor behind the signage.  Her donation has been instrumental in the cause.

Ken and Marilyn Jahn – Two Rivers Signs & Designs of Portage.  This couple are the creators of our wonderful yard signs and banners and have donated many of them.

Dave and Lynn Zimmerman – Golden Needle of North Freedom – They have created our wonderful logo and printed the clothing line.

Alan Kramer –

Kramer Family Century Farms.  Alan has purchased banners for us.

Tom Gresser –

Roxbury Tavern in Roxbury.  Tom has purchased banners for us and is linking us to his website.

General Beverage of Madison

–

They have provided us with the large banners promoting the website.

The owner of the Weary Traveler restaurant on Willy St. in Madison donated money for signs.
Websites: