CWD and the White Deer Issue
White and albino deer are illegal to hunt in most of Wisconsin.  The big question is, are they valuable enough to also be protected in Chronic Wasting Disease (CWD) zones, and is the exemption to the hunting ban on white deer in the Leland area necessary?
White deer protection in the CWD zone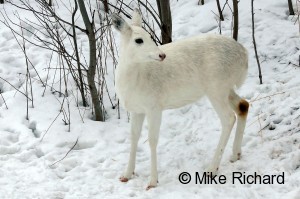 CWD, or Chronic Wasting Disease, is a disease that affects the nervous system of various members of the deer family, resulting in the slow, devitalizing death of infected animals.  Although somewhat common in parts of Colorado and the Rockies, it was first detected in the Wisconsin deer herd in 2002, having probably made its way to the state in domestic elk.  
The "epicenter" of CWD infection in Wisconsin is in the Mt. Horeb/Blue Mounds area of southern Wisconsin.  Adjacent counties in the larger area comprise what is called the CWD Control or Management Zone.  Although only a small number of deer have tested positive for CWD in Sauk County, its relative proximity to the Mt. Horeb area has put most of Sauk County (and Leland) in this management zone.

Transmission of the prion, or infectious agent, that causes CWD is not yet completely understood, but management decisions are generally aimed at reducing deer herd size and minimizing contact between animals.  Extended and additional hunting seasons have been used in the CWD Zone to decrease deer numbers, with DNR hunters taking deer in certain situations.  (See Wisconsin's Chronic Wasting Disease Response Plan:  2010-2025).
The law that protects white and albino deer in the rest of Wisconsin was suspended in the CWD control zone on the theory that CWD can infect any deer, no matter what color it is.  This change in a long-standing Wisconsin law overlooks the fact that white deer of any kind are extremely rare. 
Since the CWD long term goal is to reduce and not eliminate deer in the CWD zone (see Response Plan), the DNR can certainly reach population goals without killing Leland's small number of white deer and the occasional white deer in the rest of the management zone.  Efforts to protect white and albino deer in the CWD zone in no way ignore or diminish the need for CWD control measures.  However, BOTH goals are possible.