Contact Us
If you would like get in touch with us, you can call :
Amy Sprecher – (608) 544-2054
Or you can send an email using the form below:
Reader responses
June 25, 2013.  Here is a photo of a very unusual "piebald" fawn.  Sent to us by Kari from South Carolina.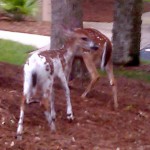 June 29, 2013.  From Melissa in New York, here is a story about a special deer (in this case, a piebald) that came into her life and heart and whose age is measured less in years than hunting seasons survived.  http://melissashawsmith.com/2013/06/29/the-white-deer/
July 22, 2013.  Mike and Heidi from New Jersey sent us this note and picture:  "Here is the picture we were able to snap before he ran across the road to meet up with his family.  What am amazing sight!  … Best wishes in your endeavors to save and protect this amazing creature!"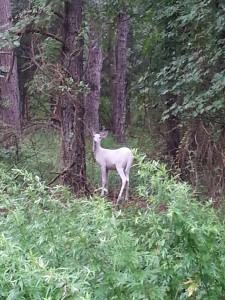 November 8, 2013.  Kat from Wisconsin sent this email commending our work to save the white deer.  She also gives praise to local photographer Mike Richard, who has taken so many outstanding picts of these deer:
"Hello! I met Mike Richards this morning while tracking a small group of whooping crane chicks in Horicon Marsh. I was so impressed by his incredible photography (as I said, hands down the best shots I have seen of a bald eagle and eaglets). I was also very interested in his information on the white deer. I have seen and heard of these unique creatures before, but hearing from someone who is so invested really brings the subject to life. I have signed your petition and I commend all of you on the work that you are doing to preserve this natural anomaly for all to appreciate."