On Video
The killing of the area's white deer continues
Channel 3 news stories of the Leland white buck



Killing of white deer ignites controversy in Sauk County
November 20, 2012
This is the original story by Channel 3 News in Madison, Wisconsin about the killing of the Leland white buck. Interviews with Brandon Yanke and Amy Sprecher reveal the general sentiment of the community and the disappointment, shared by many, over the loss of this beautiful and special deer.
According to interviewer Marc Lovicott, the white deer story ranked 5th most popular on their website for all of 2012! The video of the white deer alone ranked 2nd most popular based on number of hits! According to Mark, the overwhelming majority of public responses to the stories were in favor of protecting the white deer.

Community divided by deer controversy (lead-in)
November 21, 2012
This is the lead-in for a follow-up to the white deer story. In response to a few people who felt the Leland white deer should not be protected, Mark Lovicott returned to Leland to interview residents on both sides of the issue.

Community divided by deer controversy (story)
November 21, 2012
This is the second story on the Leland white buck. Channel 3's Marc Lovicott interviews local, Dave Diske, who doesn't feel the white deer should be protected, and Al Schwartz, who has watched the white deer on his nearby Leland farm and feels it should not be legal to hunt them.


Residents to petition DNR to change white deer hunting rules
November 29, 2012
In this third story by Channel 3 News, Leland area resident Carol Hastings finds it hard to control her grief about the death of the white buck. The outstanding video footage of the buck was taken on her land just outside of Leland. Later in the story, Amy Sprecher talks with Marc Lovicott about more possible white deer deaths and the need to take action to protect the remaining white deer in the Leland area.

Leland residents rally for law to protect white deer
April 4, 2013
Mary Jo Ola reports on efforts to protect the rare white deer, which include road signs, white deer shirts, a website, a petition, and a notice to attend the Wisconsin Conservation Congress meeting on April 8. (Click here for details.)


White deer advocates rally support at Conservation Congress
April 8, 2013
Channel 3 reporter Theo Keith reports on the Wisconsin Conservation Congress Spring Hearing at Baraboo and interviews advocates to protect white deer. Leland area residents Carol Hastings and MaLenna Smith talk about the importance of the deer and their concerns if legislation is not passed to protect the deer. Click here for print story. (Note: The white deer are inadvertently referred to as a species; they are actually a rare form of white-tailed deer.)

Videos of other white deer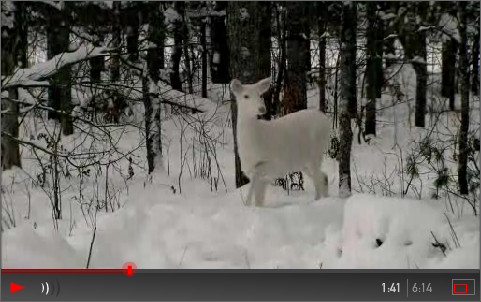 Wisconsin Public Television – The white deer of Boulder Junction
March 26, 2009
Patty Loew interviews photographer Jeff Richter and outdoor writer John Bates for Wisconsin Public Television's "In Wisconsin." Richter and Bates are co-authors of White Deer; Ghosts of the Forest, a picture essay of white deer in Boulder Junction, Wisconsin. These beautiful deer, unlike Leland's, enjoy protected status.

Peaceful moments
A sight and sound experience of white deer in a winter snowscape. Photographed in Boulder Junction, Wisconsin by Michael and Marshia Crowley. (See their website for more great pictures: https://www.lifeinthenorthwoods.com/)

Great viewing from a tree stand or car window…
but "shoot" with a camera only. This one's protected in Wisconsin. Footage taken in Buffalo County (far west central part of the state).

White deer in the meadow
A summertime scene in Boulder Junction, not unlike what some residents have seen here in the Leland area.  Another fantastic video from Mike and Marshia Crowley–"lifeinthenorthwoods.com."  Click here to see more of their white deer videos.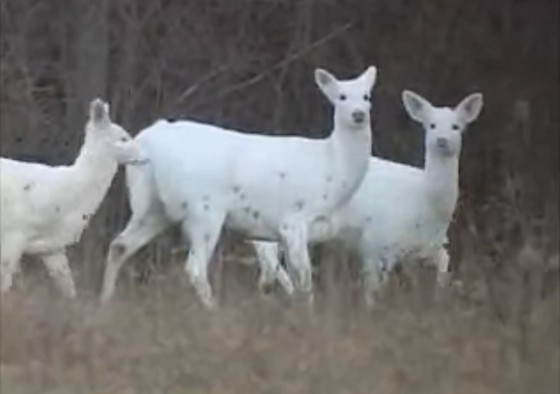 White deer near Seneca Falls, New York. (Click image to view video)
A population of white deer in a decommissioned army depot near Seneca Falls, New York is the largest white deer herd in the U.S. and probably in the world. The deer's habitat is currently under threat from development pressure.

Videos of the Leland white deer
White buck in the woods
October and November 2010
This is the white buck that was shot near Leland in 2012 when he was younger, had a much smaller rack, and was still very much alive. The video was taken by Carol Hastings of Leland. Click on the picture to start and stop.

Hungy, hungry...
Summer 2012
Don't leave the theater too soon--there's more here than meets the eye. (Hint: Count the legs and divide by four.) Video taken by Mike Richard. Click on the video to start and stop.


Miscellaneous videos
White buck spooked by his own antlers
January 6, 2013
This YouTube video was taken by a Wisconsin trail cam and catches an incredible event: a white buck shedding his antlers. Video provided by Sharon Suchla.

White buck vs brown buck
There's nothing defective about this white buck!  Two magnificent bucks battle it out with locked antlers, and it's an edge-of-the seat wait to see who's going to win.  A rare sight and an even rarer video.  This was caught on the Deer Run live cam at USeeWildlife.com (date and location unknown).

Ghost deer, meet ghost bear
February 12, 2007
Not as sparkly white as white deer, but just as rare and just as cool.  This video of the Kermode or "Spirit bear," taken in British Columbia, was uploaded to YouTube by Apexpredator11.