Picture of the Week
Picture of the Week
December 11, 2022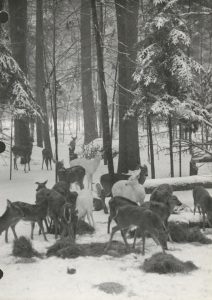 On April 24, 1950, Life Magazine's "Picture of the Week" featured this white deer trio, photographed a month earlier in a woods near Boulder Junction, Wisconsin. The photo, titled "Triple Rarity–Three Albinos in the Wild," was taken by Staber W. Reese, a photographer for the Wisconsin Conservation Department (an earlier name for the Department of Natural Resources).
Reese's photos were typically used for state publications and conservation education, but this photo reached a far wider audience. Life Magazine, at the time, had a weekly circulation of more than 13.5 million copies a week and was "one of the most popular magazines in the nation, regularly reaching one-quarter of the population." 
Getting the photo for Reese was no easy task though. The caption under the photo explains:
When he heard that rare albino deer had been seen near a feeding station in northern Wisconsin, Photographer Staber Reese hurried to the spot, erected a blind and shivered there for six days while he waited for them to show up. Finally Reese looked out to see three pink-eyed deer in a group around the hay.
The caption continues:  Thus he hit a photographer's jackpot. For of the 850,000 white-tailed deer in Wisconsin, only about 20—or one in 42,500—is an albino. Assuming that this picture represents a random sampling of deer, Reese figured that in getting it he had beaten mathematical odds of about 79 billion to one.
A few things have changed in Wisconsin since this caption was written. The current deer population (1.6 million) is about twice what it was in 1950, and the probability of seeing a white deer is closer to an estimated 1 in 20,000 (white deer protection, enacted in 1940, is undoubtedly a major factor in this).
A correction is also in order: the 1 in 79 billion statistic Reese came up with was probably much higher than it should have been, since the white deer in his photo were very likely a mom and her grown fawns, so are not, for statistical purposes, independent occurrences.
What has not changed in 72 years is how special the white deer are. Staber Reese's photo remains a fantastic photo of a fantastic gathering and is truly worthy of Life's "Picture of the Week" and a look back at Wisconsin's white deer history.
Photo:  "Triple Rarity–Three Albinos in the Wild," from Wisconsin's Historic Natural Resources Photos.