Hazard on the Highway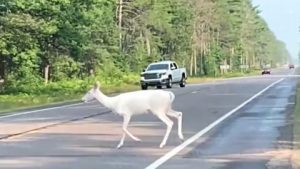 A white deer crosses Hwy 51 near Manitowish Waters (Vilas County, Wisconsin).
This shot is from a video taken by Brandon and Kyle Bushaw.

This white doe made big news this past summer when a viral video appeared on numerous news programs and garnered over a million views on social media. The video was taken by two brothers who were vacationing near Manitowish Waters in northern Wisconsin and happened to be in the right place at just the right time. It made a fantastic story, but the story could have ended differently.
Deer have a very poor track record when it comes to crossing highways safely. Department of Transportation statistics show that approximately 20,000 deer a year are involved in vehicle collisions in Wisconsin. This has serious consequences for both the deer and the cars, but it is all the more tragic if a white deer is killed.
With an estimated 1.6 million deer in Wisconsin, the loss of a normal brown deer will hardly be noticed, but when the loss is a white deer that occurs only once in an estimated 20,000 individuals, that hurts–especially when the deer is a very popular and well-known animal.

News stories about white deer that didn't make it to the other side of the highway come from across the country.  Tilde, in the previous article, was probably killed by a car.  Merlin (Washington County, Wisconsin) made news when he was hit by a car, as well as this Platteville buck.  A popular Tennessee white deer named Snowflake was mourned by residents after it was killed by a car, and white deer in Iowa (Jaspar County) and Illinois (Kankakee and Warsaw) made news headlines when they were killed on roads.
In Leland, cars have taken an even greater toll: at least five or six white deer, including two fawns, have been killed by cars.
Some years ago local resident Amy Sprecher grew especially close to twin white fawns, a buck and a doe, that often frequented her yard. She named the two Jerome and Evelyn after her elderly neighbors who loved watching the area's white deer. Amy watched the fawns grow up and took hundreds of pictures.

Jerome eventually grew into a beautiful buck and over the next several years became a favorite photo subject.  But one day a motorist walked up to Amy's house to let her know that he had just hit Jerome with his car. The deer had managed to run off, but was later found dead in a nearby woods.
The death was devastating for Amy and her neighbors. It was especially painful to know the deer had survived coyotes and disease and all the other things that plague deer, just to be hit by a car. And who knows how many more years of viewing pleasure, great photos, and future white fawns were lost.
Jerome's white color may have been unique, but not his death.  According to damage claims from State Farm Insurance, Wisconsin is ranked seventh in the country for deer-car collisions. Based on State Farm's records, drivers in Wisconsin have a 1 in 57 chance of hitting a deer. (West Virginia, in case you are wondering, is the "winner" with a 1 in 37 chance.)

But it doesn't take carefully compiled insurance statistics to prove the obvious. Just find someone who hasn't hit a deer (or more than one) at some time in their driving life, or check with body shop owners who claim that 30% or more of their repairs in the fall are for deer damage.
Most deer-car collisions occur in October, November, and early December during the rut or mating season. Two to three times as many collisions occur in November as in the summer months. "Males are so focused on mating, they're just not thinking straight," declared one biologist. "They're looking for mates and for other males to fight."

A couple of other things are happening in November that increase the body-to-bumper count: it's deer hunting time, and the corn is going down. In other words, deer are on the move. Much shorter fall days also mean more people are driving in the twilight hours when deer are active. Rush hour coincides with deer-crossing-the-road hour.
A smaller peak in deer-car collisions occurs in May and June. Deer change habits in the spring as they look for new food sources. This is also when pregnant does are booting older fawns out of the nest and yearling bucks are searching for new home ranges.
An obvious question is why white deer, which are almost luminescent in the evening hours, are still getting hit by cars. Any deer can be unpredictable near roads, and drivers aren't always attentive or driving at a reasonable speed. Whatever color they are, deer are still confused by headlights and speeding vehicles.
As unpredictable as deer are on the road, they are pretty predictable off the road. They tend to show up in the same spots and cross the roads in the same places and at the same times of the day.
If you know where the deer are, especially the white ones—be alert and slow down. Many of the deer's human neighbors will be extremely grateful, and it will keep you, your car, and the deer all running smoothly for yet another day.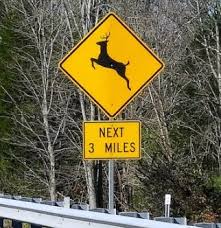 Here are some other tips to avoid hitting deer of any color:

1)  Heed deer warning signs. They are there for a reason (although not the reason that is espoused in this radio call-in show).

2)  When the eagles and crows (in summertime add vultures) are happily feeding on a roadside carcass, that's a pretty good "natural" sign to pay attention.
3)  Slow down (it will give you extra time if you need to brake) and at night, if no cars are coming, keep your lights on high so you can see farther down the road.

4)  If there are woods on both sides of the road or open fields next to woods, scan for deer at all times.  In Sauk County that's almost everywhere.  In Leland that's everywhere.

5)  Be particularly attentive during dawn, dusk, and nighttime hours.  The highest number of deer-car collisions occur at sunset (roughly 5-9 pm).  Commuters take note.

6)  At night, watch out for hood-high glowing eyes.  That's a clue there's a 100-300 pound animal on the road waiting to dent your fender.  Hit the horn and brake.

7)  If a deer "freezes" in front of you, stop (if there's no car behind you) and turn your headlights off and on so the animal can pass.  The deer's eyes are adjusted to low light so are blinded by the bright car lights.  (Actually, deer don't have very good eyesight anyway.  A University of Georgia study suggests their vision might be about 20/200, which is, by human standards, legally blind.)

8)  When you see brake lights, it could mean the driver ahead of you has spotted a deer. Stay alert!  You also don't want to be close if the other driver hits the deer, stops, or swerves into traffic (a SUPER big no-no).

9)  If one deer crosses the road ahead of you, look out for others. Deer typically move in groups (a "diversionary tactic" that frequently catches drivers off guard).
10)  Deer hooves can slip on wet or snowy pavement. A deer may fall in front of your vehicle just when you think it's jumping away.
11)  If you accidentally hit and kill a deer and you're not on I-90/94 (or some other busy and dangerous highway), move the carcass as far off the road as possible.  A doe may have fawns that are still in harms way and they will stay by their dead mother or sibling for hours.
12)  If a deer is still alive, do not touch it. They have very sharp hooves and can do serious damage to more than just your car.  If there is a fawn nearby, call the local sheriff or humane society.  They will contact animal control, who in turn can get the deer to a rehabilitator.  The Sauk County Sheriff non-emergency number is 355-4495; the Sauk County Humane Society number is 356-2520.