Picturing Wisconsin's White Deer (DNR Survey-2020)
February 6, 2023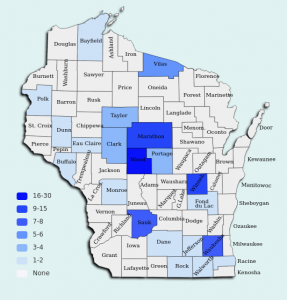 Number of white deer reports–2020 WI DNR survey.  Map by Protect the White Deer.
In 2020 there was a second attempt at getting a better picture of Wisconsin's white deer. The DNR, in response to appeals by some hunters to remove white deer protection, initiated an informal survey.
The object of the survey was to simply document white deer occurrences and not to determine populations, which would have required considerably more time and resources.
Deer researchers reached out to department staff and to the public through social media to gather white deer sightings. Reports could be submitted by email or via the department's Large Mammal Observation Form on the DNR website.
Requests for sightings went out in January. Reports came in during January and February, but none the rest of the year—probably because anyone interested had already responded. The reports were collected and mapped, but no formal report was made.

A total of 101 white deer sightings were recorded—quite a few more than from the Snapshot total of "21" (which included a few piebalds). Reports of piebald deer were collected in this new survey, but they are not included in the accompanying chart and map.
While the 2020 map shows a fair number of counties with sightings, only 21 of 72 counties (29%) reported any white deer for the entire year. Fifty-one counties (71%) reported no white deer at all.
Nine of the 21 counties that did report a white deer had only a single sighting and 14 more counties reported three or less. Vilas, Sauk, and Waukesha (5, 7, and 8 reports respectively) already have known populations of white deer.
The largest numbers of white deer were again in the center of the state (Wood and Marathon counties), although Winnebago in east central Wisconsin (also a known location of white deer) reported higher numbers.
New occurrences of white deer on the 2020 map (compared to the 2019 map) were in several far western counties and in a cluster of south central counties. However, no observations occurred this time in southwestern Wisconsin where white deer were detected in the 2019 Snapshot survey.
This latest map is again very interesting, but should not be taken as an accurate representation of white deer populations. The survey methods were not comprehensive: not everyone received the survey notice, not everyone responded, and not every white deer was counted.
It is also highly likely that increased interest and social media sharing by hunters and hunter groups in central Wisconsin—where pressure to change white deer law is strongest—affected the number of responses in those counties.

Conversely, in some areas people may have been reluctant to submit sightings to the DNR because of the agency's general focus on hunting (i.e., fear that more sightings would be an excuse to get rid of protection). In all likelihood, most people simply did not know about the survey.
The most common figure given for white deer occurrence is 1 in 20,000 (probably based on a 1963 Michigan study by Larry Ryel). Wisconsin has an estimated 1.6 million deer, which would translate to about 80 white deer statewide.
Based on observations, newspaper reports, and social media accounts, the number of white deer in Wisconsin is definitely larger than 80 or even the 101 total from the 2020 survey. Some people have estimated there are 200-300 white deer in the state, which is probably a more reasonable total.
It might be helpful at this point to put any white deer numbers in perspective: If Wisconsin's 1.6 million deer are spread over 72 counties, that means there are, on average, approximately 22,000 deer per county. Even the largest number of white deer sightings (30 in Wood County) is a minuscule number in comparison.
Are white deer numbers increasing? They seem to be in some parts of the state, but in other places they are decreasing. The neighborhood presence of a group of white deer—no matter how healthy—is not a long-term given. Further surveys might show these kinds of changes.
As far as the hunting issue, if it became legal to shoot white deer, they would definitely be targeted—for the same reasons (rarity and beauty) that make them a community treasure for so many other people.  No matter how you count them, there are still far too few to suffer any loss in numbers.
So, what is the main takeaway from the 2019 and 2020 surveys?
It's probably safe to say that after 83 years of protection, Wisconsin very likely has more white deer than any other state, but seeing one remains a very rare event. For the great majority of people, their best hope of "encountering" a white deer is still catching a photo on the evening news or receiving a viral image on Facebook.
Note: Thanks to Jeff Pritzl, DNR Deer Program Specialist, for providing information on the 2020 DNR survey. According to Jeff, reports of white deer have since come in from Juneau, La Crosse, and Manitowoc counties, with multiple reports from Manitowoc.