Mike Crowley: A Northwoods Legacy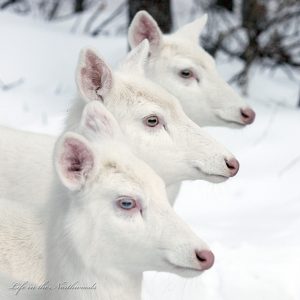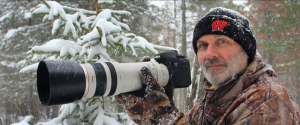 Top:  A group of Northwoods white deer, watching a Wisconsin Badgers
football game on TV.  Actually, these photos are part of the "Friendly
Faces" series from the Facebook page Life in the Northwoods (March
18, 2022).  Bottom:  A photograph of the photographer, Mike Crowley.
One of the Northwoods' most iconic residents, photographer Mike Crowley, passed away at his home near Boulder Junction, Wisconsin on March 9 at the age of 76.
Mike photographed many outdoor scenes, but it was his incredible photos of the white deer that frequented his property that introduced thousands of people to these rare and beautiful animals.
Mike was born and raised in Boscobel near the Lower Wisconsin River but spent his working career in Aurora, Illinois.  His heart remained in Wisconsin, though, and for many years he and his family traveled to the Boulder Junction area in Vilas County for summer vacations.
When Mike retired in 1998, he and his wife Marshia moved permanently to the Boulder Junction area.  The great musky fishing was a major draw, but so were the white deer.  According to the couple, "It is not far-fetched to say they played a part in our decision to spend our retirement years in Boulder Junction."
After moving to their new home, Mike planted a wildlife food plot on their land and was soon visited by a family of albino deer (referred to generally as white deer in this article).  Mike now had the time to indulge in his long-time hobby of wildlife photography, and the white deer were the perfect subjects.
Mike and Marshia never tired of their white deer visitors and commented in a 2014 Our Wisconsin magazine article, "No matter how many times we see them, it's (always) a treat."  "(Like) all of our neighbors, we're in awe every day of our local herd of 'ghost deer.'"
Mike and Marshia's "encounters of the closest kind" taught them much about their unusual deer.  The white deer were never ostracized, as commonly believed:  "We've noticed that the white deer and their brown brethren readily intermix."  Nor did the deer have any defects:  "Unless hit by a car or illegally killed, they live long, healthy lives."
Mike's superb photos of the white deer, plus additional wildlife and scenery shots, were posted on the couple's Life in the Northwoods website and on their Life in the Northwoods Facebook page.  They also posted a collection of white deer videos (accompanied by Native American music) on YouTube.

It was Mike's photos, along with the publication of the 2007 book on white deer, White Deer: Ghosts of the Forest, by nature photographer Jeff Richter and naturalist John Bates, that really introduced the public to Boulder Junction's unique population of white deer. 
A 2009 Wisconsin Public Television documentary, White Deer, featuring Richter and Bates, soon went viral and gave the deer and Boulder Junction an even larger audience.

Piqued by so many wonderful pictures, tourists began traveling to Boulder Junction with the hope of seeing one of the white deer.  According to Boulder Junction's Chamber of Commerce Executive Director, Dina Casso, the white deer "remain a high point of interest with visitors."  The Chamber website even gives tips on "How to Find a Ghost Deer."

Unfortunately, the number of white deer on Mike and Marshia's property has "dwindled over the years"—a warning to anyone who takes these deer for granted.  They do move, and numbers spring up elsewhere, but a population is not always permanent.  Marshia says, " I cross my fingers every year that a new white fawn will appear in our neighborhood."
White deer, however, continue to live in the greater Boulder Junction area where they apparently have had a long-time presence.  John Bates has researched historical records and found references to white deer from presettlement times.  White deer are also mentioned in Native stories from the area.

Mike Crowley has played no small part in the area's current white deer story.
Being able to turn a beautiful scene into a beautiful picture, though, is no small feat. To capture a wild animal "on film" takes an even greater amount of time, planning, patience, and skill–not to mention technical knowledge and serendipity.  Mike had it all and his viewers are grateful.

Mike was also grateful.  Marshia wrote on their Facebook page:  "(Mike) would want all his followers on Facebook to know how much he loved and appreciated your enjoyment of his photos, and especially the wonderful comments made by so many of you." 
Rest in peace, Mike. Thanks for sharing the beauty of the Northwoods with us, and especially for sharing the beauty of the white deer.

Post story note:  A book of Mike's best pictures, Life in the Northwoods, was in production and slated for distribution in August of this year.  Because of Mike's death, however, the book plans are currently on hold.  It looks like the book will still be available, but at a later date and can be pre-ordered from Amazon.  Copies of Mike's 2022 "Life in the Northwoods" calendar are still available from Willow Creek Press or Amazon.

Marshia Crowley, who is also a photographer and has taken many of the photos on the couple's "Life in the Northwoods" website and Facebook page, does plan to continue both sites, post more of Mike's pictures, and add photos of her own.  Marshia has graciously allowed the use of their photos for this article, which we very much appreciate.