White Deer Is Honored with Special Art Exhibit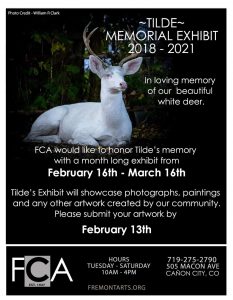 An art center in a Colorado city last year had a special exhibit in memory of one of its most beloved residents. An artist? An author? A civic leader? Nope. This honoree had four legs and hooves. It was a white deer.
The deer's name was Tilde—a rather different name until you realize it refers to the wavy line over the "n" in the city's Spanish name, Cañon City, a town of about 17,000 located southwest of Colorado Springs.  After announcing the contest-winning name, the mayor added, "The tilde is as unique to the city as the deer."

Tilde was first seen in Cañon City in August of 2018 and soon became the city's most popular resident, often hanging out with his herdmates on the edge of the city. He was more than a part of the landscape though—he quickly became a fixture in both the hearts and minds of his admirers.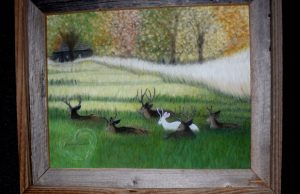 Tilde, bedded down with his herdmates on the outskirts of Canon City.  Painting by Becca Miller.
White deer are beautiful animals, but Tilde was especially photogenic. Literally thousands of pictures were taken of him over his lifetime—many shared on a special Facebook page called "Tilde the White Deer," which had over 2000 followers. Tilde was a celebrity.
Along with the affection, though, came concern.  The greatest fear residents had was that Tilde would get hit by a car, the most common fate for deer in Cañon City. 
The other fear was that Tilde could be hunted or poached.  Colorado doesn't have a white deer law, so the City Council created its own ordinance that would prohibit "targeting, wounding, or killing the rare albino."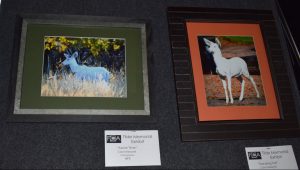 Mounted photos of Tilde from Carol Nieslanik.
One of Tilde's biggest fans was Zach Holder from Colorado Parks and Wildlife. In 2019 Zach told reporters: "I hope to see this deer live through many winters in Canon City and continue to be a public figure here in Colorado."
But Tilde's life lasted only three winters. He was found dead last year at the end of January.  With two major highways close by, he was most likely hit by a car.  Examination of the remains showed no evidence that he had been poached. 
Area TV station KOAA announced Tilde's death in a February 1 news story and described the public's reaction:  "Everyone in Cañon City, from coffee shop owners to pedestrians, were moved by Tilde's passing."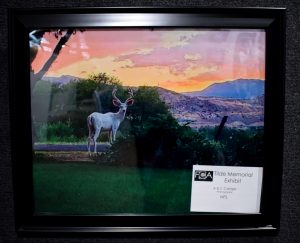 Tilde appears to be "going into the sunset" in this beautiful photo by A and C Carriger.
Reporter Carie Canterbury, in a Daily Record story, wrote: "Cañon City's majestic, beloved white deer, Tilde, brought much hope and joy to residents during his nearly two-and-a-half years here in Fremont County."
City Administrator Ryan Stevens described how Tilde uplifted the community: "Tilde was a symbol for this community, a symbol of hope and excitement and something new and fresh."

Zach Holder observed: "(Tilde became) such a superstar in the community…people enjoyed going out and looking for him and photographing him. Quite honestly, he brought a lot of joy and excitement to a lot of people in a year where joy and excitement were hard to come by."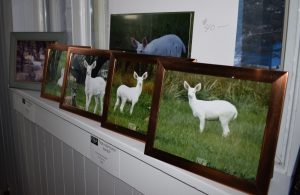 Views of Tilde from different angles.  Photographs by Cassandra Mueller.
One person who was especially affected by Tilde's passing was Carol Stires. Carol told KOAA TV that she had lost her job in March of 2020 during the Covid shutdowns and found herself both depressed and aimless.
"You tend to be sitting home, trying to look for jobs and nobody is hiring, so I was able to spend sometimes two hours just watching him, getting lost in the things he was doing. And it helped."
Carol would photograph and videotape Tilde, then post the pictures to Tilde's Facebook page, a page which she created.
"People were able to be on that page and talk about him and have something else in their life besides COVID, or anything else that was happening in their lives. (You) know, it just gave us some hope."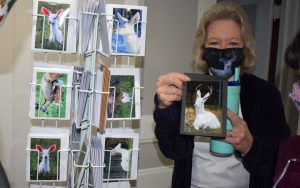 Sandra Atencio shows photo cards created by Char Lindner.

Grateful citizens, in turn, wanted to show their appreciation.  They decided to create a memorial exhibit for Tilde at the local Fremont Center for the Arts.  A call went out for Tilde-inspired artworks.

Photographs soon came in.  Paintings came in.  There were face coverings featuring Tilde and photo cards with Tilde's pictures.  One person even arrived with a little family of plush white deer that they had made.

At the exhibit's opening reception, Mayor Ashley Smith extolled Tilde's lifetime accomplishments: He was a celebrity who was featured in local and national news. He had his own Facebook page. He inspired a city ordinance to protect albinos.
But Smith's highest praise: "Tilde has brought out the beauty in all of us, especially in these difficult times."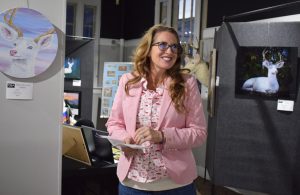 Cañon City's mayor, Ashley Smith, describes Tilde's legacy at the art show's opening reception. 
The exhibit was a great success, but Carol Stires and many other members of Tilde's Facebook page hope the city will do even more to honor Tilde's legacy.
"It would be really nice to have a statue and memorial for him." A GoFundMe account was established to raise money for such a project.
Meanwhile, Tilde's skull and antlers have been mounted and are on display at Cañon City's Royal Gorge Regional Museum and History Center.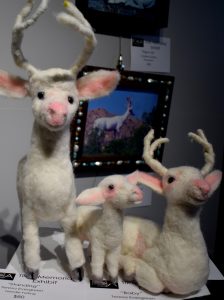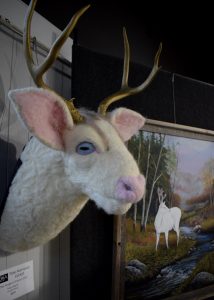 This white deer family and "mount" were created by Teresa Evergreen.
Is this all a lot for one deer?  It turns out Cañon City is just one of a number of cities across the country that became very attached to their resident white deer and then honored them in some way when they passed.  White deer may be extremely rare, but their ability to touch people deeply is not.

There are still those that claim that white deer are no different than any other deer, and the world would not be changed by their loss. Maybe the world would not be changed by their loss, but it certainly is by their presence. Just ask anyone in Cañon City.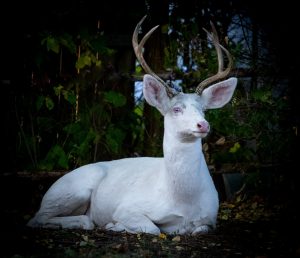 Tilde–as poised and perfect as ever in this wonderful portrait taken by William R. Clark.
Note:  All photos of the artwork in this article were taken by Carie
Canterbury (The Daily Record) who graciously allowed their use.
An earlier story about Tilde on protectthewhitedeer.com can be read here.