Causing a Stir in Cañon City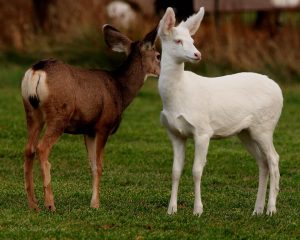 Perfectly poised and perfectly posed–no wonder this deer is a favorite photo
subject.  Photograph by Richard Flubacker. Used with permission.
No everyday adjectives for this deer.  Awed viewers have described it as stunning, gorgeous, straight up chilling, and absolutely mesmerizing.
Another Wisconsin white deer? Not this time. The big ears are the giveaway. This is a white mule deer and a resident of Cañon City (pronounced "canyon city"), Colorado, located just southwest of Colorado Springs. He's also a bona fide celebrity. In fact, according to Carie Canterbury of the Cañon City Daily Record, "The deer has drawn in attention from all over the country."
The white deer was first seen in the spring of 2018 and became a regular in some open fields on the east side of the city—"a deer hot spot because of larger grazing fields," according to Canterbury. Many people come out to that neighborhood to take pictures.  Reporter Dan Beedie exclaimed, "This young deer takes fantastic photographs!"
But observers aren't sure yet if the deer is an albino, which lacks all pigment, or a white deer (sometimes called leucistic), which just has a white coat. It does have the pink nose of an albino, but not the pink eyes.

"The Cañon City community seems to really have taken to the deer," says Bill Vogrin from Colorado Parks and Wildlife. In fact, it's being treated like a five-star guest! Dan Beedie writes, "The city has made an effort to make sure the white deer's stay in Cañon City is as comfortable as possible."
Cañon City's Facebook page even had a poll in March to name their famous deer. Ideas offered were Casper, Blanco, Albie, and Olaf. Name suggestions also included Fantasia, Spirit, Cottonball, Phantom, Snowdrift, Dumbledeer, and Wanagi (a Lakota word for spirit). Perhaps the most creative (and least able to fit on an application form): Ears Mcfluffin Snowsnout!
Everyone's concern, of course, is for the safety of the white deer. "It's a gorgeous deer that needs to be protected at any cost," says reporter Alicia Selin. "People really take an interest in making sure it stays on one side of the city and not cross over the highway and potentially get hit," says City Council member Dolly Gonzalez.
Hunting is also a worry:  Colorado does not have protection for white deer. In addition, Cañon City wants to do a cull hunt next fall to decrease its abundant deer population. To protect their famous resident the city created a new ordinance that would prohibit "targeting, wounding, or killing the rare albino species."
Area residents continue to be excited about their white deer. "This little guy has caused such a stir," says City Council member Amanda Cochran. Zach Holder, Parks and Wildlife, says, "I hope to see this deer live through many winters in Cañon City and continue to be a public figure here in Colorado."
And what did Cañon City name its famous deer? No official decision yet, but one source said 300 names were suggested in the contest. As far as the winning entry, future articles could be about Olaf, or Snowdrift, or, yes, even Ears Mcfluffin Snowsnout. Or just "Ears" for short—a name that makes perfect sense to those of us in Wisconsin who only know deer with "normal-sized" ears.