Ghostly Shadows
March 7, 2023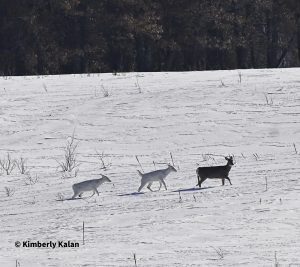 Kimberly Kalan was driving alongside a snowy field in Washburn County in northwest Wisconsin when she spotted a deer running by with what looked like two small, white shadows behind her. "I did a double take," said Kimberly, and immediately pulled out her camera.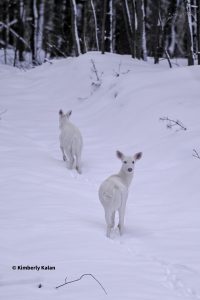 Kimberly was already familiar with the twin albino fawns and absolutely loves taking photos of them, but winter snow makes them extra hard to find. So when she does see them, she can't help but feel a sense of awe. She calls her experience "a brief moment in time and a gift."
To Kimberly, the little fawns looked more like ghosts than deer, and she was thrilled to see that this magical viewpoint was captured on camera as well. "When I uploaded the photos, they were amazing, with no editing and as is," Kimberly said.
Every person who's seen the photos is just as amazed as Kimberly. "The twin fawns (look) almost like ghostly shadows." They "almost don't look real."
"(Kimberly) will continue to be in awe of them every time she's lucky enough to spot them"–and maybe lucky enough to get some more fantastic photos.
Kimberly takes both wildlife and landscape photos.  They can be viewed on her website:  Kimberly Kalan Your Photography.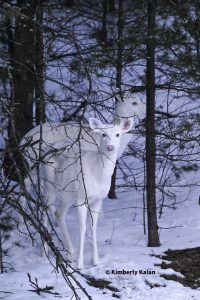 Note:  This article is a shortened version of a story by Caitlin Jill Anders ("Woman Does A Double Take When She Sees 'Ghostly Shadows' Following A Deer") which was published in The Dodo on February 17, 2023.  All photos used with permission.